'The Blacklist' Star Megan Boone Dishes On Whether The Cast Improvises Any Scenes
The cast of NBC's The Blacklist come from various backgrounds. Some have dozens of acting credits in big-name projects while others hold a handful of concentrated roles. Their talent combined cumulates to the success of The Blacklist. They're the reason the network ordered another season of the crime drama. Does any of the cast improvise their lines or do they all stay true to the script?
Does anyone from the cast of 'The Blacklist' have a background in improv?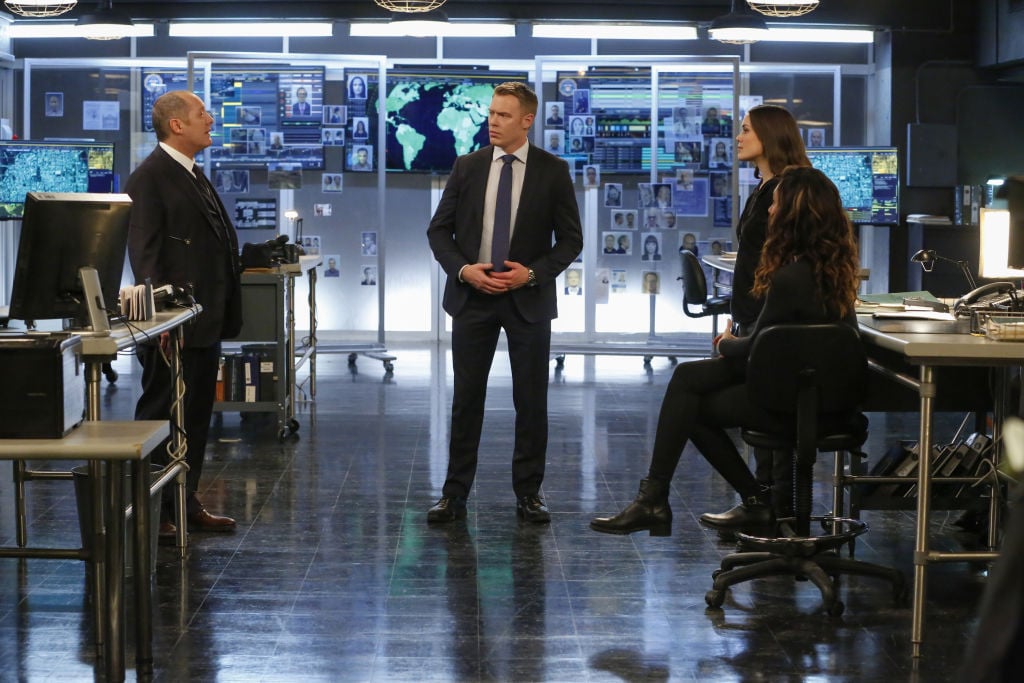 RELATED: Where Is 'The Blacklist' Filmed?
In seven seasons, The Blacklist has managed to pull out one surprise after another. Every week, a new criminal emerges from Raymond "Red" Redington's (James Spader) "blacklist" and every week, the secret FBI Task Force team somehow captures or kills the criminal.
Overarching themes throughout all seven seasons connect back to Red and why he invaded Agent Elizabeth Keen's (Megan Boone) life. Every star from the main cast serves a purpose in the capture of the world's most elusive criminals.
It makes you wonder if stars like Boone, Spader, along with co-stars, Harry Lennix, Diego Klattenhoff, Hisham Tawfiq, Amir Arison, and Mozhan Marnò, have experience improvising lines on the set of their projects.
Looking at each of their career biographies, a few have experience in theater, which requires some form of improvisation at times. For instance, Marnò performed a one-woman show Nine Parts of Desire in which she played nine different Middle Eastern women.
Arison appeared in one episode of Ramy — a comedy starring Ramy Youseff that may have had slight improv at times. Tawfiq pulls from his military background in many of his characters, while Lennix — a former Chigaco teacher — lectures and has an expansive background in theater.
Boone and Klattenhoff appear to have traditional acting backgrounds. Spader, who plays the charismatic "Red" and is known to be "an actor's actor," has stated in various interviews he merely acts to pay the bills.
Does anyone on 'The Blacklist' improvise with the script?
RELATED: 'The Blacklist': Which FBI Task Force Star Has the Highest Net Worth?
The writing team for The Blacklist has a lot of plot to cover. Not only for seven seasons worth of criminals from Red's (Spader) list, but all the secrets Red is keeping from Liz (Boone).
Producers previously revealed that they rely on an elaborate "bible" to keep track of twists and turns, as well as characters and their genealogies. That said, do any of the stars improvise their lines?
"The script is very particularly written and put together. Ultimately, I find that I rise to it every episode. You sort of figure out why they made that decision and that decision is oftentimes more specific and has a lot more clarity than anything that you could bring into it in the amount of time that we have," Boone told Daily Actor.
"Improvisation is a freedom and an option that we have once we get the take of the scripted dialogue, but it's not necessarily something that I ever feel like I need to creatively because ultimately, I'm just trying to tell the story and the story is given to me by a group of very good writers who have deliberately written these scenes and gone over and over them to make sure that they're right," she said.
"I don't think that me or anyone in the cast feels on the day of shooting that there's anything that really needs to be done differently."
James Spader had his fill of improv in 'The Office'
RELATED: Why 'The Blacklist' Star James Spader Has Been Deemed 'Difficult' to Work With
Spader's work in one season of The Office may allude to any improvisational skills he has (or doesn't have). Showrunner, Paul Lieberstein (who played Toby), told Uproxx about hiring Spader as the infamous Robert California. Following Steve Carell's exit from the show, Spader faced a learning curve from an operational standpoint.
"[Spader] got to see our process, which is something he didn't know about going into the show," he said. "You don't wait around for an hour and a half of four takes. You wait 15 minutes for lighting and do 10 takes."
The Blacklist star isn't known for improv. He never took part in any improv groups (like the famous Groundlings out of New York). Producer, Greg Daniels, added in another interview that nearly everyone in The Office cast had an improv background.
"Improv is a good tool to make it seem more natural," he said.
Spader only worked on the comedy for 15 episodes. It's not clear how he felt about that sort of environment. From interviews over the years, the actor prefers a solid script in which he offers a solid performance — no more, no less.
As for The Blacklist, there may not be much improvisation with the scripts. But, with a show that tight, there doesn't need to be.