'The Blacklist': The Real Reason James Spader Took the Role Then Insisted On 'Red's' Iconic Hats
James Spader may play a ruthless criminal on TV, but The Blacklist star knows what he's doing. His more than 40-year career proves as much. When NBC narrowed in on Spader, he had his own reasons for taking the role of Raymond "Red" Reddington. This includes why Red wears hats, dons a shaved head, and is one of the more whimsical, charming criminals in TV history.
James Spader loses interest quickly — until 'The Blacklist'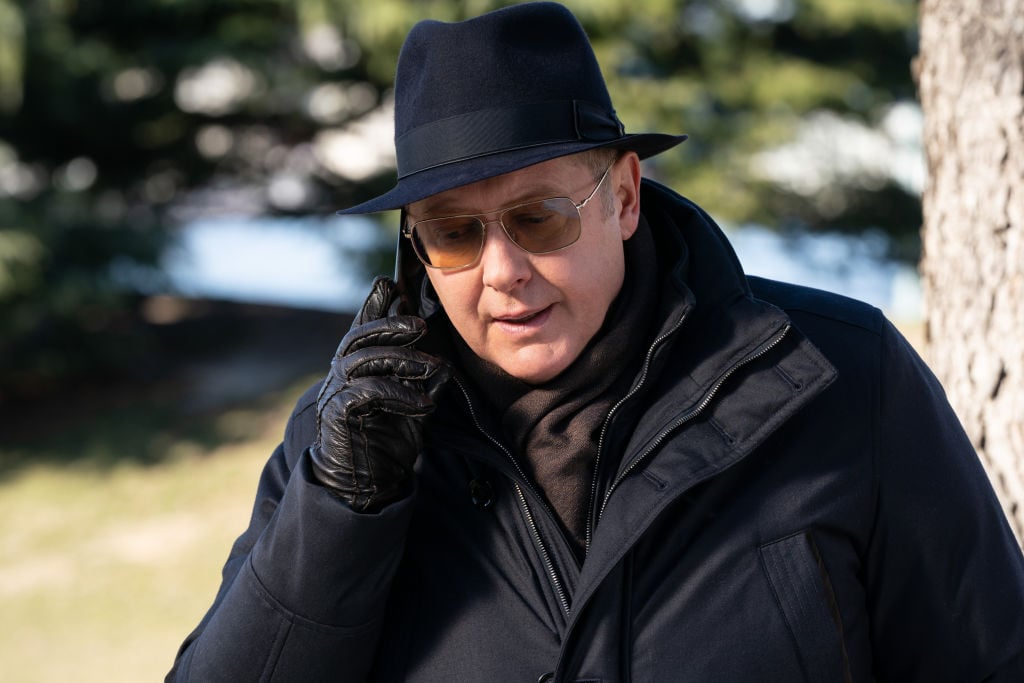 Up until the early 2000s, James Spader only worked in the feature-length film part of Hollywood. The actor took the role of Alan Shore in The Practice because it was written as a one-season stint.
With the job, Spader earned recognition, Emmy Award wins, and a different type of notoriety. He stayed on the show for five seasons before moving to its spinoff, Boston Legal. It was then The Blacklist star knew what he wanted, and what he didn't, in his career.
"For me, just for me, to sustain me over a period of time, I can't just be doing this one thing," he told TV Guide. "I just doesn't sustain me. I will lose interest quickly."
Why Spader chose 'The Blacklist'
After time away from regular, steady-income projects, Spader reflected on his choices once again.
"I was looking for something that I would be interested in doing for a stretch. And that means it can't just be a comedy and that's it, and it can't just be a drama and that's it, it can't just be action," he said. "It's gotta be a mix of all those things."
Then came The Blacklist, which checks all the boxes, according to Spader.
"By the end of the pilot, I knew less than I knew before I started reading it. I had way more questions at the end than I had at the beginning," he said.
"No matter what the set of circumstances might be, that he might encounter, I could see that he could see the irreverence in whatever it was," he said. "And I thought that dichotomy can sustain me. If it holds my interest, it might hold an audiences'."
Showrunner reveals why Spader was the perfect fit for the role
Red's charisma in The Blacklist doesn't only pertain to how cunning he can be to get his way. Showrunner, John Eisendrath, told Collider Red is a "unique character." It's because he's someone "you can love, love to hate and be intrigued by. He will always leave you guessing."
After casting for the show, Eisendrath said he can't believe Spader has never played a role like Red before.
"He has the ability to be mysterious, dangerous, and mischievous, in a way that seems perfectly suited to playing someone where you don't know whether he's good or bad. There's a certain amount of luck that is always a part of whether a show turns out to be good or bad," he said. 
Eisendrath lamented on great pilots that aren't executed well.
"In our case, I feel like we were incredibly lucky, in that James Spader, as an actor, fit so perfectly with the character that was written," he said.
"We were smart enough to know that [Spader] would be someone who would be good to get in it, but I don't think any of us knew just how good he was going to be. He's amazing in it, and it was really fun to watch him just become this person," he said.
Why Red wears those iconic hats
As for why Red wears a hat so often, Eisendrath gave credit to Spader.
"He's just so this character, and he understands the character so well.  He always thought that his character should wear a hat and we were all like, 'No, no hat. No hat. Nobody's going to want to see a guy with a hat.' And he was like, 'I think he wears a hat,'" he said.
"He was very insistent that his character would wear a hat.  And he was totally right. I love the hat now. Now, everybody is like, 'Oh, my god, the hat is fantastic! It's so him! He has to wear a hat!'"
To bring this point home, Spader told Today in 2014 why he felt Red needed hats — even at his own personal expense.
"It seemed eminently practical, but of course now it's ruined fedoras for my life. I've always worn hats, but I've had to put my fedoras on the shelf and pull out my homburgs and caps," he said.
Spader noted in other interviews that Red's hats and wardrobe are pieces accumulated from around the world. This is so he can fit anywhere which makes sense considering Red's international empire.
Spader also made this artistic choice for the character
Hats aside, Spader believed a criminal like Reddington should don a shaved head.
"I'd had my hair long for, I think, the last few projects that I'd done. It felt like the right thing for him. So it was an idea that I instigated, and I think it was the right choice," Spader told Oklahoman.
"It just seemed to fit his lifestyle, and he's someone who has to move — travel lightly and more swiftly — and it seemed eminently practical for him."
In the same Collider interview, Eisendrath added that when conversations about Spader originated, their expectations were pretty high. Spader, he said, exceeded those expectations and fans would likely agree.