'The Blacklist': Why Did Dembe Pull Reddington Away At the End of 'Konets'?
The season 8 finale of The Blacklist left fans with a lot of questions. Though the hit NBC crime drama is known for its twists and turns, "Konets" pushed the envelope in more ways than one. The final scenes revealed the death of a major character and, as Raymond Reddington (James Spader) grieved, his trusted friend Dembe Zuma (Hisham Tawfiq) pulled him away. Many think the ending made no sense. Here's a breakdown.
'The Blacklist' Season 8 finale 'Konets' ended with a shocking death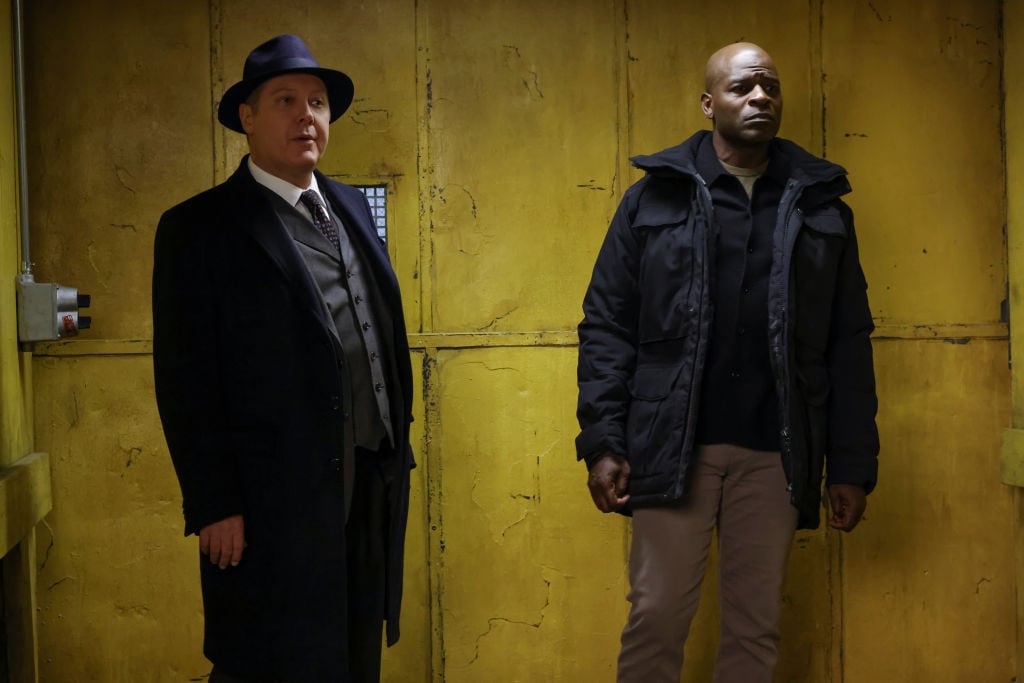 RELATED: 'The Blacklist': The 5 Worst Things Raymond Reddington Has Ever Done
It shouldn't still be a spoiler that in The Blacklist Season 8 finale "Konets," viewers witnessed the (alleged) death of former FBI agent Elizabeth Keen (Megan Boone). The star revealed her plans to exit the series amid a season 9 renewal, blowing her character's departure for dedicated fans.
"This experience, for me, has been an entire life inside of my own life. These eight years playing Liz Keen have helped me better define the world and myself, as she set out to do the same," Boone wrote, in part, on Instagram. "What a list. What a dream. Thank you all."
In "Konets," Liz and Reddington came to a deal: she kills him — something no one's been able to do — so others fear her. After a reluctant agreement, Liz is shot by Townsend's right-hand-man VanDyke moments before she was to shoot Red.
The last scenes of the finale offered a montage of Liz's life as it flashed before her eyes. Theories have since run rampant about the connections between Reddington and Katerina Rostova, but it's the very last moments that make the least sense.
Why did Dembe pull Reddington away from Liz?
RELATED: Will 'the Blacklist' Season 9 Should Forge a New Path for 'The Concierge of Crime'? Creator Jon Bokenkamp Remarks on the Show's Finale and Future
Reddington might not have gotten shot, but watching Liz die in his arms probably feels like it. As many continue processing the entirety of the episode (and the three before), it's worth wondering why Dembe intervened to pull Red away from Liz as she lay there bleeding.
As far as we know, the secret task force team built around Red's criminal blacklist wouldn't arrest him. And, if more of Townsend's men were still out there, he wouldn't run from them. Many have pointed out that it felt out of character for Reddington to leave Liz — especially because Red was prepared to give his life. Where could he possibly need to be at that time?
It's entirely possible he was in shock and Dembe wanted to help him to safety so he, too, wouldn't die. Others noted that when Liz "died" in season 3, he wouldn't leave her side. And, when Anne hit her head and began bleeding out, he called the police.
Did the 'The Blacklist' episode 'Nachalo' hint at Lizz's demise?
RELATED: 'The Blacklist': Yes — There's a Raymond Reddington Shoe Collection and It's 'a Gas'
The episode that preceded the finale, "Nachalo," could've hinted at the real reason Dembe pulled Reddington away in "Konets." The penultimate second-to-last episode took a trip back in time to tell the story of Katerina Rostova (Lotte Verbeek) and Raymond Reddington (sort-of).
At the end of "Nachalo," Townsend busts in with his army of men, destroying the physical Latvia blacklist site. Liz gets shot in the crossfire but is taken somewhere to heal while Mrs. French watches over Agnes. Many stopped to ponder whether Liz ever really healed after the exchange. Could she have experienced a concussion or is in a hallucinogenic state while recovering from the bullet wound? That would mean that everything in "Konets," was nothing but a dream or imagined series of events.
We don't know what to take from it all, but hopefully, season 9 provides some answers.
The Blacklist Season 9 premieres Oct. 21 on NBC.