'The Blended Bunch': TLC's Newest Family Is a Real-Life Brady Bunch
Meet TLC's newest family. The Shemwells, who star in the new series The Blended Bunch, are a Utah family of 13 who are a real-life Brady Bunch. Mom Erica and dad Spencer connected after each was widowed. Their large blended family includes 11 kids — seven from Erica's previous marriage and four from Spencer's. 
"We're both widowed. We lost our previous spouses," Erica explains in a teaser for the show, which premieres Tuesday, March 16 on TLC. 
Erica and Spencer from 'The Blended Bunch' connected after tragedy
Erica and Spencer's previous spouses both died under tragic circumstances. Spencer's wife Aimee was killed in a car accident. Erica's husband Tony died of brain cancer.
"I feel like my heart was ripped out of my chest," Erica says in the teaser when talking about her first husband's death. Tony died in December 2016, eight years after he was diagnosed with cancer, the family shared in an Instagram post.
"I thought there was no way I could ever love anyone like Aimee," Spencer says of how he felt about his first wife. She was expecting the couple's fifth child when she died in November 2017.
Spencer and Erica met in an online widower support group. Soon, they fell in love and decided to combine their two families. Just 13 months after meeting, they said "I do." But raising 11 kids, who range in age from 3 to 12 years old, is no easy task. Aside from challenges like potty training the little ones and having the sex talk with the older ones, mom and dad also have to navigate tricky issues like adoption and step-sibling fights.
Meet the members of the Shemwell family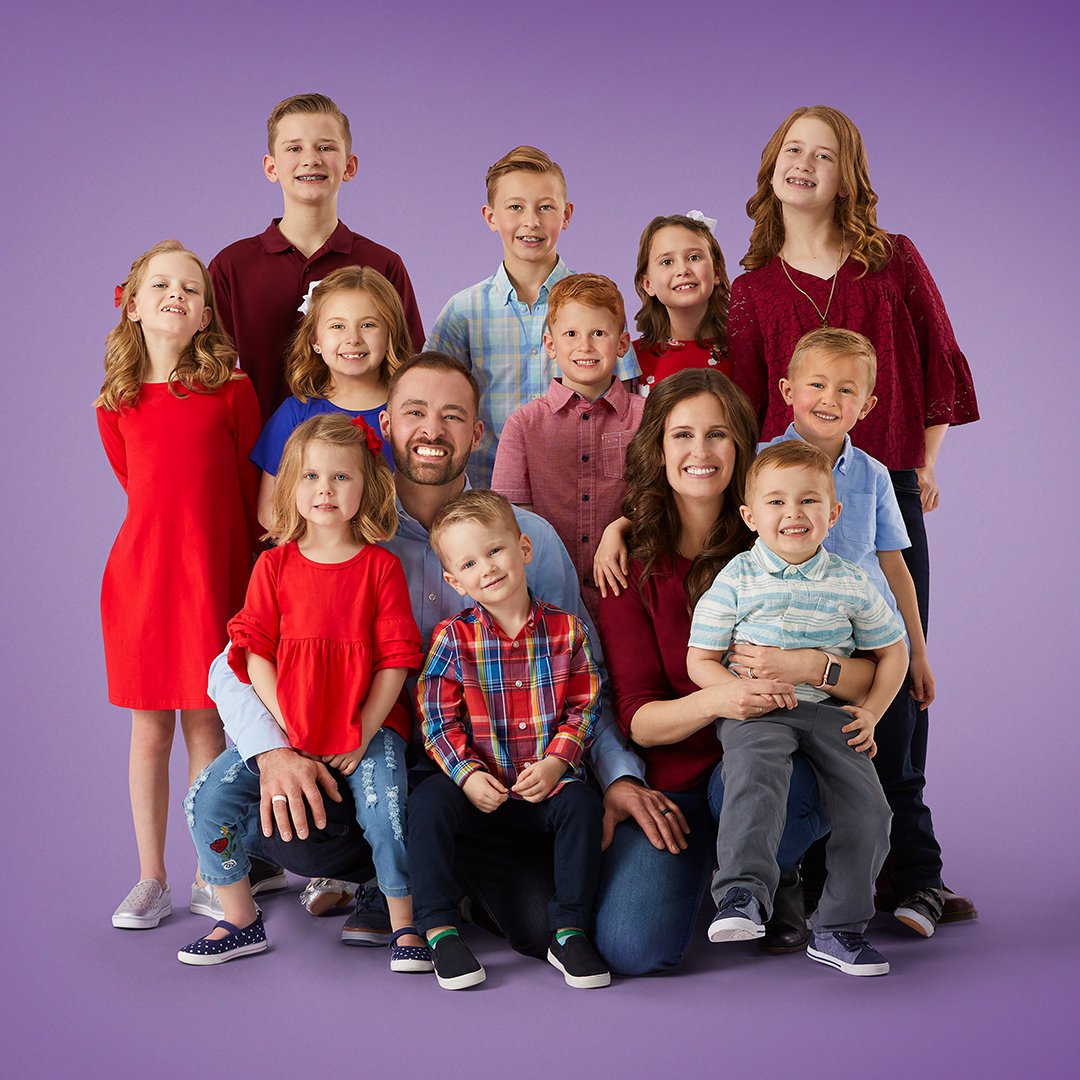 RELATED: How Many Children Do the Duggars Have? A Guide to All the Duggar Kids
So, who are members of the Shemwell family? In addition to mom Erica and dad Spencer, The Blended Bunch includes Erica's four girls and three boys:
Landon, 12
Emma, 10
Lily, 9 
Sophie, 8
Tanner, 6
Amelia, 5 
Caleb, 3
Spencer has three boys and one girl:
Brayden, 12 
Harper, 8 
Avery, 6 
Bexley, 4 
'The Blended Bunch' is TLC's latest show featuring a large family
RELATED: Will 'Doubling Down With the Derricos' Get a Season 2? Deon Derrico Says the Family Hopes to Be Back on TV 'Soon'
The Blended Bunch is TLC's latest show featuring a large family. In addition to mainstays like the Duggars from Counting On and the Busbys from OutDaughtered, the network has highlighted the stories of the Derrico family (Doubling Down With the Derricos), who have 14 kids, and the Waldrops (Sweet Home Sextuplets).    
"Our family series are a cornerstone of programming at TLC and these days, the word family has expanded to mean many things," TLC president Howard Lee, said in statement "We are constantly evolving and the Shemwells are a wonderful reflection of the varied families in today's world."
The Blended Bunch premieres Tuesday, March 16 at 9 p.m. ET on TLC.
Check out Showbiz Cheat Sheet on Facebook!