'The Bold and the Beautiful': 5 Couples That Were Teased, but Went Nowhere
Like many soap operas, 'The Bold and the Beautiful' tests the waters when it comes to romantic pairings. When two characters share a scene, fans speculate if the couple will hook up. There's been plenty of couples that were teased throughout the decades, yet their storylines never went anywhere.
The Bold and the Beautiful tests the waters when it comes to couples. Like many soap operas, they pair unexpected characters together to examine their chemistry before deciding their next step. Since the show's debut in 1987, writers have teased new romances. Yet as the couples gain attention, the show quickly puts an end to their storyline. Read on to learn about a few The Bold and the Beautiful couples that never came to fruition.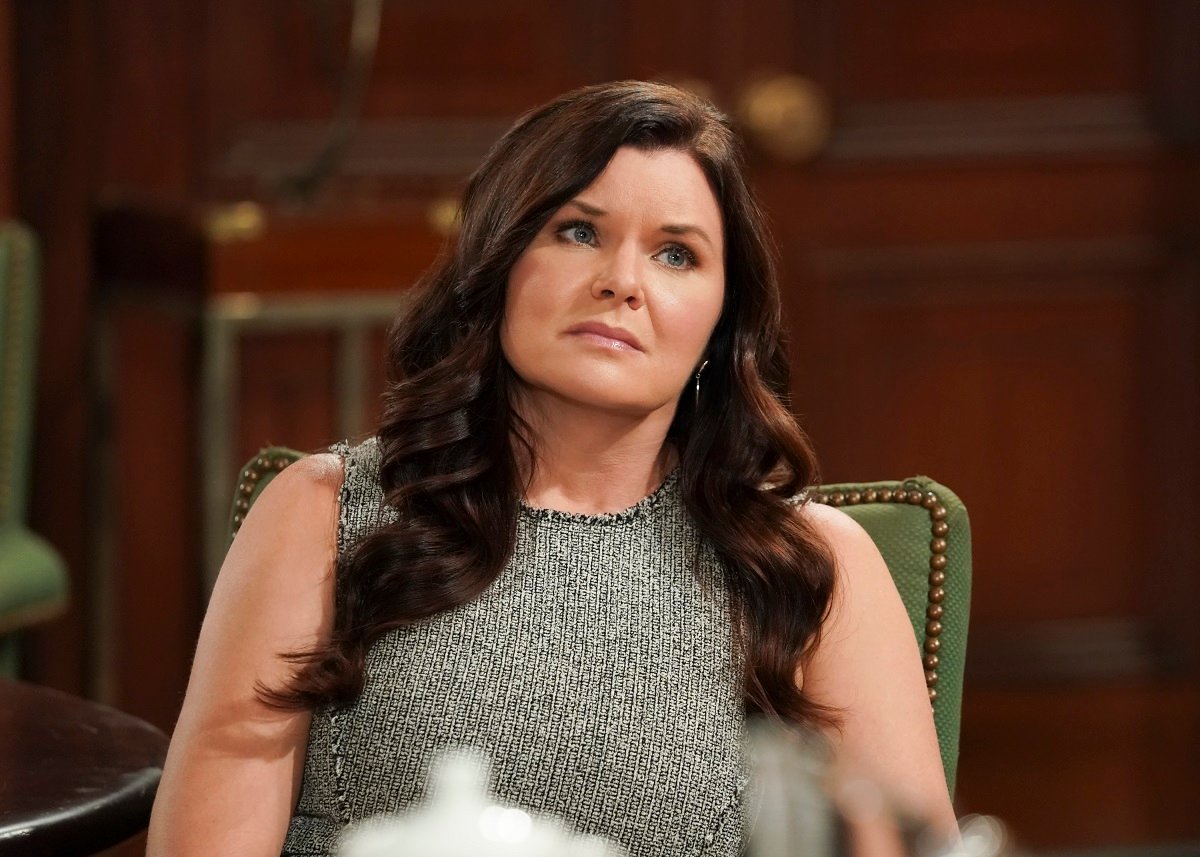 'The Bold and the Beautiful' teasing a potential romance for Eric Forrester and Katie Logan
Eric Forrester (John McCook) has had relationships with most of the Logan women. He and Beth Logan (Robin Riker) were college sweethearts, but he dumped her to marry Stephanie Forrester (Susan Flannery). Years later, Eric would marry Beth's daughters Brooke Logan (Katherine Kelly Lang) and Donna Logan (Jennifer Gareis). However, there's one Logan he's never been with, and that's Katie Logan (Heather Tom).
In 2017, the show appeared to be tinkering with the possibility of an Eric and Katie romance. When Katie became Eric's new neighbor, she began spending time with the Forrester patriarch, which sparked jealousy from his wife, Quinn Fuller (Rena Sofer). However, no romance came, and Eric and Katie remained friends.
Yet, speculation is rising the show may be revisiting the Eric and Katie relationship. Viewers believe Katie will be the Logan sister to help Eric out of his latest funk based on their recent scenes. On Twitter, fans are predicting how this storyline will play out. "Katie is the next Mrs. Eric Forrester," joked one commenter.
Shauna Fulton and Eric Forrester
Eric has wined and dined many women over the years. In 2020, it appeared he would have a new love interest after splitting with Quinn. Eric formed a close bond with Quinn's friend Shauna Fulton (Denise Richards) and allowed her to keep living in the Forrester guest house.
Of course, this infuriated Quinn, who believed Shauna was after her man. Instead of giving fans a love triangle between Shauna, Eric, and Quinn, the show did a cop-out. Shauna convinced Eric to give Quinn another chance, which led to the exes' reunion and Shauna still being single.
Maya Avant and Zende Dominguez shared a close moment on 'The Bold and the Beautiful'
The Bold and the Beautiful is prone to having family members fight over the affections of the same person. In 2017, it appeared the show was setting up that storyline for Maya Avant (Karla Mosley) and her sister Nicole Avant (Reign Edwards). Maya was happily married to Rick Forrester (Jacob Young), while Nicole and Zende Dominguez (Delon De Metz) were newlyweds.
During a business trip to Monte Carlo, Zende and Maya went out with the Forrester Creations crew to a nightclub. Zende rescued Maya from a drunk who was harassing her. Maya thanked Zende for his help, and a suspicious Katie witnessed their close moment.
Although a May and Zende affair would've been interesting, nothing came of it. Zende and Nicole left departed the show shortly afterward but later divorced. Meanwhile, Maya and Rick also divorced after he moved to Paris.
Bridget Forrester and CJ Garrison
The Forresters vs. The Spectras is one of The Bold and the Beautiful's epic rivalries. However, the families were enemies that didn't stop their kids from falling in love. Of course, there is the love story with Thorne Forrester (Ingo Rademacher) and Macy Alexander (Bobbie Eakes) that fans are familiar with.
But the show almost paired another Forrester and Spectra couple. In 2002, Bridget Forrester (Ashley Jones) began dating CJ Garrison (Mick Cain). At first, their relationship got off to a rocky start. CJ had a huge chip on his shoulder because he blamed the Forresters for Macy's death. However, his attitude eventually changes.
Bridget and CJ's budding relationship is short-lived when she becomes attracted to CJ's half-brother Dr. Mark Maclaine (Michael Dietz). Following their breakup, CJ leaves town. As for Bridget and Mark, their romance ends abruptly.
Ridge Forrester and Donna Logan
The Logan sisters have had plenty of fights over men. In 2006 when Donna returned to town, she set her sights on Brooke's ex Ridge Forrester (Thorsten Kaye). Brooke was married to Nick Marone (Jack Wagner) and had no intentions of reuniting with Ridge.
However, all that changed when Donna and Ridge began working together. Donna was hired as a lingerie model for Ridge's new fashion line. Donna and Ridge flirted in their runway appearances, which sparked jealousy in Brooke. Although Donna had a crush on Ridge, she realized his heart would always be with Brooke and didn't stand in the way of their reunion.