'The Celebrity Dating Game': More Star Contestants Announced Including This 'SNL' Alum
Putting a new spin on the 60s classic The Dating Game, ABC is launching a celebrity version of the show in June. With New Girl alum Zooey Deschanel and Grammy-winning singer Michael Bolton as hosts, the reboot brings a musical component to the blind dating process. The network just released the names of more famous faces that are scheduled to be fixed up with a match.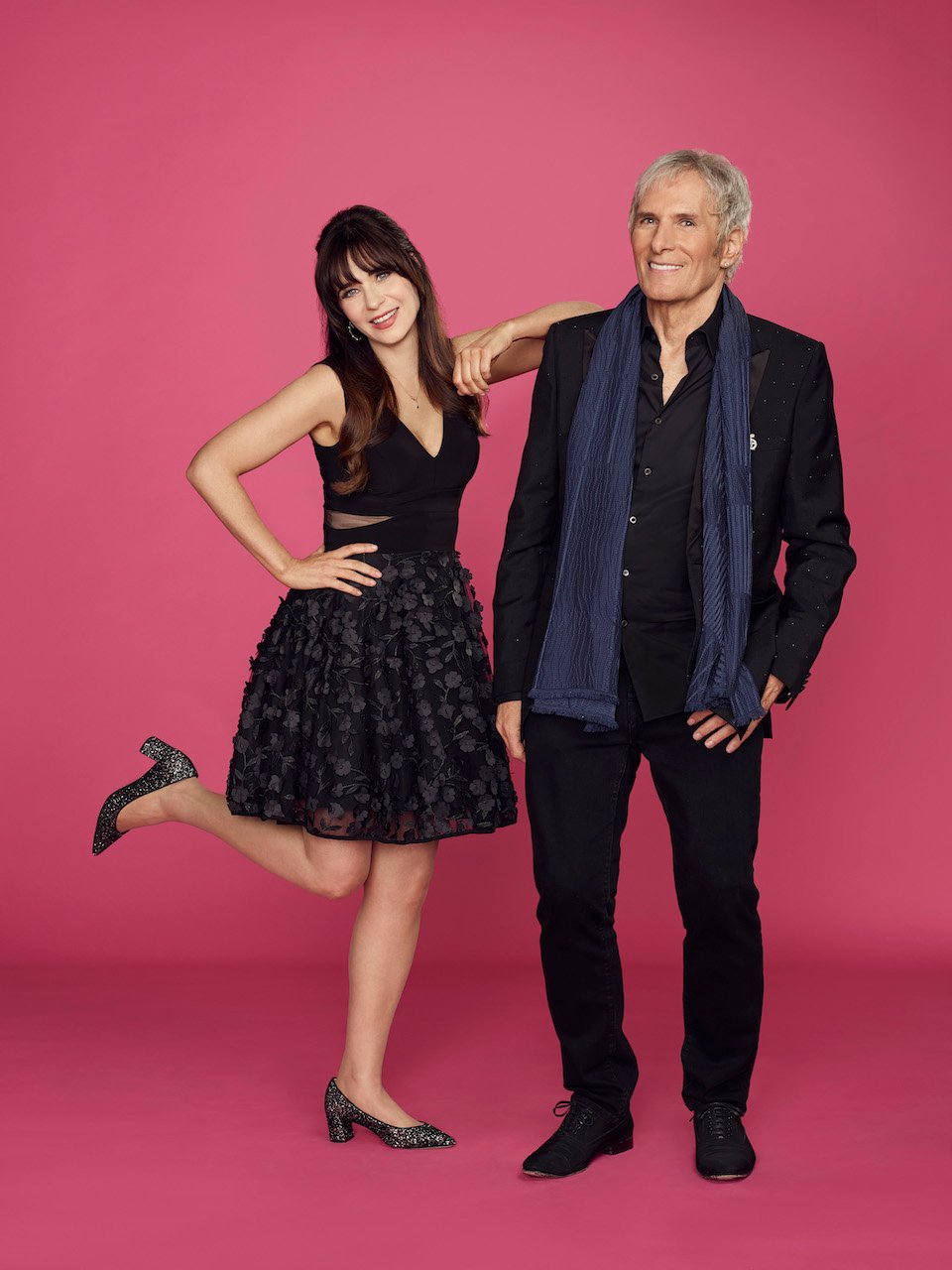 An all-star lineup for 'The Celebrity Dating Game'
Several top names had signed on for The Celebrity Dating Game earlier this year. Actor Taye Diggs, former Modern Family star Nolan Gould, singer Iggy Azalea, Carmen Electra, Carson Kressley, comedian Gabriel Iglesias, Black-ish star Marcus Scribner, Nicole Byer, The Bachelor's Demi Burnett, and former Bachelorette and Dancing With the Stars champ Hannah Brown already put their hats in the ring.
Joining the lineup are Saturday Night Live alum Chris Kattan, comedian Margaret Cho, former Blossom star Joey Lawrence, model Tyson Beckford, NFL star Rashad Jennings, and David Koechner of Anchorman, as reported by Entertainment Weekly.
The Dating Game was on the air from 1965 to 1973 with Jim Lange as host. The show was brought back in various versions via syndication with different hosts at the helm.
Though the original game show wasn't centered around celebrities, some famous faces tried their hand at TV dating as contestants. Tom Selleck, Burt Reynolds, Farrah Fawcett, John Ritter, and Suzanne Somers all appeared on the show prior to solidifying their superstar status.
RELATED: Zooey Deschanel Hates the Word People Use To Describe Her and Her 'New Girl' Character
'The Celebrity Dating Game' puts dating to music
The new series features two celebrities, who will pick a date that is physically hidden from view. The stars will also be out of sight, and the contestants will be given clues to their identities through song parodies from Bolton. Each celebrity will select a date based on the answers the contestants give to the musical clues. Show producers are banking on the versatility of their lineup.
"What makes The Celebrity Dating Game so unique is every show takes on the personality of the celebrity, they are all different!" executive producer Charles Wachter explained in a statement. "Whether it be a comedian, athlete, or a heartthrob (or all three — I am looking at you Kattan). Every episode has a completely different flavor."
Wachter expects the format of the game show to keep viewers guessing up until the last minute of each episode.
"You never know what you are going to get," he remarked. "Or who they will choose."
Zooey Deschanel and Michael Bolton are up for the challenge of 'The Celebrity Dating Game'
While Deschanel is used to scripted acting roles, she is clearly relishing her new host post.
"Michael Bolton and I are hosting it and playing matchmaker," Deschanel told Showbiz Cheat Sheet of The Celebrity Dating Game. "It's so much fun and I have loved working on it so much. I like hosting a show — it's different than an acting job, so it was a fun challenge and one I loved taking on."
RELATED: Michael Bolton Sings Zooey Deschanel's Praises as Host of 'The Celebrity Dating Game': 'She's Doing the Heavy Lifting'
Bolton is tasked with musical vocals on the show, and was quick to give props to Deschanel for nailing her job as host.
"In a lot of ways, she's doing the heavy lifting on the hosting, while I'm singing and chiming in on the dialogue," Bolton told TV Insider of Deschanel. "She's got a lot of responsibility, but she handles it all so seemingly effortlessly. She lights up the stage."
The Celebrity Dating Game premiers on June 14 on ABC.