'The Chair': How Many Episodes Does the Show Have and Will There Be More?
So many people are waiting to watch more of The Chair, the new Netflix comedy starring Sandra Oh. It is hard to deny the fact that the show was absolutely wonderful – it follows the journey of Ji-Yoon Kim, portrayed by Oh, as she is named chair of the English Department at Pembroke University, becoming the first woman of color to do so.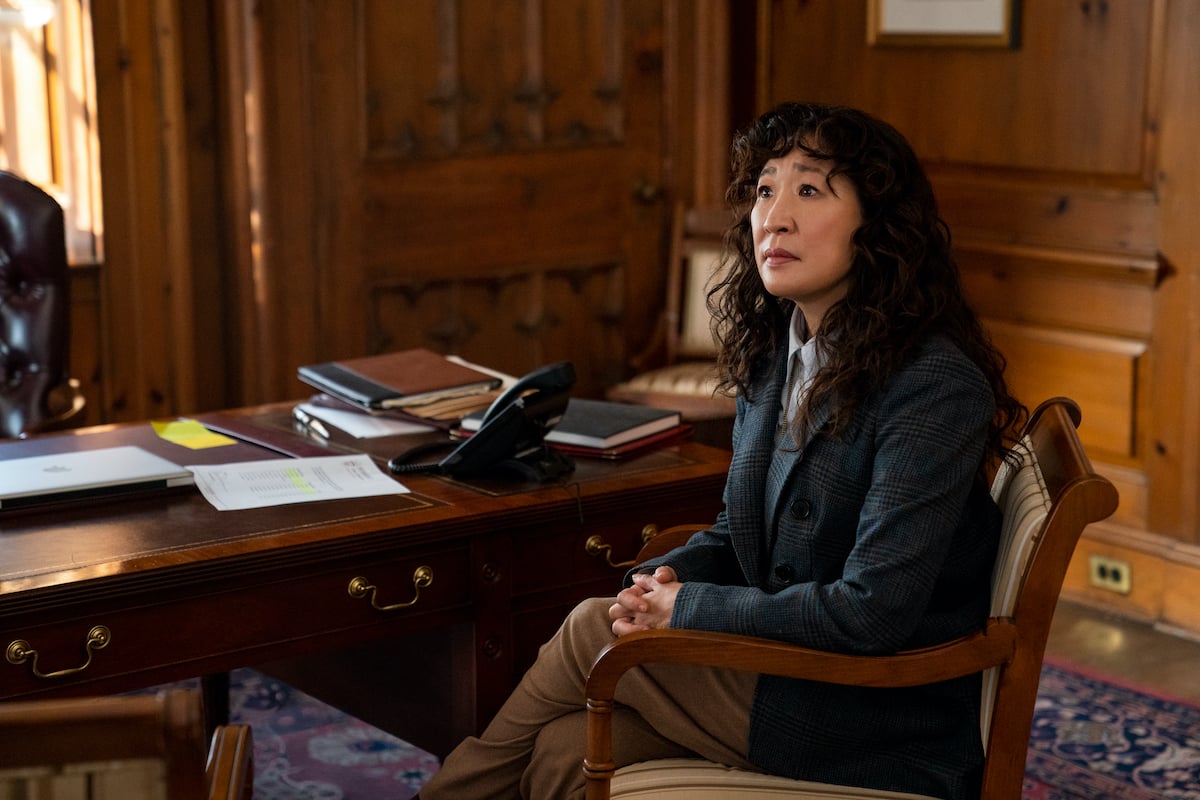 Created by Amanda Peet and Annie Wyman, the cast includes other big names, and is described by The Hollywood Reporter as a dramedy that "paints a picture of a department that's already in crisis."
As for the show, the English Department at the prestigious university is dealing with a major crisis, and it will be interesting to see what unfolds. So, how many episodes does the show have, and will there be more?
How many episodes does 'The Chair' have?
Many people may be wondering just how many episodes we can expect to see. The first season of The Chair has episodes. Also, behind the scenes in the making of the series which is sure to be instantly iconic are David Benioff and D.B. Weiss.
According to Digital Spy, a second season of the show has yet to be confirmed and there have been no hints more episodes of the first season will be dropping anytime soon. However, given the show's popularity, it's likely a second season could be ordered by Netflix.
The premise of the show
Sandra Oh's Dr. Ji-Yoon Kim has a difficult situation to deal with, but her comedic skills really help her with her day-to-day experiences. Kim must find a way to navigate her way around the Ivy League school while going out of her way to prove herself in a place that is mostly dominated by male employees.
It is nothing that she can't handle, however, and she rises to the challenge while being in charge, making budget cuts, and dealing with any type of scandal that arises. Kim is finding that most of the academic staff has outdated views which are hindering the progress of students and not allowing the department as a whole to move forward and prosper.
She knows that she has to change this, and the show will follow her journey to do just that. The trailer is absolutely enticing, and Dr. Ji-Yoon Kim's line of "I feel like someone handed me a ticking time bomb because they wanted to make sure a woman was holding it when it explodes," pretty much sets the tone for the entire series.
Who does the cast consist of?
What other big-name actors appear in the series? According to IMDb, quite a few.
Holland Taylor, best known so far for her role as Evelyn Harper in the sitcom Two and a Half Men, portrays Professor Joan Hambling, while we also see Bob Balaban as Elliot Rentz. Fans can also expect appearances by Everly Carganilla, Ron Crawford, Jay Duplass, Christine McBurney, and more.
Filmed in Pittsburgh, Pennsylvania, it's the perfect fall show for fans to enjoy, and we can't wait to see what might be next for the Netflix series.
RELATED: 'The Chair': Netflix Release Date, Main Cast, and What to Expect