'The Challenge 35': Kailah Casillas 'On the Fence' About Forgiving Nelson Thomas After Latest Rude Comment
In The Challenge 35: Total Madness, Kailah Casillas and Nelson Thomas got into another argument during a nomination ceremony. Nelson became extremely upset and made a personal attack on Kailah, upsetting her. After the episode, she admitted she was "on the fence" about forgiving him.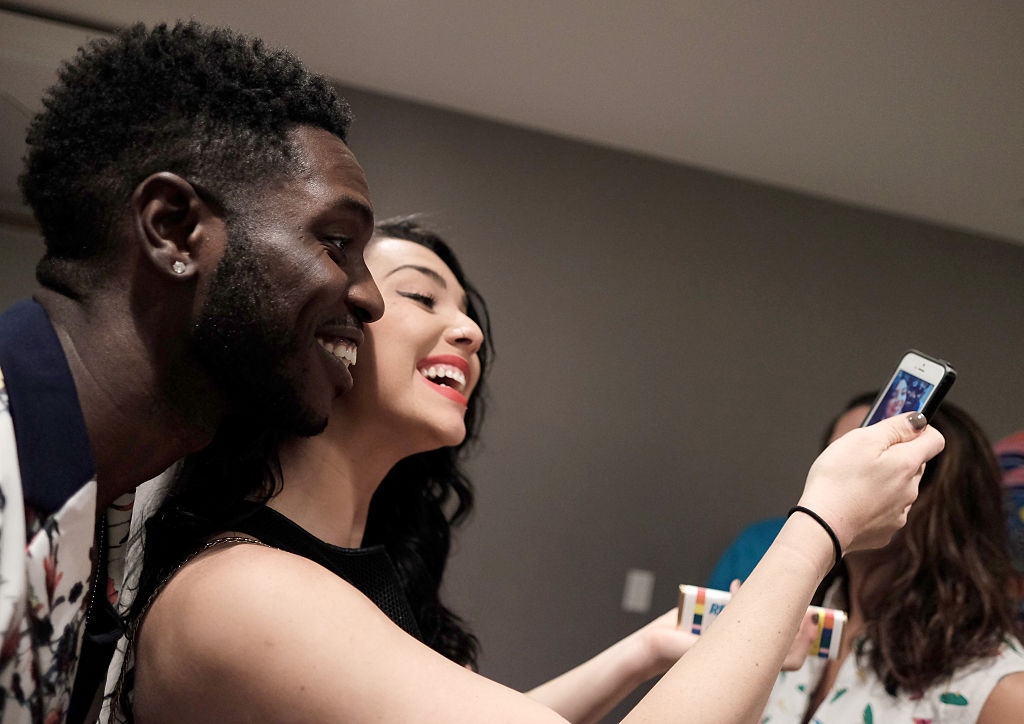 Kailah Casillas and Nelson Thomas got into a fight
At the nomination ceremony in The Challenge 35: Should I Stay or Should I Go? Nelson Thomas commented on how they're giving Tori Deal a "free red skull" by throwing her into elimination.
He then claimed that he knows that Jenna Compono has "checked out of the game" and told his other competitors he felt they were "handing" Tori a ticket to the finals.
Kailah Casillas, who is close friends with Jenna, defended her ally and said she hadn't "checked out" of the competition. She attempted to continue giving her explanation, but Nelson Thomas cut her off and asked her why she "always has something to say."
The Are You the One star repeated his comment about Jenna and Kailah clapped and claimed that no one cared about what he thinks. This apparently pushed Nelson over the edge who snapped back and told the Real World star to "fix her relationship."
RELATED: 'The Challenge 35': Kailah Casillas Asked Her Parents for Advice After Cheating Scandal in Deleted Scene
Additionally, he called her the "foulest" female competitor in the house and said she should "go get f****d in a porta-potty again." Kailah denied hooking up with anyone in the portable restroom, and her new love interest, Stephen Bear, promptly stood up to Nelson for disrespecting his lady.
Afterward, the two spoke along with some of the other male competitors, and the AYTO star outright called Kailah a "sl*t." Josh Martinez called Nelson out for his unnecessary "personal attacks," and Cory Wharton chastised his best friend in the house for "getting too worked up."
Nelson later apologized for his words in a confessional and blamed his behavior on their undesirable living conditions.
Kailah Casillas responded to the fight on Twitter
After the episode aired, Kailah responded to a fan's reaction to their argument on Twitter, writing, "another day, another girl he's disrespected for no reason."
Another praised her for standing up for her friend and then taking the heat without reacting, and Kailah explained she "thought it would be a better look for her to let him look like the clown he is."
RELATED: Why 'The Challenge' Star Nany González Calls Best Friend Kailah Casillas Her 'Mirror' and 'Shadow'
She also noted she learned her lesson from screaming at him at the last nomination ceremony as nothing changed. In a different tweet, she thanked Cory, Josh, and Bear for having her back after the ceremony ended.
The Real World star responded to another fan and claimed she's "grown" but felt like "his attacks were deliberate." She also joked with a Twitter user who commended her for coming out "looking like the one with class," writing, "first time for everything."
Kailah Casillas says she's "on the fence" about forgiving Nelson Thomas
In a Twitter poll, Kailah asked her followers if they would forgive Nelson after his hurtful comment, especially after the two got into a serious argument during Invasion of the Champions and a blowout at a nomination ceremony a few episodes ago.
She also admitted she's "still very on the fence about my feelings because I'm so quick to forgive." Of the 10,000 followers who voted, an overwhelming 82.7% said they would not give the AYTO star another chance.
RELATED: 'The Challenge 35′: Kailah Casillas Claims Jenna Compono and Zach Nichols' Argument Wasn't Over Cory Wharton
In response to a user, she explained his remark this time "was different" because they were having a "game type conversation" while sober. Therefore, she feels his latest comment was "out of place."
Even though Nelson also apologized on his Twitter, it doesn't look like Kailah is ready to forgive him. The Challenge 35: Total Madness airs Wednesdays at 8 p.m. EST on MTV.