'The Challenge 35': Zach Nichols Upset With Jenna Compono Over Old Messages With Cory Wharton
In 'The Challenge 35,' couple Jenna Compono and Zach Nichols got into a long distance fight after he found old messages with Cory Wharton in her phone.
Newly engaged couple Jenna Compono and Zach Nichols got into an argument while the 27-year-old competed on The Challenge 35: Total Madness because he found old direct messages on her phone. Even though MTV did not reveal the person who Jenna talked to, many sources believe it was co-star Cory Wharton.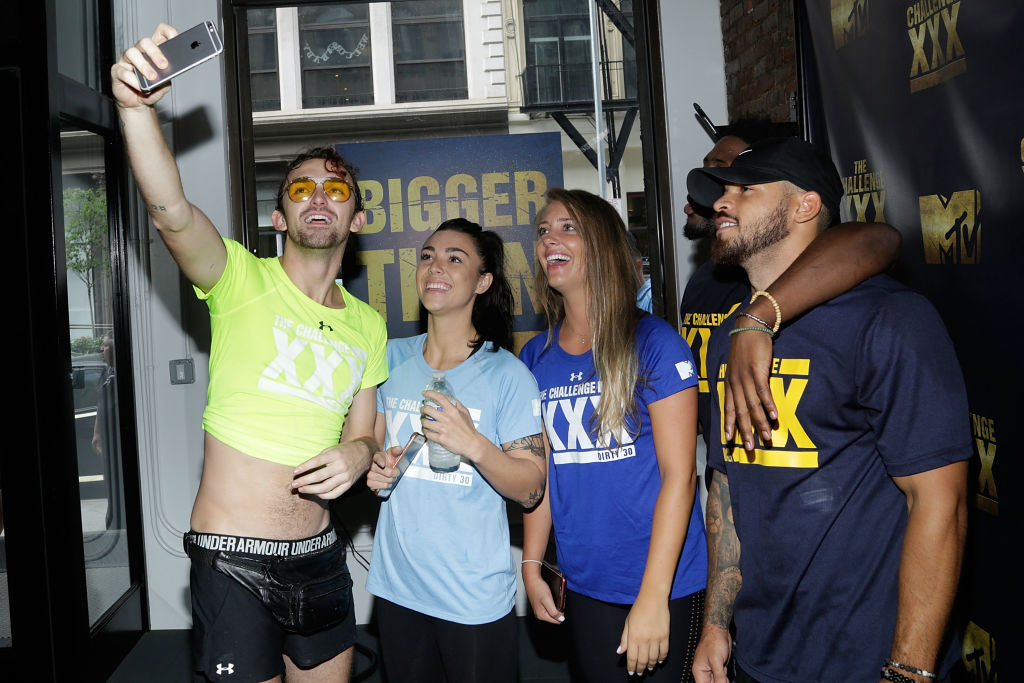 Zach Nichols and Jenna Compono relationship
In 2014, rookie Jenna Compono and one-time champ Zach Nichols met when they competed in Battle of Exes II alongside their respective former flings. Despite the awkward circumstances, the two had an undeniable connection and began dating shortly after that.
While Zach decided to take a break, Jenna returned for the following seasons, Battle of the Bloodlines and Rivals III. During the 28th season, the New York-native figured out her boyfriend cheated on her back home because he called her another name when she phoned him.
They both returned for Invasion of the Champions (2017) and attempted to rekindle their relationship until Amanda Garcia spread a rumor that Jenna hooked up with another castmate before Zach arrived.
Regardless, the couple got back together shortly after filming and have been together ever since. In October 2019, Jenna competed on The Challenge 35: Total Madness, and her boyfriend stayed home.
During filming, she found out through her friend that Zach found old direct messages with a fellow Challenger in her phone.
Zach Nichols upset with Jenna Compono over old messages
In Episode 6, Jenna explained Zach was dodging her phone calls and wouldn't speak to her because he found messages from two years ago in her phone. She eventually contacted him, and he demanded she come home to fix their relationship.
Jenna attempted to explain that they weren't together when she messaged the mysterious man, and he also dated other girls around the same time. However, he accused her of continually lying to him and implied she cheated on him.
After the conversation, Jenna spoke to a few of her co-stars who encouraged her to stay in the competition. Other competitors, namely Tori Deal, took notice of how Jenna mentally checked out from the game and wanted to seize the opportunity to earn a red skull against the New York-native.
However, Jenna's ally, Nany González, won the daily challenge and selected her friend to join her in the Tribunal, making her immune from elimination, unless she throws herself in.
Jenna Compono's messages allegedly with Cory Wharton
In the episode, MTV did not air the person who Jenna communicated with that upset Zach, but several sources have revealed the DM's were with co-star Cory Wharton.
The father-of-two appeared on the same original Real World season as Jenna, and the two have competed on several seasons of The Challenge together.
After the episode aired, Real World roommate Thomas Buell confirmed Jenna and Cory previously hooked up after they finished filming the season. In Bloodlines, Jenna "twerked" on Cory, and he fell offstage. Not wanting to fall alone, he grabbed Jenna and took her down with him.
While the show did not delve into their relationship, veteran Sarah Rice claimed the two had a romantic fling during Bloodlines and the following season Rivals III.
It's unclear why MTV chose not to include who the messages were with, but many fans have hypothesized that they left it out because Cory is trying to change his image. The Challenge 35: Total Madness airs Wednesdays at 8 p.m. EST on MTV.