'The Challenge': Cara Maria Sorbello Explains Why She Was Drawn to Paulie Calafiore in the First Place
Fans love seeing the physical and mental competitions present on MTV's The Challenge. But we all know most viewers are here for the drama. While rookies enter the competition each season, returning players come back on the show for their chance at glory and money. And there are plenty of personal feelings and relationships that develop on The Challenge as well.
Cara Maria Sorbello is known for being a beast in eliminations. But she's also been part of her fair share of drama. And her relationship with current boyfriend Paulie Calafiore has caused quite a scene. We know Calafiore had a girlfriend when he first started getting together with Sorbello — so what drew Sorbello to him in the first place? Here's what she said.
Cara Maria Sorbello and Paulie Calafiore haven't had a drama-free relationship
Sorbello and Calafiore originally got together during Final Reckoning. Throughout the season, Sorbello turned on the flirtation with Calafiore despite knowing he had a girlfriend back home at the time. And it seems that by the end of the season, they finally took things to the next level. 
Of course, Calafiore's girlfriend, Danielle Maltby, felt totally blindsided by the incident and never expected to be cheated on. And she ended up speaking to Sorbello about the scandal.
"When he got his phone back in May when you were done filming, he told me he loved me, had bought my engagement ring and when he got home to me and we were going to make a baby. He told me … he stopped it before it went all the way with you," People reports Maltby told Sorbello. 
"He continued to tell me he loved me, that he was working on fixing this, that I was the end goal and honestly, you were nothing," Maltby continued. "That he had to play this out for the show."
While the drama ended Calafiore's relationship with Sorbello temporarily, we know the two are still together now. While Maltby is justified in feeling hurt, it wasn't enough to save the relationship.
Calafiore said he has trouble with monogamous relationships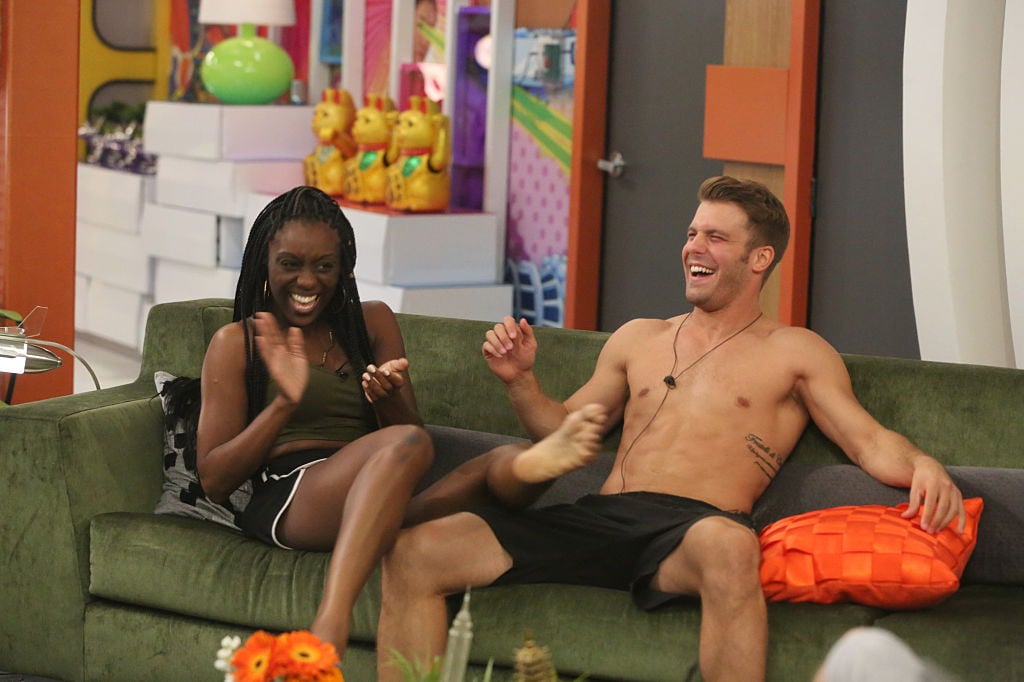 It seems monogamy just isn't for Calafiore. He allegedly felt bad about everything he put Maltby through, but in the end, he knows he can't be in a monogamous relationship. It's assumed this means his relationship with Sorbello is open to some degree.
"For now I can't be monogamous to one person, I've tried and it doesn't work," Us Weekly reports Calafiore tweeted back in June 2018. "I love women, I have a lot of female friends and sometimes I fall for multiple at a time for different reasons whether it's the sex or the energy shared between the two of us. I try to be faithful but I can't."
Calafiore added that "other than infidelity," he treats the women in his life "like gold," and he's certainly not a misogynist. And he retains that he wasn't "proud" of everything that went down with Maltby, but he assured her that he would stick with Sorbello in the end instead of her.
Sorbello was drawn to Calafiore's 'energy' at first
Going for Calafiore clearly was going to lead to drama for Sorbello. But it seems she was drawn to him as a person when she first met him, and she couldn't let it go. During Final Reckoning, she was still dealing with the fallout from her last relationship with Kyle Christie. And Calafiore felt like a safe person to run to when things got severe.
"And so we were hanging out in the hotel before The Challenge and there was just a good vibe with him. I really liked him, I was drawn to him. When I was going through all that crap with Kyle he took me into the living room and danced with me, he just made me happy," Sorbello told Betches.
"And I genuinely was attracted to him and interested and I understand, yes, he has a girlfriend, and that's not a good look. But when you're in the house with someone and it's 24/7 you forget about life on the outside. You just look at what's in there, really."
While Calafiore may have played it cool in the beginning, we know he had serious feelings for Sorbello, too. We're excited to see where their relationship ends up heading in the future, on or off reality TV.
Check out Showbiz Cheat Sheet on Facebook!