'The Challenge': Cara Maria Sorbello Is Wearing a Wedding Dress on Instagram Amidst Coronavirus Outbreak
Fans of MTV's The Challenge are amped for the premiere of Season 35, Total Madness. While we're all excited to see familiar faces rejoining the cast, like Johnny "Bananas" Devenanzio and Wes Bergmann, there are few favorites who won't be competing for the big money. And Cara Maria Sorbello, as well as boyfriend Paulie Calafiore, are among them.
Sorbello is known for being a Challenge champion, and Calafiore has also earned his stripes during eliminations. While they had a tough start to the beginning of their relationship, they appear to be going strong now. And Sorbello just posted videos of her wearing a wedding dress while playing dress-up during the coronavirus (COVID-19) scare. Here's what she's up to and why.
Cara Maria Sorbello and Paulie Calafiore had a rocky start to their relationship
It hasn't been all sunshine and rainbows for Sorbello and Calafiore. We know Sorbello's been romantically involved with a number of Challenge competitors in the past, but when she first started seeing Calafiore, chaos ensued. The two met while filming Final Reckoning in 2018, but Calafiore had a girlfriend, Danielle Maltby, when he started seeing Sorbello.
Sorbello was fully aware of Maltby, but Maltby felt blindsided by the cheating scandal. As she told Sorbello, according to People, "Then he got his phone back in May when you were done filming, he told me he loved me, had bought my engagement ring and when he got home to me and we were going to make a baby. He told me … he stopped it before it went all the way with you."
After Calafiore and Maltby broke things off, Sorbello found out he was still contacting his ex, which led to a breakup between the Challenge power couple. But they've rebuilt their trust and their relationship since then. Now, it seems their toughest days are over.
Sorbello and Calafiore took their relationship off of social media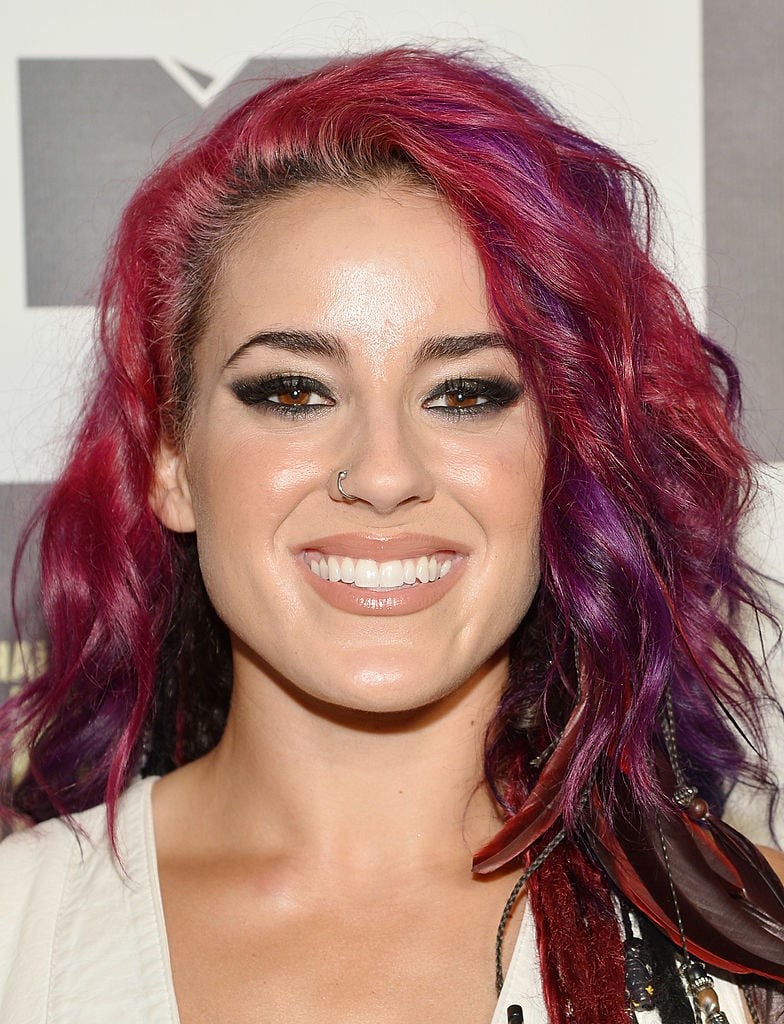 While Sorbello and Calafiore have plenty of fans, others dislike their relationship. Many other Challenge competitors believe Sorbello has changed since dating Calafiore. And while the couple used to post photos and videos of them together on their Instagrams, it seems they've totally changed their content. While they appear every once in awhile on each other's social media, they've both made their Instagrams more about their health and fitness goals than their relationship.
Sorbello even told her Instagram followers that she's aiming to make her online life a lot more private. Back in early February 2020, she added a text post to her Instagram Story that alluded to her increased need for privacy.
"Date, in private. Love, in private, Be happy, in private," the text post read. "That way you can … Take your losses, in private, maintain, in private, rebuild yourself, in private."
Sorbello wore a wedding dress on her Instagram Story
It looks like Sorbello has some time on her hands due to the coronavirus lockdown. "We might be only a couple days into this little quarantine action, but if you're like me, you found ways to keep yourself entertained. Welcome to the life of an only child," Sorbello told her followers via her Instagram Story. "So, for today, I've decided to play dress-up." She then panned her camera back to reveal she's wearing what looks to be a white wedding gown.
It doesn't look like Sorbello is keeping the white dress, though. She mentioned she's putting it up on her Poshmark to sell — but first, she wanted to see what Calafiore thought of it. "I'm gonna see what Paulie thinks of it first," she told her camera while still wearing the dress.
Sorbello included Calafiore's reaction, too. "What is that outfit?" he asked in shock. "Is that a wedding dress?"
It doesn't seem like Calafiore is ready for that type of commitment, as he didn't seem too thrilled with the dress. It's a good thing Sorbello seemed like she was kidding when she pulled out the dress. As for their relationship, we'll wait to see how it progresses in the future.
Check out Showbiz Cheat Sheet on Facebook!