'The Challenge': Darrell Taylor Is a 'Challenge' Legend but Wants to Battle a Celebrity in a Different Type of Competition: 'He's Gassing Himself up Way Too Much'
Throughout his MTV career, Darrell Taylor has proven to be one of the greatest contestants to ever compete on The Challenge. He has won four seasons and consistently proves to be one of the most difficult people to eliminate from the game. However, Taylor would like to use his athleticism for a different type of competition, as he would like to be one of the next stars to enter the celebrity boxing world. In fact, just last month, Taylor called out one of the pioneers in celebrity boxing: YouTuber Jake Paul.
Celebrity boxing has become extremely popular
RELATED: 'The Challenge': How Old is Darrell Taylor? When Did He Start the Show?
Over the past couple of years, more and more celebrities with no prior boxing experience have been getting in the ring. YouTubers Jake and Logan Paul are two stars who have really helped launch the trend.
Logan fought fellow YouTuber KSI in 2019 and has a fight with boxing legend Floyd Mayweather Jr. coming up in June. Jake, on the other hand, has had some impressive wins over former NBA star Nate Robinson and former UFC fighter Ben Askren.
Other stars who plan to put the gloves on are former NFL receiver Chad Johnson, who is scheduled to fight on the Mayweather-Logan Paul undercard, and both Lamar Odom and Aaron Carter, who will go head-to-head in a June bout.
Taylor isn't worried about guys like Odom, Carter, or Johnson, though. He wants the guy who has helped make it popular.
Darrell Taylor wants to go against Jake Paul in the boxing ring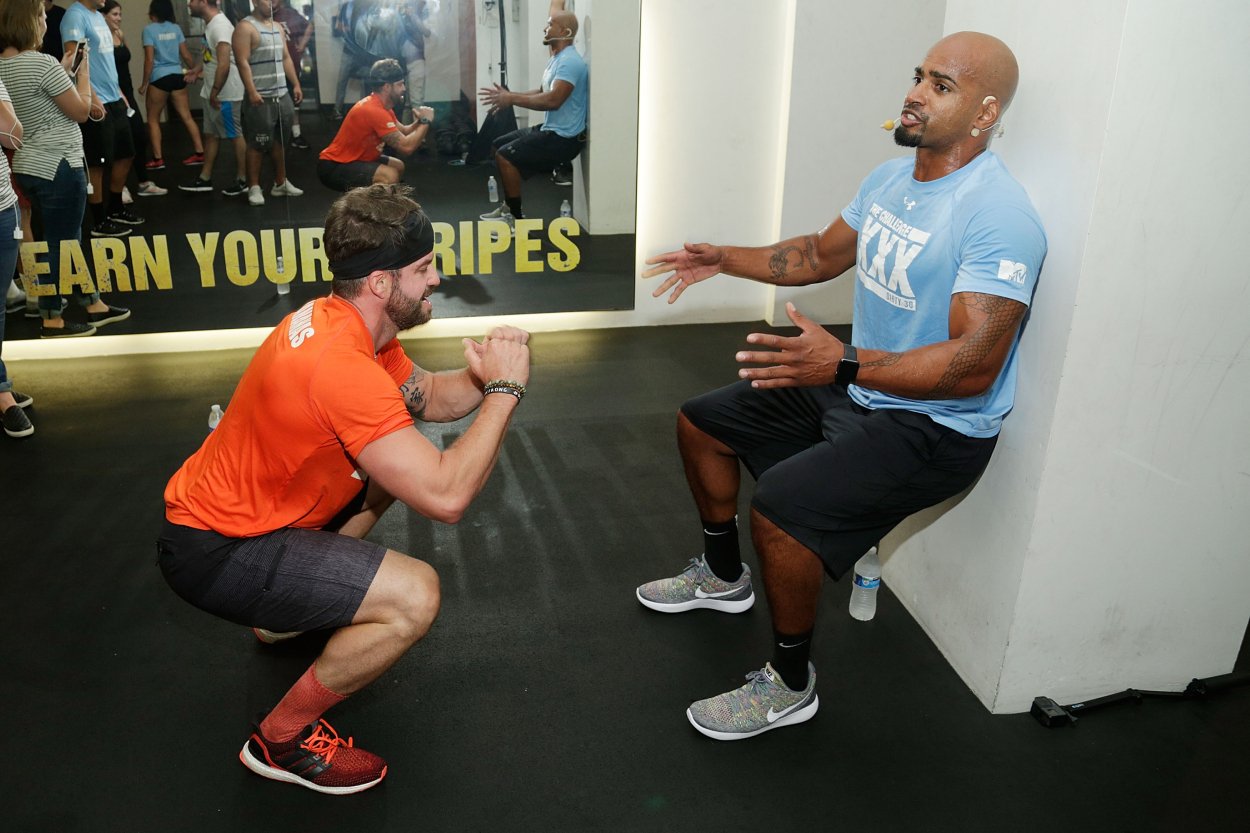 RELATED: Paulie Calafiore Compares 'Big Brother' and 'The Challenge,' Says No 'Challenge' Stars Could Do 'Big Brother'
Last month, after Jake beat Askren, Taylor tweeted to the YouTuber: "Come on homie!!! [Jake Paul], I know you're not afraid of a [41-year-old] like me who ACTUALLY knows his way around the ring. MTV vs. YouTube. Let's dance."
He then talked about wanting to fight Paul to Us Weekly.
"I just feel like they're making a mockery out of boxing. Boxing saved my life. When I was younger — I was 21. I was drinking, smoking weed every day, getting fat, getting out of shape. I was like, 'You know what? I'm going to go to the boxing gym,'" he said, per Us Weekly. "My uncle used to box when I was younger. I tried it, I dabbled with it for two summers but never competed. So, I trained for four months, the Golden Gloves were coming; it was the novice. I jumped in and got second place. The next year, I won the open. So, the fact that he's saying he's a great boxer and all this, I think it just really kinda messes with me a little bit."
Taylor continued: "I feel like he's disrespecting boxing. He's gassing himself up way too much. So, when I see this, and he's saying, 'Who should [I] fight next?' Well, why don't you fight somebody who knows what it's like to be in the ring?"
So, will Jake and Taylor actually fight? No news has come out on whether the younger Paul brother has responded to Taylor since getting called out by the Challenge star, but Taylor has received support from many Challenge alumni.
"If Jake Paul doesn't fight Darrell next, it's a missed shot," Challenge star Wes Bergmann tweeted. "[Jake Paul]: it will stop people from saying you don't fight boxers; ask Paramount+ what numbers D just helped sell; I will be there to troll both of you the entire time to make sure it doesn't get too classy."
Darrell Taylor is a legend on MTV's 'The Challenge'
RELATED: Johnny Bananas Became a Superstar on 'The Challenge' but Would Like to Use His Athleticism for a Different Type of Competition
Whether Taylor gets to fight one of the Paul brothers or not, he has already proven he is one of the greatest competitors in Challenge history.
According to his Challenge Fandom, Taylor ended up winning all of his first four seasons on the MTV show, as he is a four-time Challenge champ. He also won the spinoff, Champs vs. Pros, and has made it to the final in the current season of The Challenge: All Stars.
Taylor has proven that he has an entertaining personality and is a great athlete. What else would Jake want?