'The Challenge': Fans Are Blasting Tori Deal For Supporting Jenna Compono Staying With Zach Nichols
This season of The Challenge is turning out to be just as dramatic as its predecessors. So far, there's been a lot of focus on Jenna Compono and her relationship with Zach Nichols. Nichols and Compono are engaged now, and they met through The Challenge years ago. But they're having serious issues on Total Madness.
Compono is competing for the $1 million prize while Nichols is at home. And they got into a fight in which Nichols exhibited seriously disturbing behavior. Fans would love to see Compono leave Nichols for good, but it seems fellow competitor Tori Deal is showing her support for the couple — and everyone's blasting her.
Zach Nichols made scathing accusations about Jenna Compono on 'Total Madness'
RELATED: 'The Challenge': Fans Think Zach Nichols Is Trying to Save Face as He Keeps Posting Sweet Photos of Him and Jenna Compono
Nichols and Compono are far from a perfect couple. Compono's proven time and time again that she's willing to forgive Nichols for his wrongdoings, but Nichols needs to step up his game. And the behavior he exhibited toward Compono on Total Madness warrants a public apology.
During episode 6, Nichols admitted to Compono on a video call that he went through her direct messages. And he accused her of cheating after finding texts from other men two years ago. Compono tried to defend herself, but Nichols wasn't having it. And on episode 7, he gave her an ultimatum: She was to either come home and fix the issue, or he was kicking her out.
The entire ordeal was totally unfair to Compono, and it weighed on her heavily. "Jenna was like, every day like, 'I want to go home.' I mean, she was not in a great space …," Aneesa Ferriera said on the Challenge Mania podcast.
Compono asked Tori Deal to help her deal with the situation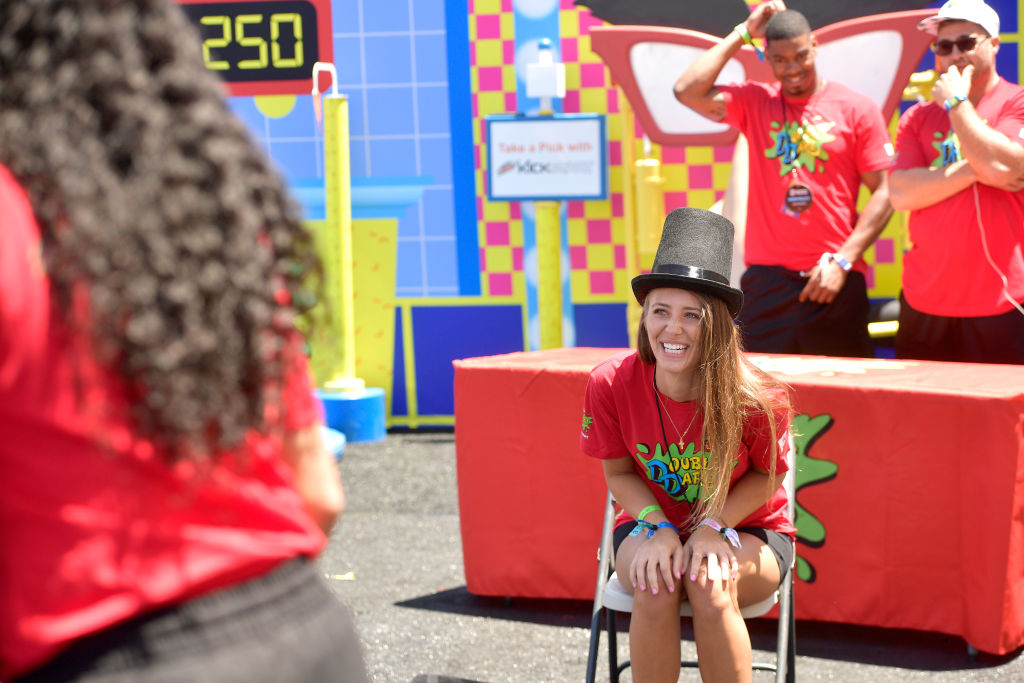 Deal was after a red skull so she could compete in the finale. And she thought Compono would be easy to beat, as Compono seemed totally checked out after her fight with Nichols. Ultimately, Compono was ready to compete, though — and she ended up winning an elimination round against Deal, sending Deal home.
"But I really did think when I was out there that she was not going to perform," Deal told Entertainment Weekly. "I really did. And so when I started to see her running and slamming those bricks and not stopping, and 35 minutes later, she's still doing it, I was like, 'Oh wow.' I didn't believe her when she told me before, 'Yeah, I'm going to try.'"
After Compono beat Deal, she asked Deal if he would check up on Nichols for her and tell him exactly what's going on.
"I did. I [didn't want to], I'm not going to lie," Deal said of her reaching out to Nichols. "I was like, 'F*cking a**hole, you beat me! And then you want me to go fix your relationship?!' I was really upset about that. But I put myself in her shoes and I was like, if it was the other way around, I would really hope that she would do it for me."
Deal then explained that she was able to contact Nichols and text him, and that helped him "chill out."
Deal now seems to be supporting them, and fans are over it
It looks like Compono and Nichols are back on good terms. On May 17, Compono posted a photo of the two of them to her Instagram. And to that, Deal commented, "Cuties," along with a heart-eyed emoji.
Deal's getting plenty of flack for her supportive comment, of course, as many thought she should've stepped in and helped Compono leave Nichols.
One follower commented, "all of us are screaming at home for someone to help her get out!"
Another wrote, "Blows my mind how many of the cast mates ship them and basically condone Zach's behavior over the years."
Yet another added, "unfortunately many times friends become complacent to keep the peace within their relationships. It's much more difficult to speak up than it is to be passive."
We're hoping Nichols really has changed his behavior toward Compono, as she certainly deserves better.
Check out Showbiz Cheat Sheet on Facebook!