'The Challenge' Fans Label Fessy Shafaat 'the Worst' After His Performance Doesn't Live Up to His Ego
The Challenge: Double Agents star Fessy Shafaat talked a big game all season long. But when it counted, he couldn't back it up. As a result, fans are saying he doesn't have what it takes to live up to his ego. In a new poll, they've voted him the worst player in Challenge history.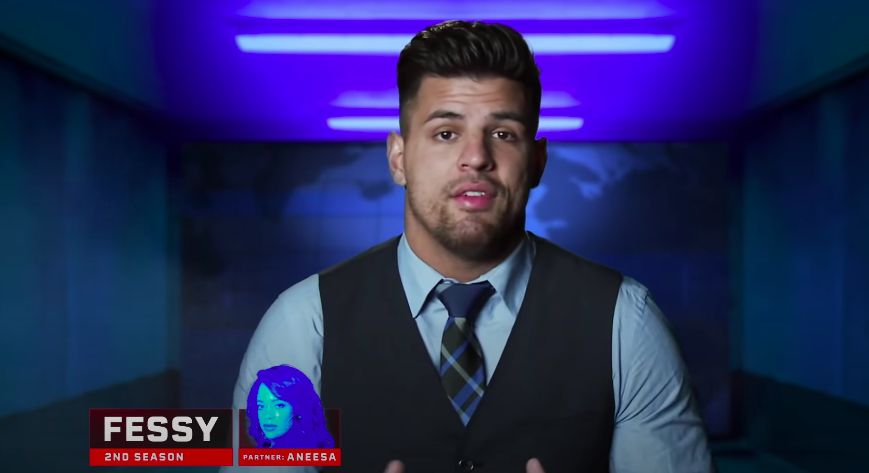 Fessy Shafaat 'came in hot' to 'The Challenge: Double Agents'
According to winner Chris "CT" Tamburello, Fessy "came in hot" to season 36. He won the first two daily challenges, inflating his ego even more.
But after both wins, Fessy turned down the chance to send himself into elimination. This would have given him the opportunity to win a gold skull and secure a spot in the finale.
"I've been where he is, he's a young kid, he's got a chip on his shoulder, he's got a lot to prove. I came in hot like that," CT told Entertainment Weekly.
Fessy is strong, and he will tell you all about it
As a 20-something Division I football star, it's clear that Fessy has impressive physical strength. But the strategic decisions he made during game play made it obvious he wasn't bringing much else to the competition.
That physical strength made him a frontrunner on The Challenge at first. But ultimately, his performance throughout the season proved him to be a player who is all talk. Even though he did make it to the first half of the final, he refused to eat the disgusting spread of food and got cut.
This quitter attitude didn't sit well with fans, who are always expecting competitors to give it their all. But Fessy admitted that he would rather not eat the food and lose instead of eating it and probably losing anyway.
Fessy threw challenges on 'Double Agents'
The Challenge fans had high expectations for Fessy when the season began, but he just didn't deliver. Because he has a habit of throwing challenges so he can switch partners, fans have called him "jabroni" and "candy a**."
His huge ego and his quitter mentality is quite the paradox, and it has left fans scratching their heads. Fessy's behavior has also resulted in many fans not being able to stand him.
RELATED: 'The Challenge' Season 36 Champ CT Tamburello Weighs in on Fessy Shafaat's Meltdown
When you're bragging about how awesome you are – while slamming proven winners and calling them a "used-to" — fans expect you to back it up with your attitude, skills, and performance.
'The Challenge' fans think Fessy Shafaat is 'the worst'
According to Screen Rant, a new poll among fans has determined that Fessy Shafaat is indeed "the worst" competitor in Challenge history. They didn't really like the Big Brother alliance to begin with.
So when Fessy ended up running the final with fellow Big Brother alum Kaycee Clark, it left them fuming. Especially when he refused to eat…again!
Once Fessy quit, that was pretty much it for Challenge fans. And the design of the poll proves it. The poll only had three players listed to choose from — Fessy, Fessy, and Fessy. Not surprisingly, more than 200 fans unanimously decided that Fessy was the worst competitor ever in 36 seasons.
Will Fessy Shafaat be the villain next season?
Because fans have decided that Fessy is the worst, it could put him in the position of getting the villain edit during season 37 of The Challenge. Rumor has it that Fessy is currently in quarantine so he can shoot the next season, even if fans aren't ready to see him again so soon.
However, MTV is reportedly quarantining more challengers than will actually appear on the show. They are doing this just in case one or more test positive for COVID-19.  That means there's a chance Fessy won't show up.
But, considering how much fans loathe him at this point, MTV will probably do everything they can to make sure he's part of the cast.
Fessy was definitely the center of attention during part one of the reunion episode. When it was pointed out that he didn't eat in the finale and quit, he said he was "offended" that people thought he gave up. And, he hopes they will put him in an eating challenge next season so he can prove what he can do.
Part two of The Challenge: Double Agents reunion airs Wednesday, May 5 on MTV.