'The Challenge': Inside Ashley Mitchell's Long, Strange, and Often Controversial Journey on the MTV Hit
ARTICLE HIGHLIGHTS
Ashley Mitchell joined The Challenge even though she was kicked off her season of The Real World.
Fans think she got lucky when she won Invasion of the Champions and Final Reckoning.
One of her most controversial moves on The Challenge found her taking her teammates winning as her own.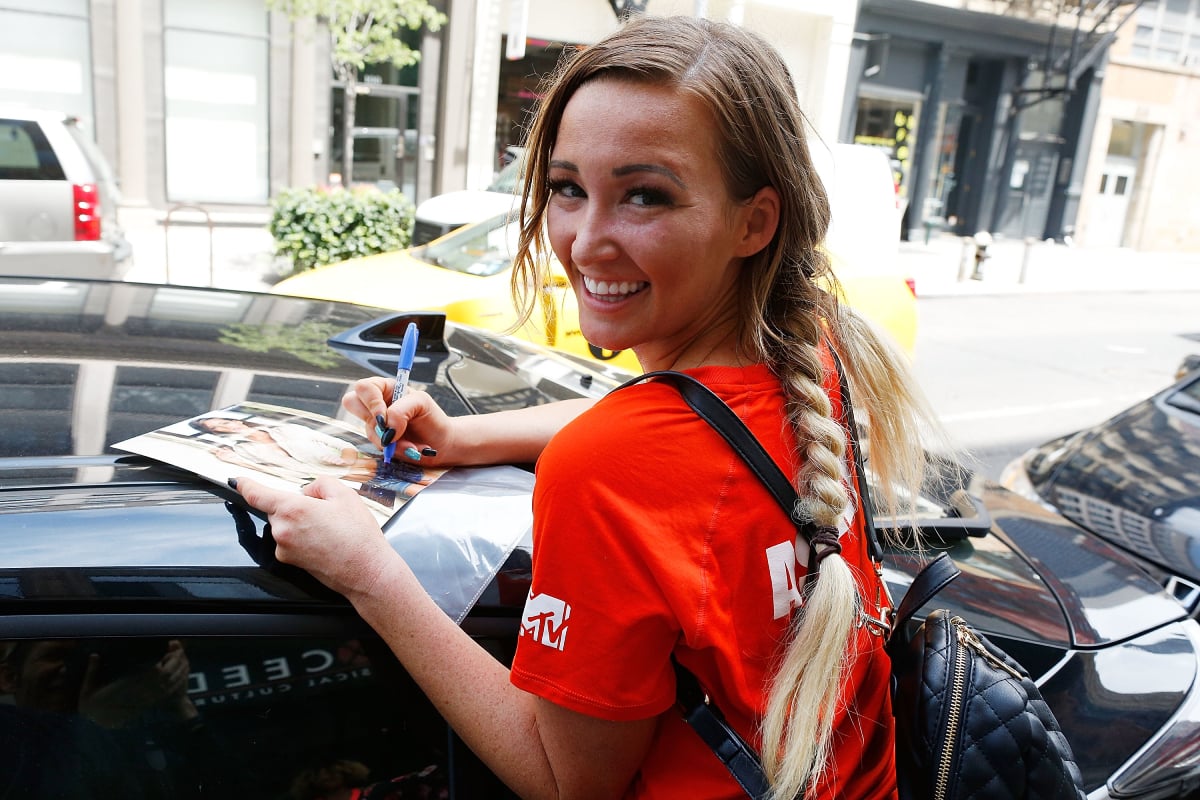 The Challenge star Ashley Mitchell has had a long, strange, and often controversial journey on the hit MTV competition series. Here's an inside look at how Ashley went from what a fan describes as a "complete drunken spoiled brat mess kicked off her Real World season" to winning the $1 million prize on The Challenge. Only to fall back down again.
Ashley Mitchell's first appearance on 'The Challenge' was in 'Rivals 3'
Ashley made her MTV debut in 2014 on The Real World: Ex-plosion. From the beginning, the pageant queen from West Virginia exhibited drunken, aggressive behavior toward her roommates. Which resulted in them voting her out of the house in episode 3. Bizarrely, she returned in episode 10 to spend the night with Jenny.
Despite getting kicked off The Real World, MTV cast Ashley in The Challenge: Rivals 3. She was paired with Cory Wharton, and the duo won a daily challenge that season. But ultimately, they lost to Nate Siebenmark and Christina LeBlanc. Making Ashley's debut on the competition series less than impressive.
Fans think she got lucky at the right times in 'Invasion of the Champions'
Ashley returned for the following season Invasion of the Champions, and at first she appeared to be in the middle of the pack, at best. As one Redditor explains, Ashley got lucky when she needed to that season, which allowed her to win some dailies before she shockingly won the season with CT Tamburello.
"She had some tremendous luck in the final daily of the season on the Underdogs team to literally be pushed by her team in the 'Caved In' daily," the fan wrote. "…Ashley was paired up with CT at the right times. Overall, Ashley did good, but it wasn't like she was that great. She just got lucky at the right times."
Ashley Mitchell's strange journey on 'The Challenge' included a mysterious 'mental breakdown'
After competing in Champs vs Pros — where she won two Arenas only to eventually lose to Lolo Jones — Ashley returned for Dirty 30. Fans wondered if she could be a repeat winner. But in the very first episode, Ashley quit after having a mysterious "mental breakdown" and complaining about a "lack of clean clothes."
She quit again in the Champs vs Stars spinoff in 2017 due to her father's death, which was completely understandable. But fans didn't think they would see her again. However, she came back for Champs vs Stars in 2018 just to lose to Kailah in an Arena.
At this point, fans were pretty sure Ashley was done with the main Challenge series. But then came Final Reckoning.
Hunter went home with nothing, while Ashley took everything on 'Final Reckoning'
Ashley and Hunter "won" their way on to Final Reckoning by default against Angela and Faith after Faith "injured" her hand punching a wall. It was a twist that allowed Ashley to get on the show after six daily challenges had already taken place (including two "purge" dailies), plus two Armageddon games.
That twist allowed Ashley and Hunter to join the game roughly halfway through the season. Then, they won just one daily and never entered the Redemption House or participated in another Armageddon game.
The final challenge on Final Reckoning is considered to be one of the easiest in Challenge history. And when she and Hunter won, Ashley took all of his money and went home with the entire $1 million. Despite Hunter doing most of the work, and Ashley clinging to him the entire time.
Her reasoning? Hunter had been putting her down all season. Which is absolutely true. But one would argue are his words worth making a move on The Challenge that would find your future co-stars wondering if they can trust you.
Ashley Mitchell has been very inconsistent on 'The Challenge'
Since Ashley "Millionaire" Mitchell started competing on The Challenge, she's quit the game twice, lost in the first elimination round of a season, lost to Nate and Christina, had a nervous breakdown, won a few elimination rounds, got lucky multiple times, and won two seasons of the show.
Then, in the current season — Spies, Lies, and Allies — Ashley was mysteriously disqualified after something went down with Josh Martinez. According to some of her co-stars, she reportedly went too far during a verbal altercation.
Despite this inconsistent history and finishing just four seasons, Ashley is the only competitor in Challenge history to win more than a million dollars. Which makes her the biggest winner in the show's history.
The Challenge: Spies, Lies, and Allies airs Wednesdays on MTV.