'The Challenge': Jenna Compono and Jemmye Carroll Duke It Out on Twitter After Longtime Rivalry
The Challenge: Total Madness is about halfway finished, and many are upset that Jenna Compono didn't make it to the finale. The "Barbie Beast" won one elimination challenge, but she couldn't best Aneesa Ferreira. Now that Compono's home, she's preparing her wedding to Zach Nichols — though their relationship is causing serious controversy after his unhealthy behaviors were exposed on the show.
Aside from drama with Nichols, it looks like Compono now has beef with ex-Challenge castmember Jemmye Carroll. Carroll and Compono just went at it on Twitter after Carroll and Nichols fought first. Here's what happened.
Jenna Compono and Jemmye Carroll had issues on 'The Challenge'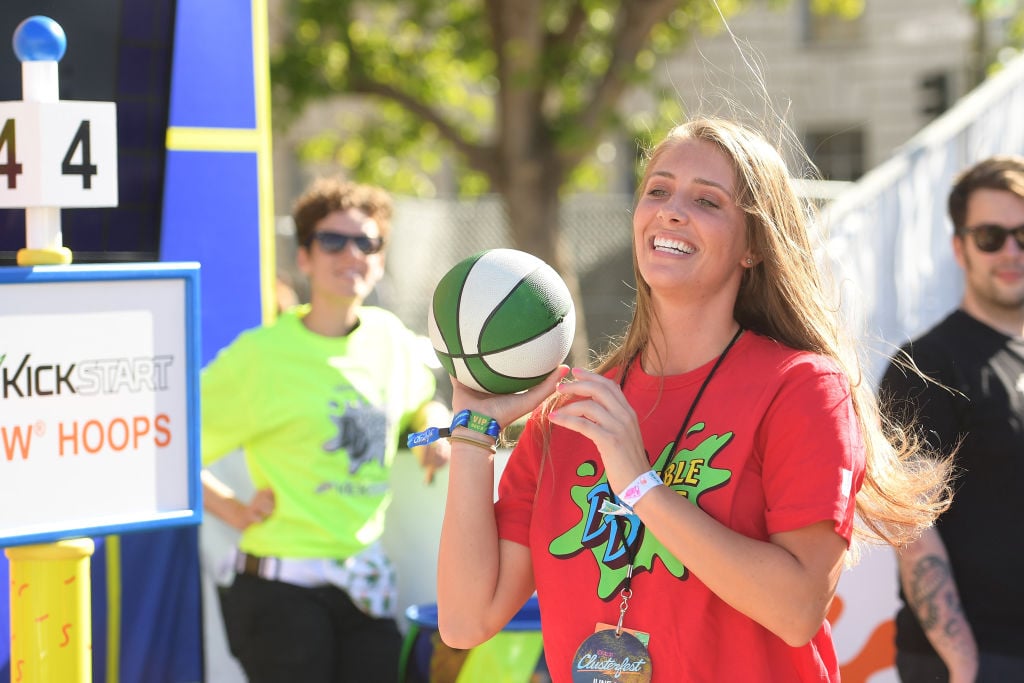 RELATED: 'The Challenge': Da'Vonne Rogers Responds to Zach Nichols' Cruel Tweet to Amanda Garcia: 'You're out of Pocket'
The Challenge has been on for years, and the show continually invites veteran players back to get another shot at winning the big money. This also means old feuds are reignited as returning players remeet in the Challenge mansion. We know Compono, Nichols, and Amanda Garcia have major issues — but Carroll also fired shots at Compono during Dirty 30.
According to Medium, Compono was friends with Carroll, as they competed together on Exes 2 along with Carroll's ex, Ryan Knight. Unfortunately, everything took a turn on Dirty 30. Compono won the first purge of that season and was able to save another player — so, she chose Carroll. But Carroll later didn't return the favor. Compono's longtime friend, Kailah Casillas, went into an elimination round, and Carroll got to choose who went against her. Of course, she chose Compono, and a new rivalry was born.
Zach Nichols and Carroll went at it on Twitter
RELATED: 'The Challenge': Amanda Garcia Reignites Old Beef With Zach Nichols and Jenna Compono on Twitter
Compono appears cool, calm, and collected on TV, and she doesn't usually engage in fights between castmembers. But we can't say the same for Nichols. He notoriously can't stand Garcia, and they've gotten into serious spats on the show. And more recently, he and Carroll went at it after his Twitter fight with Garcia.
It all started when The Challenge Twitter showed an old video of Garcia and Compono fighting. Garcia seemed to draw first blood with a comment aimed at Compono. From there, Nichols continued the feud with some harsh words of his own.
"I figured you'd stop all this hate once you had your child, bc who would want to set that example for their child," Nichols tweeted at Garcia. "Unfortunately you really are rotten, disgusting vile b*tch who is going to abandon her child just like yours did to you."
Carroll went on to defend Garcia and come at Nichols — but Nichols fired back with a low blow about Knight, Carroll's ex who is now deceased. "Your opinion is meaningless to me, but maybe you'll be interested in mine which is that Ryan would be ashamed of the person you've become," Nichols tweeted.
"Zach bringing Knight into it is a low blow," Carroll tweeted back. "Children and the dead are always off limits but further confirms what most of you already think about him."
Compono then got involved
During Nichols' back and forth with Carroll, Compono's name got brought into the conversation. While the original tweet of Carroll calling Compono out is now deleted, Compono's tweets directed at Carroll remain.
"Like I said we haven't talked in months…you don't know me so stop acting like you do. I do my part and help with everything I possibly can," Compono tweeted in response to Carroll. "Idk where this is all coming from? The funny thing is no one answers texts anymore everyone likes to put their drama here for reactions."
Then, Compono added, "You do realize you tweeted at ME about my relationship right? But then get mad when I respond." Finally, Compono tweeted at Carroll that she's "done with this," as she didn't ask to be dragged into a Twitter fight over something Nichols said.
Eventually, Carroll apologized. "I am sorry for speaking on your relationship bc you aren't responsible for Zach's actions," she commented back to Compono. "His comments about Amanda's mother abandoning her were uncalled for & I wanted to defend her but I should have just said something about Zach & not about yall."
It doesn't look like this feud will end anytime soon — but we're hoping Compono, Nichols, and Carroll can put their beef aside for now.
Check out Showbiz Cheat Sheet on Facebook!