'The Challenge': Jenna Compono Announces She's Taking a Break From the Show
Although Jenna Compono advanced to the finals in her first three seasons competing on The Challenge, she has not made it back since. Therefore, Jenna is itching for her first win. She could have had a shot in Total Madness. However, her dissolving relationship with Zach Nichols prevented her from fully focusing on the competition. Instead of immediately returning for another season, Jenna announced she is taking a break from the MTV series.
[SPOILER ALERT: This article contains information revealed in The Challenge Episode 9.]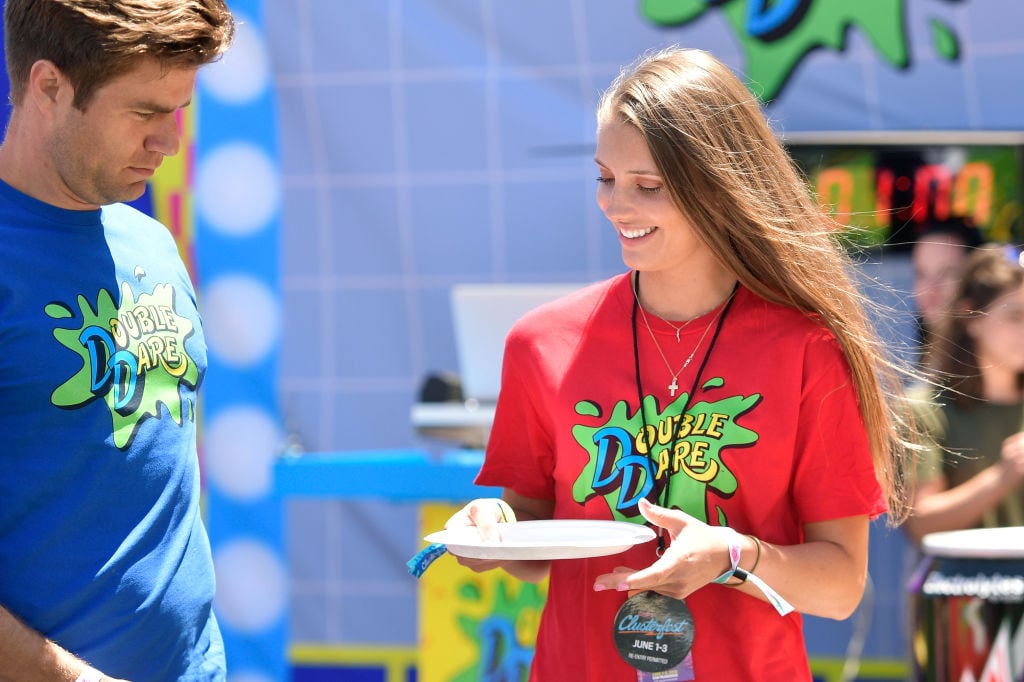 Jenna Compono and Zach Nichols argued throughout the season
Since meeting during Battle of the Exes II in 2014, The Challenge stars Jenna Compono and Zach Nichols have dated on and off. Nonetheless, the two moved into a house together in Michigan around 2017 and have been on good terms.
While Jenna returned to compete for The Challenge 35: Total Madness, Zach stayed home and took a break from the reality series. He went through her phone and found old direct messages between his girlfriend and allegedly Cory Wharton, who is also on the same season.
RELATED: 'The Challenge 35′: Kailah Casillas Claims Jenna Compono and Zach Nichols' Argument Wasn't Over Cory Wharton
Once Jenna finally got in contact with Zach, she attempted to explain herself, but The Challenge vet accused her of cheating on him. He demanded she leave the competition and comes home to work on their relationship.
However, the Barbie Beast decided to stay and continue competing for the million-dollar cash prize.
Jenna Compono sent home in 'The Challenge 35: Total Madness'
After the first blow-up between Jenna and Zach, she openly questioned if she wanted to continue competing. Ally and close friend Nany González won the following daily challenge and saved her friend by choosing Jenna to join her in the Tribunal.
However, the Barbie Beast threw herself into elimination because she wanted to get her ticket to the final or leave and focus on her relationship. Although many contestants, namely Nelson Thomas, thought Jenna "checked out" of the competition, she eliminated last season's finalist Tori Deal in a nail-biting elimination in Purgatory, earning a coveted red skull.
RELATED: 'The Challenge 35': Jenna Compono Allegedly Made a Deal With Wes Bergmann to Get Voted Into Elimination
Even though Jenna proved herself, the Tribunal nominated Jenna to interrogate. They also decided to throw her into the following elimination against veteran Aneesa Ferreira after Jenna allegedly made a deal with them off-camera.
However, this time Jenna didn't come out on top and went home alongside another ally and friend, Kailah Casillas.
Jenna Compono taking a break from 'The Challenge'
After the episode aired, Jenna took to Twitter to thank her fans for their love and support. She explained she had a "mentally, physically, and emotionally draining" season.
Therefore, Jenna will take a break from competing on the MTV reality series for an undisclosed amount of time. In a separate tweet, she asked her fans to leave Nany alone because Jenna didn't care about having to go into elimination.
RELATED: A 'Challenge' Competitor Said Jenna Compono Seemed Severely Checked Out: 'She Was Not in a Great Space'
Additionally, she pointed out that her friend is only "one vote in the Tribunal," so it wasn't Nany's fault that she ended up in Purgatory. In her exit interview, the Barbie Beast promised she would return to finally get a win, "even if it takes me until Season 65."
Therefore, viewers can expect to see Jenna again. The Challenge 35 airs Wednesdays at 8 p.m. EST on MTV.