'The Challenge': Kaycee Clark's Ex Reveals 'Inappropriate Texts' With Nany Gonzaléz Broke Them Up
'The Challenge' star Kaycee Clark's ex girlfriend Tayler Jiminez claims they broke up due to 'inappropriate texts.'
The Challenge star Kaycee Clark and Tayler Jiminez broke up after dating for over two years. While Kaycee still hasn't spoken out about the split, Tayler has tweeted her feelings regarding the sudden separation and explained what led to the break up after her ex and Nany Gonzaléz seemingly confirmed their relationship.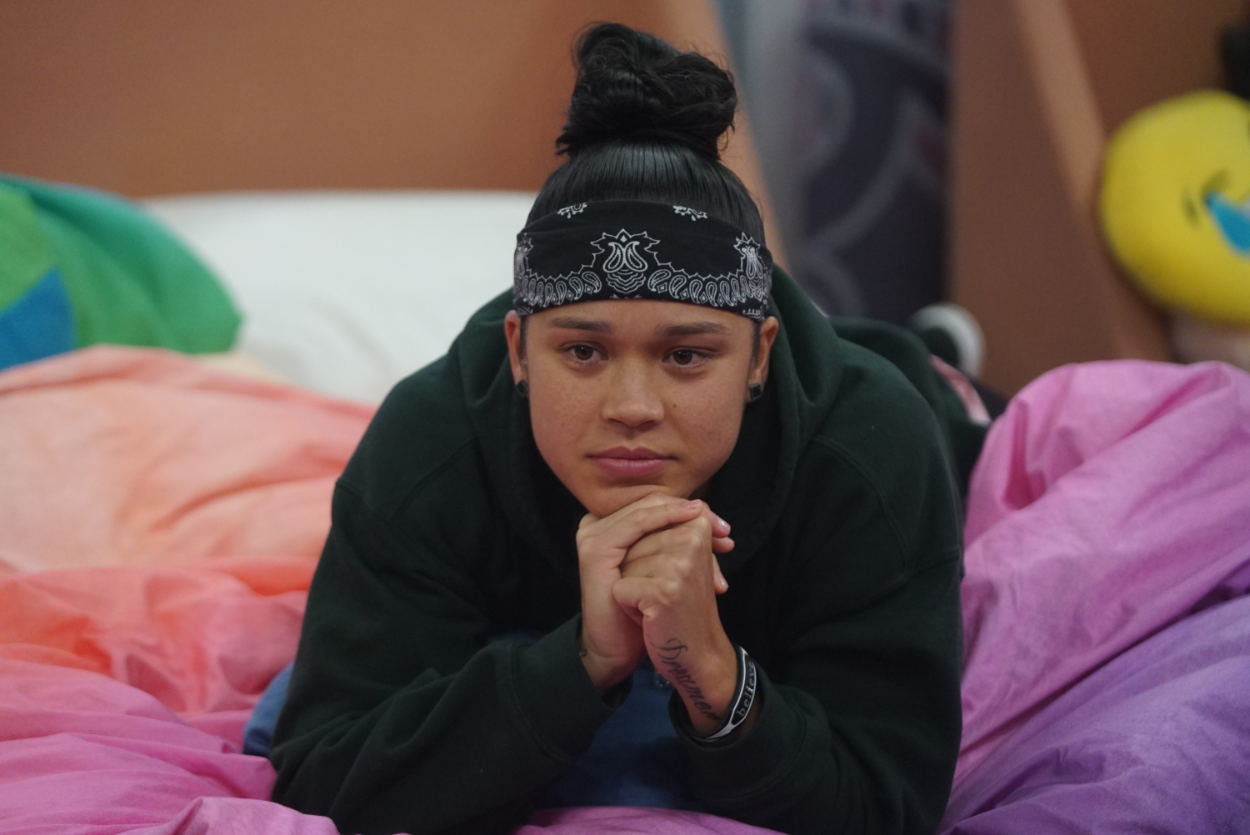 Kaycee Clark and Tayler Jiminez split up after two years of dating
Around Dec. 2018, Big Brother 20 winner Kaycee Clark and Tayler Jiminez started a relationship and moved into a Los Angeles-based apartment together.
After a year, Kaycee debuted on The Challenge: Total Madness, where she met veteran Nany Gonzaléz. The two quickly hit it off, and a couple of episodes focused on their budding relationship. Initially, Tayler tweeted in defense of her girlfriend but later "wasn't happy" with Kaycee's behavior.
Regardless, they stayed together, and she returned for another season of The Challenge. However, around Mar. 2021, near the finale's airing, the two unfollowed each other on Instagram and deleted pictures with one another.
A couple of months later, in July 2021, Tayler confirmed they broke up as she referred to Kaycee as her ex.
Kaycee and Nany seemingly confirm their relationship
In a series of tweets, she claimed they both still had their names on leases and other things together. Additionally, Tayler stated Kaycee "shaded" her to other Challenge stars, friends, and family but claims her then-girlfriend wrote her emails and "love letters" around the same time.
She went on to confirm the couple had since split and admitted she was starting to get "messy" because they dated for so long. A couple of days later, Nany uploaded a video of herself sharing a bed with Kaycee while the BB champ ate Hot Cheetos.
Following the clip's release, Tayler posted screenshots of messages with her ex, which she notes occurred around Mar. 2021, where Kaycee insisted she had no plans on dating Nany, captioning it, "liars lie." Shortly later, Kaycee and Nany seemingly confirmed their relationship with an Instagram post of the two, captioning it "magnetic."
Tayler later acknowledged the photo with another tweet, admitting she felt "hurt by the amount of lies and manipulation" but wants to move on.
Tayler reveals they broke up due to 'inappropriate texts'
After The Challenge 37 trailer dropped, which featured a clip of Nany and Kaycee getting close, Tayler spoke out again on Twitter.
She claimed that Kaycee made it seem she had nothing "to worry about" when it came to Nany but noted the two split up due to "disgustingly inappropriate text messages" between them dating for several months from December.
One fan claimed Tayler should've dumped Kaycee when the two first flirted, to which she replied, "Honestly. Would've saved me a whole year of my life and this current embarrassment."
Responding to another user who didn't understand why Tayler stayed, she explained she initially believed her ex and several castmates who claimed nothing happened because she loved Kaycee, noting, "it's not always as easy as you're making it out to be." The Challenge 37 premieres on Aug. 11 on MTV.