'The Challenge': Kaycee Clark and Fessy Shafaat Called Their Girlfriends in Deleted Scene
The rookies from Big Brother have done well this season as three out of the original four have made it to the finals in The Challenge 35. Right before the group found out that they made it to the highly anticipated end of the competition where they would battle for the title and money, Kaycee Clark and Fessy Shafaat called their girlfriends in a deleted scene.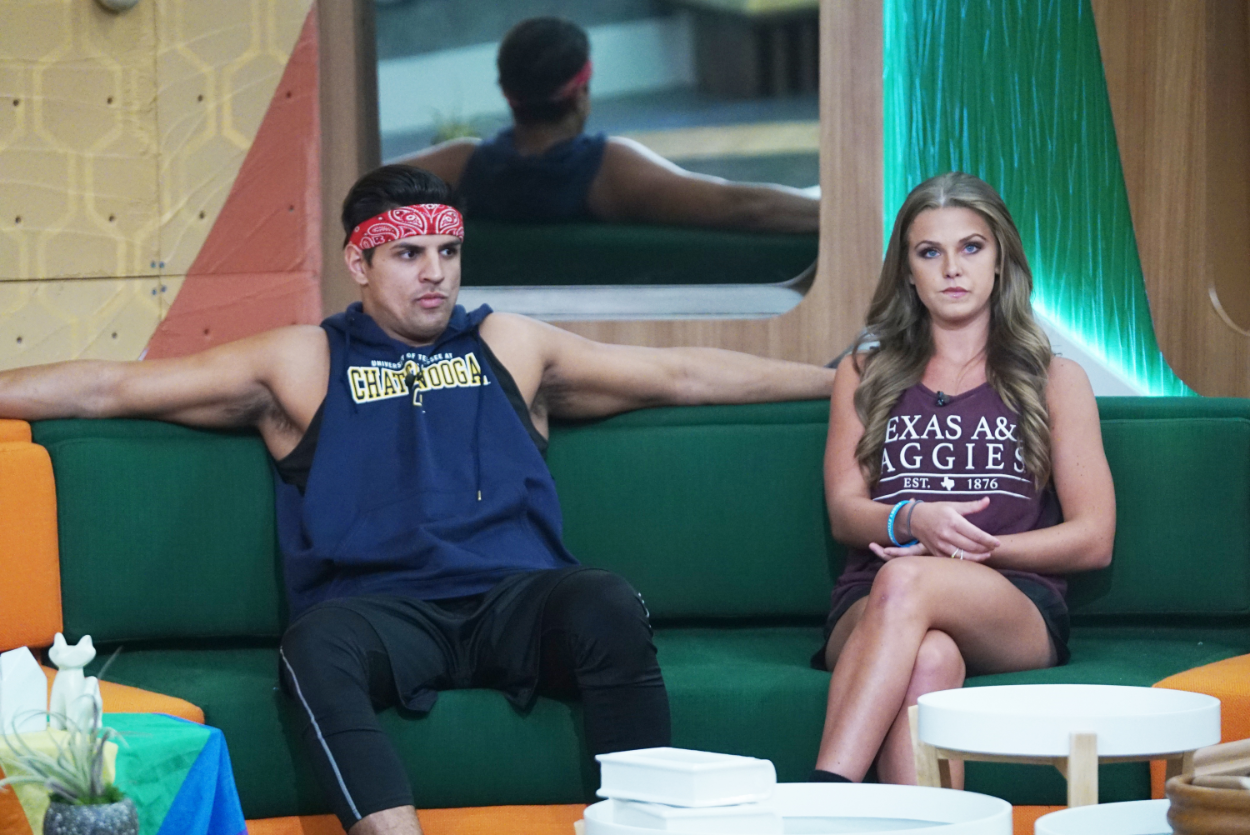 Kaycee Clark a top female competitor in 'The Challenge 35'
A year after California-based professional football player Kaycee Clark won Big Brother 20, she made her debut on The Challenge 35. She won two daily challenges back-to-back and earned her red skull by sending Kailah Casillas home in "Bombs Out."
The BB20 champ also got friendly with nine-time competitor Nany Gonzaléz as the two spent the majority of their time together. Many of their co-stars interpreted their relationship as a "showmance" because they felt the two constantly flirted.
Additionally, Gonzaléz frequently asked Clark to kiss her or follow her to the bathroom and admitted the professional football player has qualities she wants in her soulmate.
RELATED: 'The Challenge': Kaycee Clark's Girlfriend Tayler Jiminez 'Isn't Happy' With Her for Flirting With Nany Gonzaléz
However, the Big Brother star insisted she would not do anything to jeopardize her almost two-year-long relationship with Tayler Jiminez back home. Her friendship with Gonzaléz didn't go over well with all of her allies, specifically BB20 co-star Bayleigh Dayton who felt betrayed by Clark.
Nonetheless, the professional football player went on to win the last challenge before the finals, securing her safety and guaranteeing her spot.
Fessy Shafaat a top male competitor in 'The Challenge 35'
After a short-lived stint on the ninth season of American Ninja Warrior, Faysal "Fessy" Shafaat also competed on Big Brother 20. Although they were a part of different alliances, Clark and the former tight end remained friends and came into The Challenge 35 with a deal to protect each other.
However, he became the second male thrown into elimination by the Tribunal. The former Division 1 football player proved himself by taking out Jordan Wiseley, who won the past three seasons, in the classic Pole Wrestle.
RELATED: 'The Challenge 35': Fessy Shafaat Explains How Competing on 'The Challenge' Differs From 'Big Brother'
He then went on to a daily challenge and promised both Cory Wharton and Josh Martinez that he would bring them into the Tribunal to win another. However, he could only pick one and allowed Jenny West to choose the latter, upsetting Wharton, who considered the football player a close ally.
The two are seemingly over it as they're thrilled they're both entering the finals.
Kaycee Clark and Fessy Shafaat called girlfriends in deleted scene
In a deleted scene, Shafaat phoned his BB20 showmance and current girlfriend, Haleigh Broucher. He explained in a confessional that he believed he has a "second chance" to win this show since he lost Big Brother.
Therefore, losing would extremely disappoint the former football player. Shafaat couldn't tell her his exact position in the game but promised her he would win. Broucher encouraged him to "keep killing it" and wants him to come home with the title because she "didn't lose him this long for no reason."
RELATED: 'Big Brother': Are Haleigh Broucher and Fessy Shafaat Still Dating After Season 20?
Clark called her girlfriend, Tayler Jiminez, but their conversation wasn't caught on camera. Instead, the professional football player spoke in a confessional and explained she hasn't left her girlfriend for this long before. However, she stays motivated by constantly reminding herself that she's competing for her friends and family.
The Challenge 35 airs Wednesdays at 8 p.m. EST on MTV.