'The Challenge': Kaycee Clark's Girlfriend Tayler Jiminez 'Isn't Happy' With Her for Flirting With Nany Gonzaléz
[SPOILER ALERT: Spoilers ahead for The Challenge 35 Episode 13.]
When Kaycee Clark left to film The Challenge, she and her live-in girlfriend, Tayler Jiminez, were dating exclusively for almost a year. Therefore, her feelings were rightfully hurt when two episodes aired, focusing on Kaycee's close relationship with Nany Gonzaléz. After the most recent episode, Kaycee admitted that Tayler "isn't happy" with her due to her flirtatious behavior.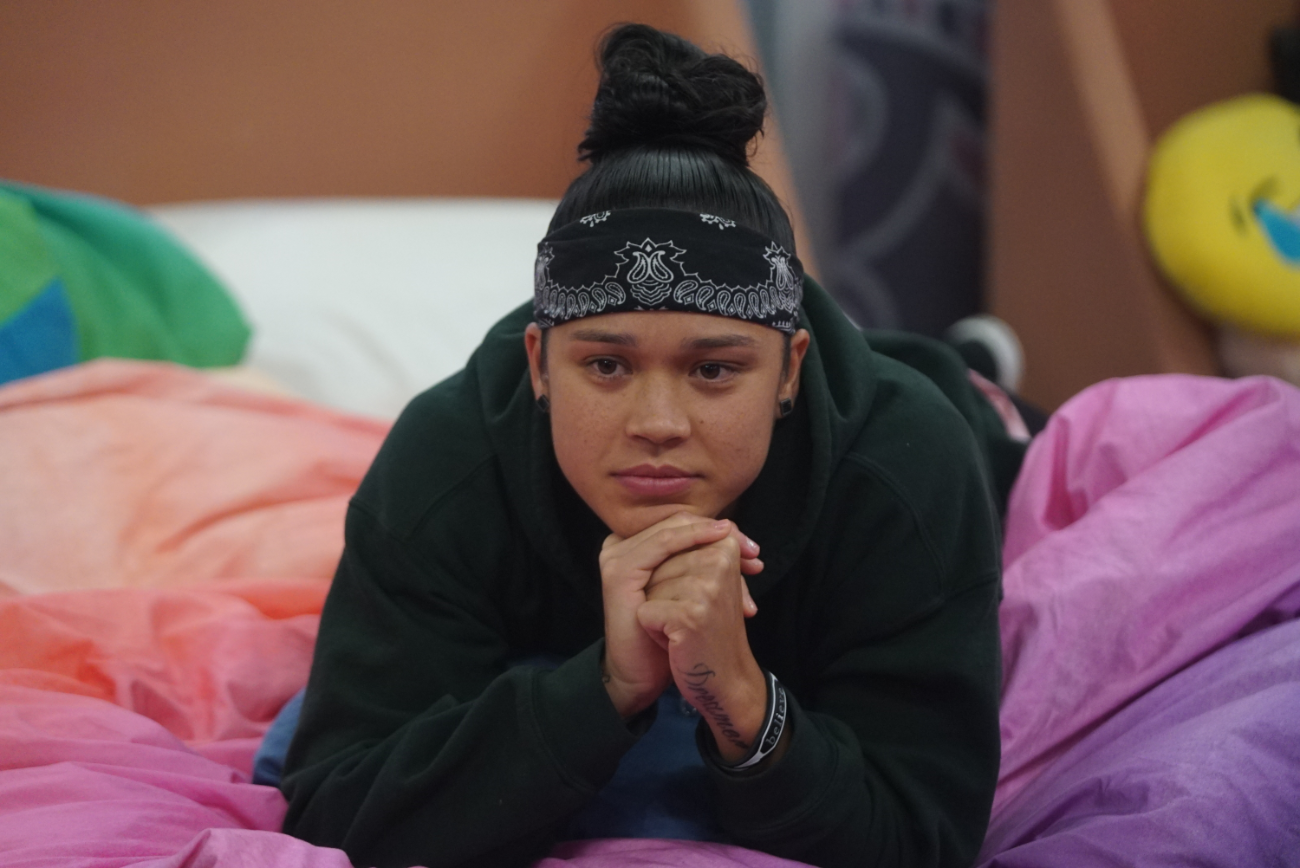 Kaycee Clark dating Tayler Jiminez
Before Kaycee Clark competed on Big Brother 20, she and model Tayler Jiminez were good friends. The two eventually began dating around December 2018 and later moved into a Los Angeles-based apartment together.
They attended popular LGBTQ music festival The Dinah Shore Weekend in April 2019 and traveled to New York together for a Pride Parade a couple of months later. The couple also visited Washington, Disneyland, promoted the new season of Love Island together, and recently vacationed in Miami.
RELATED: 'Big T' Fazakerley Said She Had a Huge Crush on Kaycee Clark While Competing on 'The Challenge': 'She's Dazzling'
Tayler and Kaycee have expressed their love for each other multiple times in different Instagram captions and have stated they plan on marrying one day.
Tayler Jiminez has defended Kaycee Clark before
After dating for around a year, Kaycee left for a few months to film The Challenge 35. During her time in the bunker, she became very close with nine-time competitor, Nany Gonzaléz.
In one episode, an incredibly drunk Nany continually flirted with Kaycee, who kept reminding the veteran that she had a serious girlfriend back home. Noticing their close relationship, Aneesa Ferreira talked to Kaycee about how the situation looked. However, the former football player insisted she would not do anything to disrespect Tayler.
After the episode aired, the model took to Twitter and went to bat for Kaycee as she claimed other females frequently flirt with her girlfriend. She also noted that women continually attempt to "shoot their shot" at Kaycee.
RELATED: 'The Challenge 35': Kaycee Clark's Girlfriend Responds to Nany González Flirting With Clark
Therefore, Nany flirting didn't bother her. Additionally, the model said she already spoke with Kaycee before the season aired and insisted she had "no bad blood" with Nany.
However, she went radio silent after another episode showing more flirting between Kaycee and Nany aired.
Taylor Jiminez' not happy' with Kaycee Clark for flirting with Nany Gonzaléz
In Episode 13, the two were shown hanging all over each other and flirting. Nany called Kaycee her "ideal person" and the football player noted she thought the veteran was "amazing" and enjoys how they "vibe out" together.
The BB20 champ also broke a deal with the other Big Brother rookies and voted someone else in elimination she thought Nany would have the best shot against.
In an Instagram Live, Kaycee admitted her girlfriend was "not happy" with her after the episode aired. While the BB20 champ "took responsibility" for her actions in the bunker, she also blamed MTV for asking her "leading questions" and accused Bayleigh Dayton of trying to "sabotage" her relationship.
She explained that she told Tayler about what happened between her and Nany immediately after she returned from filming, but acknowledged her actions still hurt her girlfriend. Kaycee also clarified that "no one is on Tayler's level" and admitted she made a mistake.
RELATED: 'The Challenge': Resurfaced Clips Prove Kaycee Clark and Bayleigh Dayton Had a Thing on 'Big Brother 20'
Even so, her girlfriend is still upset and "hates me right now" because of her flirtatious behavior. While Tayler hasn't outright addressed the situation yet, she tweeted, "never needed a n***a, and I will definitely never need a chick" after the episode before setting her Twitter and Instagram to private.
She also posted an inspirational quote to her Instagram story about growing through pain and knowing your value. However, the two are still following each other, so they likely haven't broken up.
The Challenge 35: Total Madness airs Wednesdays at 8 p.m. EST on MTV.