'The Challenge': Paulie Calafiore Said He Took Johnny 'Bananas' Devenanzio's 'Shrine Away'
Everyone who loves The Challenge is gearing up for Season 35, as it looks like the most grueling yet. And we can't wait to see some familiar faces on the show, too. Johnny "Bananas" Devenanzio has been playing the game for over a decade, and fans know him as a fierce physical threat and political player. But he's not the only one. While Cara Maria Sorbello and her boyfriend, Paulie Calafiore, aren't on Season 35, they've proven to be strong players as well. And the couple certainly doesn't get along with Devenanzio.
Devenanzio and Calafiore have fired shots at each other in the past. And Calafiore even said he took Devenanzio's Challenge "shrine away." Here's what Calafiore mentioned during an interview.
Johnny 'Bananas' Devenanzio called Calafiore 'sociopathic'
Sorbello and Devenanzio have a sordid past. The two didn't start on The Challenge as friends, but they became close over the years and started to develop a sibling-like bond. Unfortunately, their relationship seemed to change after Sorbello started dating Calafiore.
"We put all our differences aside. We had this amazing experience on one of the Challenges where we actually became really close and really good friends," Devenanzio told People. "Because of recent events in her life with new relationships, that's completely changed."
We know Calafiore and Sorbello are still together, but events at the beginning of their relationship threatened everything. Calafiore started seeing Sorbello when he was still in a relationship with his now-ex, Danielle Maltby. And at the time, Devenanzio even felt bad for Sorbello.
"Cara Maria found herself in an unfortunate position with a very sociopathic, narcissistic human being, and I feel bad for her," he told HollywoodLife. "I just hope one of these days she comes to her senses and realizes that everything this guy is doing is self-centered and trying to capitalize off her notoriety and her fame."
Calafiore claimed Devenanzio tried to get him banned from 'The Challenge'
Calafiore has just as much hate for Devenanzio as Devenanzio has for him. Calafiore commented on Instagram that Devenanzio attempted to get him banned from The Challenge. "Know what else John needs to apologize for … trying to get me banned two seasons in a row … but that tea is for another day," PeopleTV noted via Twitter that Calafiore wrote.
PeopleTV then asked Calafiore what exactly he meant by that comment. "After Final Reckoning, he had gone and said just because I rushed the stage at Zach, and at Kyle, and at Brad, he said that I make the guys in the house feel uncomfortable," Calafiore mentioned in the interview.
He also added that when the two of them saw each other in person outside of the show, he threatened to end Devenanzio's Challenge career. This, of course, didn't go over well. "He tried to get me banned with Cara after that whole 'cheating' scandal came to be," Calafiore added. "That was, in my opinion, just a cowardly way to try to get somebody to not come back who really has done nothing wrong other than go on the show and compete."
Calafiore then said he took Devenanzio's coveted 'Challenge' 'shrine'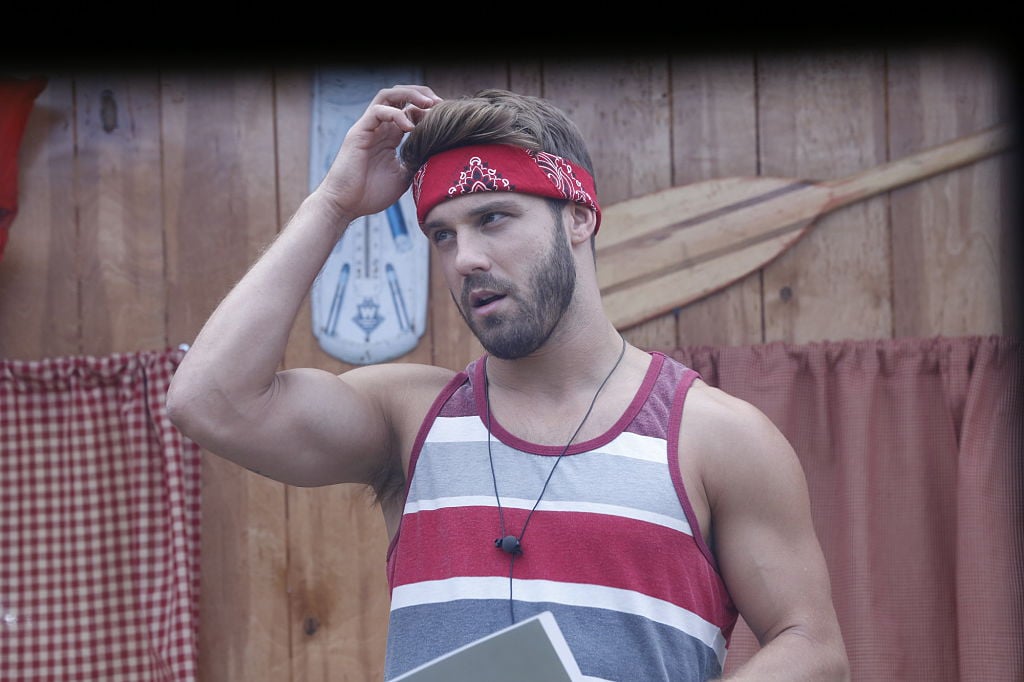 It looks like Calafiore and Devenanzio are still at each other's throats. Back in September 2019, Calafiore had another interview with PeopleTV. And he talked about how he believes Devenanzio has a sort of "obsession" with him.
Calafiore stated that he thinks Devenanzio is trying to keep himself "protected from all the backlash he gets, which he then turns on me, in terms of his forms of jealousy and obsession when it comes to just me playing the game." Sorbello's boyfriend then added that he offered "numerous olive branches" to Devenanzio, but none were taken.
"He's always gonna have his legacy there. … When it comes to The Challenge, he can take a more senior role and stop trying to be this person who lives in the past and only attacks the people who take his shrine away from him. Which is basically only me at this point."
We doubt Devenanzio takes Calafiore's comments seriously. And we're sure we'll see the enemies go head to head in another season again soon.
Check out Showbiz Cheat Sheet on Facebook!