'The Challenge' Season 35: Jenna Compono and Zach Nichols Are Fighting Once Again
Fans who've been watching MTV's The Challenge for years are familiar with the hook-ups, breakups, and long-term relationships that have gone on over the years. While certain competitors, like Jordan Wiseley and Tori Deal, got engaged on the show, they're certainly not alone. Jenna Compono and Zach Nichols are also engaged to be married — but their relationship has had plenty of ups and downs.
Season 35, Total Madness, is coming out soon, and fans can't wait to see their favorite veterans go for the big money. Compono is competing this season, but it looks like Nichols is staying home. And an interaction in the season's trailer has us worried about their relationship.
Jenna Compono and Zach Nichols have had serious ups and downs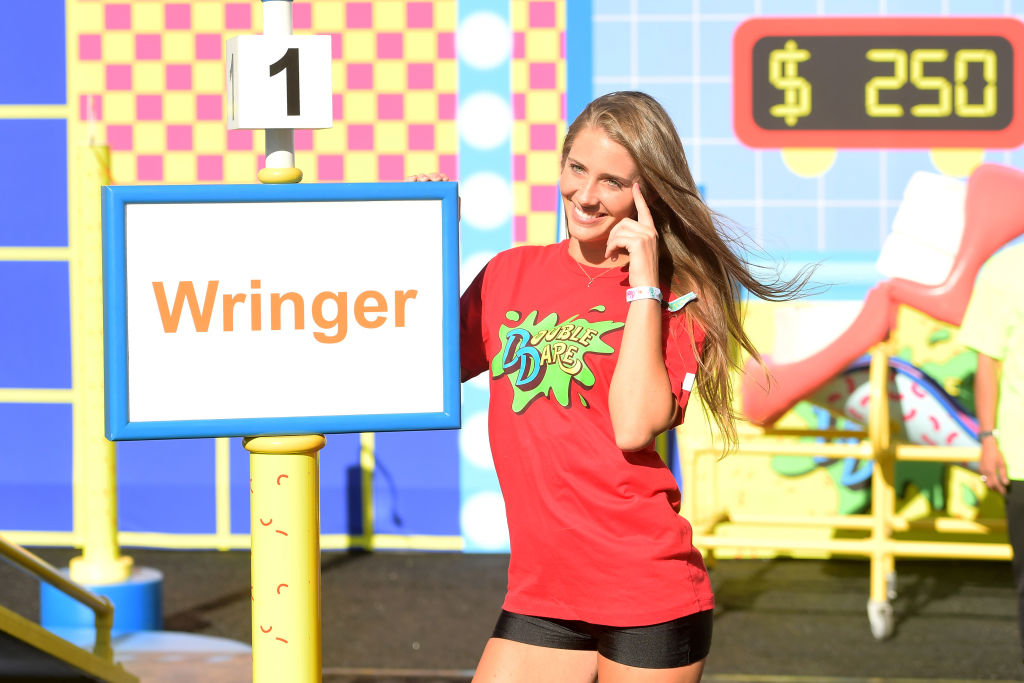 Those who've been following Compono and Nichols would've never guessed they'd still be together today. The two met during Battle of the Exes back in 2014, and their relationship continued until 2016. During Rivals III, however, Compono was completely thrown when she called Nichols while she was competing. And Nichols called Compono by a different woman's name.
YourTango reminds us Nichols called Compono "Brooke." As for who "Brooke" is, it was rumored to be CrossFit star Brooke Wells. And the phone conversation between Nichols and Compono didn't end well. Nichols ended up blocking Compono's number afterward, stunning his girlfriend.
"I have no idea where we stand, my head's all over the place. I want to know what's going on," Compono told the MTV cameras.
Unfortunately, Compono has a history with cheaters. We can't forget she broke up with her boyfriend from The Real World after he cheated on her. But she claims she's since grown, and it looks like Nichols has shaped up as well.
The couple's now engaged to be married
Compono and Nichols may still have their issues, but they're now totally devoted to each other. The two got engaged before Christmas in 2019 in front of the Rockefeller Center Christmas tree in New York City, E! News reports.
"We went on one of our first dates there. Jenna actually showed up four hours late and the second she showed up and went to take a photo, the lights went out," Nichols explained to the publication. "So our picture was next to an unlit tree."
As for Compono, she also stated she was "so surprised" and never would've guessed the proposal was coming. "We went to see the tree every year since we met and a lot of memories have happened in New York City," she stated. "I was so surprised and it was so sincere and sweet. I couldn't be happier."
As for when they're tying the knot, MTV News states their wedding is Feb. 13, 2021.
Footage from 'The Challenge: Total Madness' shows them fighting
Season 35 of The Challenge looks tougher than ever before. The trailer shows the contestants in a bunker instead of the beautiful Challenge house we all know and love. And host T.J. Lavin gave the plot twist of a lifetime: Every competitor will have to prove they should be on the show by competing in an elimination round.
While physical and mental strengths will be tested, so will relationships. The trailer shows Compono speaking to Nichols over her laptop.
"You're the person I want to be with, absolutely," Compono tells Nichols with her hand over her heart.
"I don't believe it. I don't believe it because everything you've ever told me has been a lie," Nichols counters.
Compono is then seen crying and hugging a friend on the show. And Lavin asks Compono if she wants to quit the game, which we're assuming is related to the incident with Nichols.
It looks like we'll have to wait until Total Madness airs to see what's really going on with the couple. Season 35 starts on April 1!
Check out Showbiz Cheat Sheet on Facebook!