'The Challenge' Season 37: Big T and Logan Confirm Their Relationship Status After 'Spies, Lies, and Allies'
The Challenge season 37 appears to be highlighting a budding romance between Big T Fazakerley and Logan Sampedro. Fans have noticed the two getting close, and Big T even admitted to having "a little crush" on the Challenge rookie.
Was there a showmance between the two? And if so, where do they stand now that filming for Spies, Lies, and Allies is over?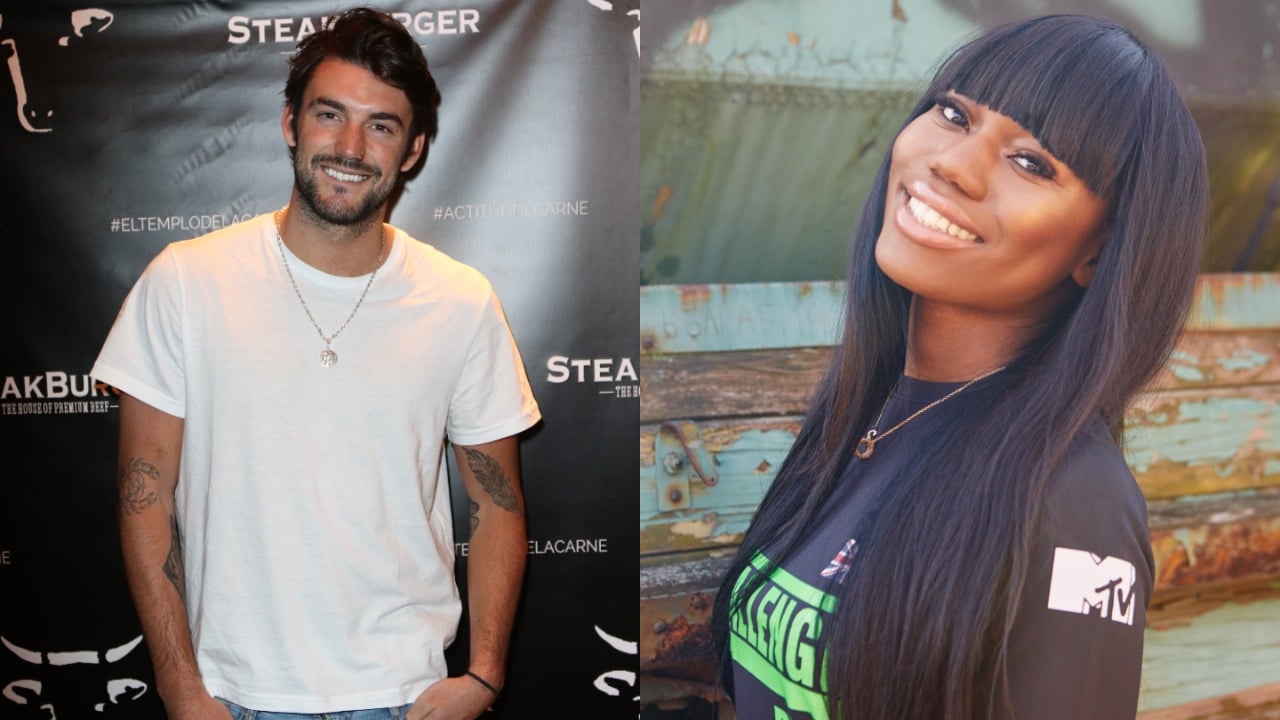 Logan Sampedro is one of the international contestants on 'The Challenge' season 37
Spies, Lies, and Allies began with a large cast of 34 that included 15 vets and 19 rookies from around the globe. Fan-favorite Big T returned to compete for the fourth time, while season 37 marked Logan's Challenge debut.
He's Mister Spain 2017, as well as a runner-up on Survivor Spain. Logan said he wanted to compete on The Challenge for the thrill of it, claiming the prize money wasn't his motivation.
As an international player, Logan had the opportunity to pick an American partner of the opposite gender. He chose Aneesa Ferreira, while Big T partnered with rookie Tommy Sheehan from Survivor. However, after Tommy's medical disqualification, Big T ended up with Love Island's Jeremiah White as her teammate.
Big T is caught between the vets and rookies
Since she was back for her fourth season, Big T was automatically part of the veteran's alliance that was formed to take out the rookies. However, her fellow vets found her untrustworthy because Big T was developing close friendships with some of the newbies. So, they decided to keep information from her.
Big T eventually realized she was on the bottom of the veteran's alliance. Since she was already friendly with the rookies, she found herself connecting with Logan. In the earlier episodes, fans spotted the two dancing together during parties, and often talking privately in the background. By episode four, it looked like a showmance was officially in the works.
Big T and Logan confirm their relationship status after 'The Challenge' season 37
The edit of the September 1st episode indicated that something was happening between Big T and Logan. They sat under a canopy by the pool to discuss their gameplans, and that led to some flirting. She pointed out how easily she could talk to him, and he invited her to hang out again.
In her confessional, Big T admitted to having a "little crush" on Logan. In his, the Survivor Spain star explained their connection. Logan was pretty sure that Big T was attracted to him. And he said they connected so well because things between them were more than just "the physical."
However, the relationship never evolved past friendship. On The Challenge Aftermath, Logan explained that Big T is one of his best friends from the show.
They 'love' each other as friends after 'Spies, Lies, and Allies'
When Devyn Simon asked Logan what's been going on with him and Big T since filming wrapped — her attempt to find out if love was in the air — he had nothing but good things to say about his Challenge co-star.
"Big T is one of my best friends in the show, and I love Big T," Logan explained. "She knows not for getting married, but yeah, I love Big T."
'The Challenge' rookie is a 'big fan' of Big T
Before they clarified their relationship status on The Challenge Aftermath, Logan insisted he and Big T were just friends in a Cameo video he made for a fan. "I am a big fan of Big T also and you will see it for sure because I love Big T," Logan said in the clip.
After a pause, he added, "as a friend, okay? As a friend. This season, Big T was for me in my top three of best friends. Just that. I can't tell you more."
New episodes of The Challenge: Spies, Lies, and Allies air Wednesdays on MTV.