'The Challenge' Star Georgia Harrison Accuses Ex Stephen Bear of Secretly Recording Her and Posting It
U.K. reality stars Georgia Harrison and Stephen Bear met on MTV competition series The Challenge during the 33rd season and briefly dated afterward. Over a year later, Harrison has accused Bear of secretly recording their sexual encounters while they dated without her consent and showing people as well as uploading it to sites.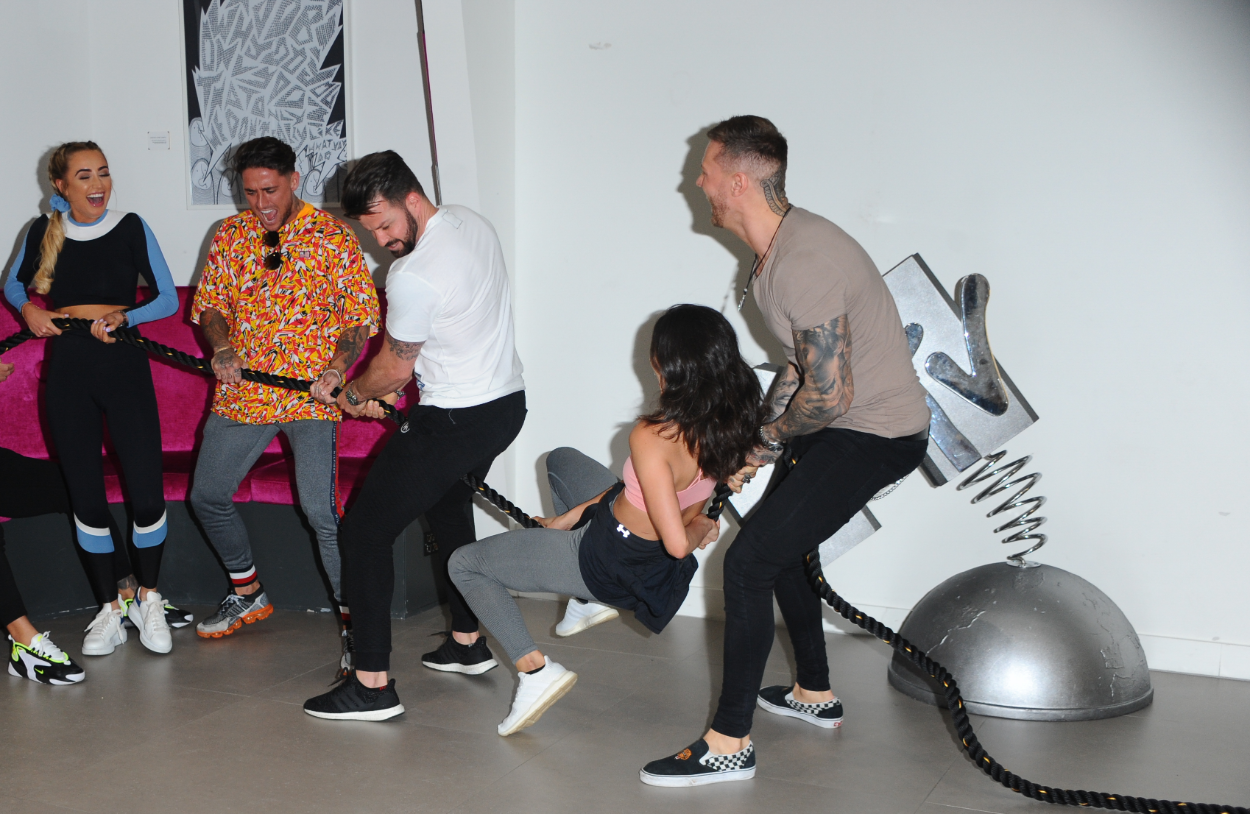 Georgia Harrison and Stephen Bear met on 'The Challenge'
In late 2018, British rookies Georgia Harrison of Love Island fame and Celebrity Big Brother winner Stephen Bear met while filming MTV's reality competition series, The Challenge: War of the Worlds.
The two quickly fell for each other, even though Bear had a girlfriend, Ellie O'Donnell, at the time. However, he lied and claimed she was his cousin when Harrison caught him talking to her on the phone during filming.
Bear got closer with the Love Island star throughout the season and dumped O'Donnell via Facetime to pursue a relationship with Harrison after filming wrapped. The two split shortly later after Bear posted videos of himself dancing with girls but reunited a few months later for War of the Worlds 2.
They finished the season on good terms again and vacationed in Thailand together, alongside co-star Theo Campbell, in July 2019. However, it didn't end well as Bear hooked up with another girl in their hotel room.
Harrison claims Bear recorded her without her consent
Over a year after the Thailand trip, Harrison took to social media to accuse her ex of secretly recording them having sex and showing the videos to others.
In a series of Instagram Story notes, Harrison claimed Bear "purposefully got her into a position" where he knew his hidden cameras would record their sexual interactions without her consent.
She also accused him of distributing revenge porn because she believes he has shown friends the video. Many followers began asking Bear about the situation, and he responded in a short Instagram Story clip.
The Celebrity Big Brother champ claimed he last saw Harrison two years ago in Thailand and insisted the video in question involved another woman, not his Love Island ex.
Bear is allegedly selling the video on OnlyFans
After Bear's response, Harrison admitted she felt "stressed" and "hurt" by the situation in a lone tweet. She then uploaded a video to her Instagram account claiming she's done "protecting" Bear and noted she believes he will go to jail for his actions.
Harrison said she knows three people he has specifically shown the video to and has screenshots proving he's posted it on other platforms, including OnlyFans and Pornhub.
After the Love Island star uploaded a couple of clips of her crying, she posted screenshots of her text messages with Bear admitting they had sex at his house.
In Harrison's caption, she called out Bear for "lying" when he claimed he hadn't seen her since Thailand over a year ago in his public response.
She also tagged the OnlyFans official Instagram account in an Instagram Story note and asked if they have any guidelines preventing the upload of recordings that include non-consenting participants.
Bear has not yet agreed to remove the video but stated he's taking a break from social media. The Challenge 36 airs Wednesdays at 8/7 Central on MTV.