'The Challenge': Wes Bergmann Said Jordan Wiseley Is Rude to 'Everyone on Both Sides of the Camera'
Wes Bergmann and Jordan Wiseley don't get along on 'The Challenge.' And Bergmann noted Wiseley is mean to everyone on the show.
The Challenge: Total Madness is heating up, and fans are just as excited about the rivalries and drama as they are about the competition itself.
Jordan Wiseley and Tori Deal are renowned Challenge winners from seasons past. Now, the two are even engaged — and they're proving to be the ultimate power couple who are here to stay for seasons to come. Unfortunately, Wiseley's explosive attitude has gotten him in a lot of trouble with other competitors. And Wes Bergmann recently took to the Bachelor Party podcast to talk about Wiseley's "rude" demeanor.
Jordan Wiseley doesn't get along with a number of 'Challenge' competitors
Wiseley is known for being a tough competitor thanks to his physical prowess. Unfortunately, his social gameplay isn't always the best, as he verbally dukes it out at least once every season he's on with someone else in the house. And his feud with infamous competitor Cara Maria Sorbello might be his most well-known.
Sorbello and Wiseley's feud started on Dirty XXX back in 2017 when Wiseley made it known he'd rather run a final with Deal than Sorbello. Then, on Vendettas in 2018, Wiseley further criticized Sorbello. And it only got worse once War of the Worlds 2 happened.
"For me, this is a game. I try not to make things personal. I don't really dish out personal things — it's usually about the game and performance and abilities and things like that," Wiseley told HollywoodLife regarding the feud. "I trash talk and get in people's heads, but I think Cara gets very personal and that just really rubs me the wrong way."
He's already having altercations with Wes Bergmann on 'Total Madness'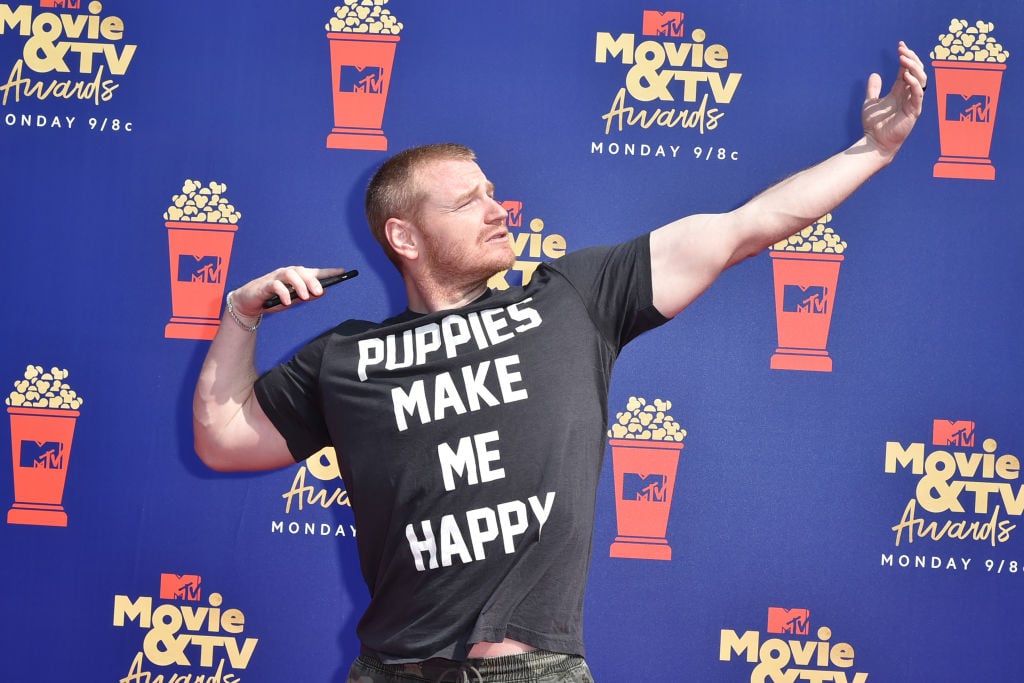 It's not just Sorbello who Wiseley dukes it out with on-screen. Bergmann, a Challenge vet who's been playing the game for a decade, also can't stand Wiseley's attitude. And they're already getting in each other's faces on Total Madness.
"I'm sitting there, minding my own business, helping Nelson and Cory with the turf," Bergmann tells the camera. "They've kind of messed it up 'cause they were doing some sprints on it, and I hear Jordan from across the biosphere yell at me about what he thinks the correct way to fix the turf is in his, like, condescending, prick sort of way."
This, of course, led to Bergmann and Wiseley engaging in a screaming match. According to Wiseley, Bergmann then approached him and got in his face to teach him "a lesson in respect."
Even Johnny "Bananas" Devenanzio, Bergmann's ally, didn't want to get involved. "Even though Wes and I are working together, I'm not touching this one," he said.
Bergmann said Wiseley is rude to 'everyone' on 'The Challenge'
Bergmann recently went on the Bachelor Party podcast to talk about The Challenge competitors. And the subject of Wiseley came up. It's clear Wiseley and Bergmann still aren't friends.
Bergmann spoke to the podcast host about Wiseley's athletic ability at first. "He is very athletic, he is very impressive in a lot of areas. I just like to take shots at him," Bergmann admitted. And when the host asked why everyone likes to "take shots" at Wiseley, Bergmann noted, "because he's so annoying."
"Annoying's not the right word because he's not 'annoying,' let me rephrase," Bergmann corrected himself. "He's an a**hole. To everyone. Like, everyone. Everyone on both sides of the camera. Everyone. And that's annoying."
Bergmann then admitted that Deal is very nice, though. So, it's clearly still a mystery to him as to why she's with Wiseley. After these shady comments, we wouldn't be surprised if Deal and Wiseley don't invite Bergmann to the wedding!
Check out Showbiz Cheat Sheet on Facebook!