'The Challenge': Why Do Wes Bergmann and Johnny 'Bananas' Devenanzio Hate Each Other?
MTV's The Challenge is full of rivalries, love, heartache, and everything in between. We've been keeping up with the show for decades, and it's hard to believe some of the veteran players have been competing each season for the big money for 10 years or longer. And if there's one duo we're excited to see compete on Total Madness starting on April 1, it's Wes Bergmann and Johnny 'Bananas' Devenanzio.
Bergmann and Devenanzio can't stand each other. With each season they're both competing on, they make it known they're going against each other no matter what. So, where did this feud begin — and what do they think about each other in 2020? Here's what we know.
Wes Bergmann and Johnny 'Bananas' Devenanzio have been on opposing sides since 'The Ruins'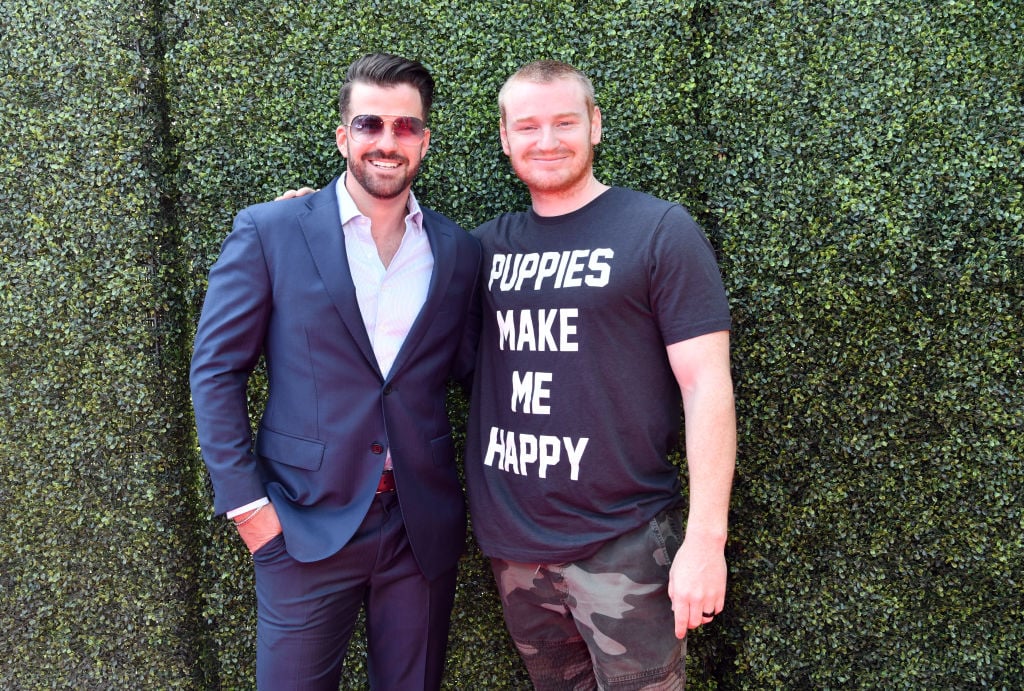 The Ruins premiered back in 2009, and it's when audiences got their first taste of the rivalry between Bergmann and Devenanzo. MTV created a video detailing how it all began, too. According to the footage, Bergmann and Devenanzio were on the same team when the season began. But Devenanzio was more loyal to Kenny Santucci and Evan Starkman, as they entered the game as friends. Santucci and Starkman targeted Bergmann, and Devenanzio followed suit.
While Bergmann and Devenanzio seemed to make peace on Rivals in 2011, Bergmann reignited the feud, as he never forgave Devenanzio for what occurred during The Ruins. Bergmann threw Devenanzio into the final elimination.
It seems since then, all bets for a happy reunion have been off. Once Battle of the Exes 2 began in 2014, Devenanzio and Bergmann made it known to all that they'd never work together. They've since both competed on Rivals 3, Champs vs. Pros, Champs vs. Stars, War of the Worlds I, and War of the Worlds 2, Medium notes. And it seems the rivalry lives on.
Devenanzio appeared displeased to see Bergmann in 'Total Madness'
While Devenanzio and Bergmann certainly hate each other, they have had moments of peace early on. But judging from the first few minutes of Total Madness, it seems the rivals will be at each other's throats again.
According to host T.J. Lavin, Season 35 is going to be the most difficult yet — and we know the contestants are living out of a "nuclear bomb shelter" instead of the traditional, beautiful Challenge house. But this doesn't seem to scare Devenanzio or Bergmann. Since the game is slated to be more difficult (with seemingly more opportunities for eliminations), we're confident we'll see plenty of head-to-head combat between the rivals.
"There's fog. It's cold. A bunch of people I dislike and disrespect and hate," Bergmann tells the camera upon first starting the game.
"I look to my side and it just happens to be one of the ugliest things I've ever seen and that is Wes Bergmann," Devenanzio notes. "Even though Wes and I have done multiple seasons together we've always been at each other's throats and we've never worked together. Everybody just knows if Wes and I are on the same season, it's gonna be a battle royale from day one."
Will the feud ever end?
So, will we see more of the same feud in Total Madness? While that's what fans expect, it seems Devenanzio may be ready to let it all go.
"What we're doing by constantly, season after season, going at each other right off the bat, is we're making everybody else's path easier," Devenanzio said on the Watch With Us podcast, according to Us Weekly. "So we're basically doing ourselves a disservice. We're so focused on our own game and let's be real, it's ego-driven. We're not focusing on the big picture, which is if we were to not fight each other right out of the gate, we make everybody's lives more difficult and we'll make our lives easier."
"There's a possibility that you may be seeing a pause in this very gnarly rivalry. What better time to do it than being in a bunker that was used for the Cold War?" Devenanzio continued.
Devenanzio is certainly interested in winning the big money, as he hasn't won in a few seasons now. And we're sure if he teamed up with Bergmann, they could dominate. We'll have to watch and see what happens in Total Madness.
Check out Showbiz Cheat Sheet on Facebook!