'The Crown': 2 Gillian Anderson Shows to Binge Before She Plays Margaret Thatcher
Gillian Anderson will appear in 'The Crown' Season 4 as Prime Minister Margaret Thatcher. Here are two Anderson shows you need to see before Season 4 drops.
The fourth season of Netflix's The Crown will hit the streaming service on Nov. 15, and with this new season comes new characters fans have been eager to see since Season 1.
Princess Diana (played by Emma Corrin) is the biggest draw for this season, but the role of the United Kingdom's Prime Minister has always been a juicy character throughout the show's tenure. This season, Gillian Anderson is joining the cast as Margaret Thatcher, Britain's first female Prime Minister.
The X-Files alum is sure to impress with her rendition of the Iron Lady, but if you haven't seen Anderson's work before, there are two key shows you need to see to prepare you for Season 4. And as luck would have it, they're both available on streaming platforms.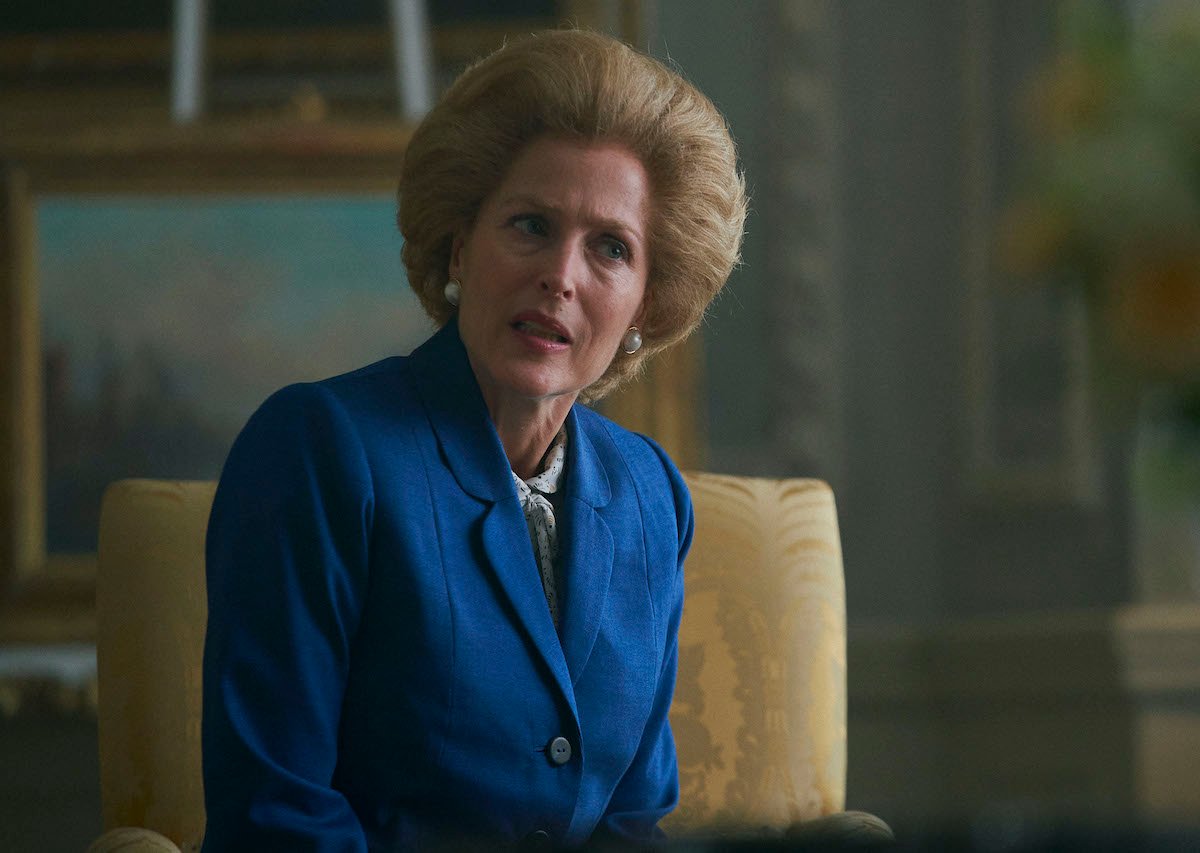 Gillian Anderson plays Margaret Thatcher in 'The Crown,' but she has played other icons
American Gods—STARZ, Amazon Prime Video
First of all, we're not including The X-Files on this list because it's been around so long. There are two shows from more recent years that absolutely need your attention.
STARZ's American Gods Season 1 features Anderson as Media—the God of, well, media. Just like all of the gods in the TV series (based on the Neil Gaiman novel of the same name), Media manifests in whatever form the world needs her. And when you're the God of Media, that's a wide breadth of options.
Throughout the show's first season, Anderson's Media appeared as Ziggy Stardust-era David Bowie, Marilyn Monroe in her iconic white dress from The Seven Year Itch, Lucille Ball in her immediately recognizable blue and white polka dot dress, and Judy Garland as Esther Smith from Meet Me in St. Louis. You'll be gobsmacked at how spot-on Anderson's impressions of the Hollywood legends are.
Unfortunately, she exited the show after Season 1 (she split when showrunners Bryan and Michael Green also left the show), but those immaculate looks will live on forever.
Gillian Anderson plays another powerful woman in 'Sex Education'
Sex Education—Netflix
Anderson plays fictional sex therapist Dr. Jean Milburn in Netflix's Sex Education. Although she's not a real-life icon, Jean is a dang icon in her own right. She's a single mother raising her teenage son, Otis (Asa Butterfield), as he goes through the trials and tribulations of puberty (and she does it while looking effortlessly stylish the whole time).
Having learned some therapy techniques from his mother, Otis spends Season 1 giving secret sex education lessons to his high school classmates when their school's sex education curriculum doesn't fit the bill. In Season 2, she ends up being in charge of the sex education curriculum at her son's school, and hilarity ensues.
Anderson's portrayal of Jean is simultaneously nurturing and fierce, and you'll find yourself learning a thing or two about therapy during her scenes. (Jean and Otis also live in the most enviable home in English country home you'll ever see. You will want to move in immediately.)
Check this show out for a masterclass in what sex education should look like in all schools, and for yet another powerful performance from the irreplaceable Gillian Anderson.
There's not much time before Anderson's Margaret Thatcher debut, so get to binging!