'The Crown' Actually 'Toned Down' Buckingham Palace, According To Olivia Colman
The Crown's Season 4 brought a lot more attention to it than normal. The series already has a lot of hype around it, what with the production value and the subject matter, but Season 4 introduced Gillian Anderson as Margaret Thatcher and Emma Corrin as Princess Diana. The Crown is also gearing up for its finale two seasons after this fourth one, so it had a lot riding on it. It delivered, of course, and it looked good doing it too. But apparently, Buckingham Palace was different compared to the real deal, according to Olivia Colman. 
Olivia Colman said that the real Buckingham Palace was much more extravagant than what 'The Crown' showed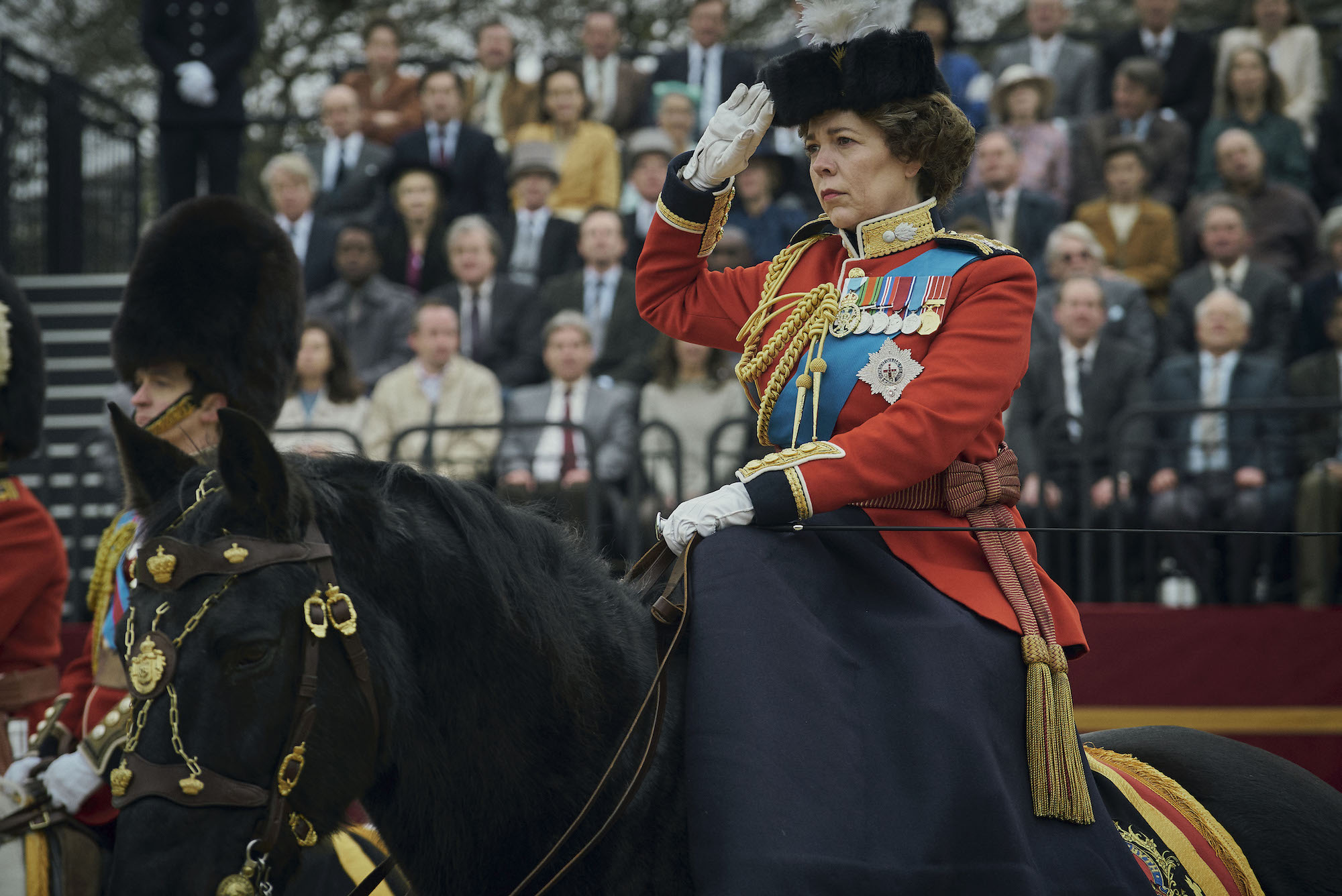 Back in November when the show premiered, Colman and Anderson went on The Late Show With Stephen Colbert to promote the show. Colman met Princess Anne and went to Buckingham Palace prior to booking her role as Queen Elizabeth II in The Crown.
"I was very nervous," The Los Angeles Times reported Colman said. "What was hilarious is that it turns out everything we've done in The Crown was toned down compared to as it is in the actual palace. To be fair, I wasn't there on a rainy Wednesday afternoon, an average day. … It was pomp and ceremony."
The Netflix original series does a lot to make sure the show is still relatively accurate and it does cost a ton to do so. The first season alone cost $130 million dollars to make, which makes it one of the most expensive on TV, according to Insider. 
Colman continued on saying that the staff at Buckingham Palace was "so sweet" and had "gold frills" on the shoulders on their uniforms. 
"If you would look nervous, they'd go, 'Don't worry, it's all OK. Do you want a cup of tea?'" Colman recalled. "They helped you along the way. But it was an extraordinary experience. … I'm very lucky, and it doesn't happen to many people, and I felt very fortunate. And it was also hilarious."
Gillian Anderson also shared her experience meeting the Queen herself and how Queen Elizabeth II has a 'Queen Whisperer'
Colman's experience sounded exciting in itself, and she got to meet Princess Anne. And Anderson shared that she also went to Buckingham Palace and could bare witness to how grand it is as well. On top of that, she's met Queen Elizabeth II herself on a few occassions. Colbert showed a picture of Anderson and Her Royal Highness and Anderson explained how the Queen was with her "Queen Whisperer" in the image. 
"Very often, there's somebody who walks with her and whispers in her ear to tell her who it is that she's about to meet," Anderson said. "You meet a lot of people, and she's not going to remember who everybody is. … And you're not meant to speak before you're spoken to so it can be a little bit awkward. And she may ask you questions about yourself or how you're enjoying the thing that she's just been told that you do."
Anderson also shared that some of the Buckingham Palace workers there made a human-wall to push party-goers out when it was time to leave. In an appropriate and polite way; it was just efficient. 
There are rumors that some members of the royal family have issues with 'The Crown,' but Netflix isn't changing anything 
The Crown's fifth season won't be out for a while, but it was just nominated for six Golden Globes including Drama TV series, and Colman and Anderson for Actress and Supporting Actress in a Drama TV series.  
But after the fourth season aired, British Secretary of State for Culture, Media, and Sport Oliver Dowden called for Netflix to add a disclaimer to The Crown that it was a work of fiction, if anyone wasn't 100 percent sure of that already. This was in response to the most recent season dealing with current members' lives, like Princes Charles and Camilla Parker Bowles. 
"It's a beautifully produced work of fiction, so as with other TV productions, Netflix should be very clear at the beginning it is just that," Dowden said to The Mail on Sunday in November. "Without this, I fear a generation of viewers who did not live through these events may mistake fiction for fact."
In response, though, Netflix said they wouldn't do such a thing. 
"We have always presented The Crown as a drama," the streaming service shared in a statement, according to The Washington Post. "And we have every confidence our members understand it's a work of fiction that's broadly based on historical events. As a result we have no plans, and see no need, to add a disclaimer."