'The Crown': This 1 Thing About Margaret Thatcher is Infuriating Fans
Margaret Thatcher was a controversial figure. Britain's first woman Prime Minister was the head of Her Majesty's Government from 1979 to 1990. And Season 4 of The Crown doesn't shy away from highlighting the things that made her so unpopular, like the dreadful unemployment rate that transpired during her tenure and other harmful policies.
[SPOILER ALERT: Spoilers for The Crown Season 4 ahead.]
Expertly played with a gravely voice by Gillian Anderson, Thatcher spends much of The Crown Season 4 making enemies (something Olivia Colman's Queen Elizabeth II even chastises her for). But one there's one thing about the English Prime Minister does in Season 4 that is really grinding fans' gears.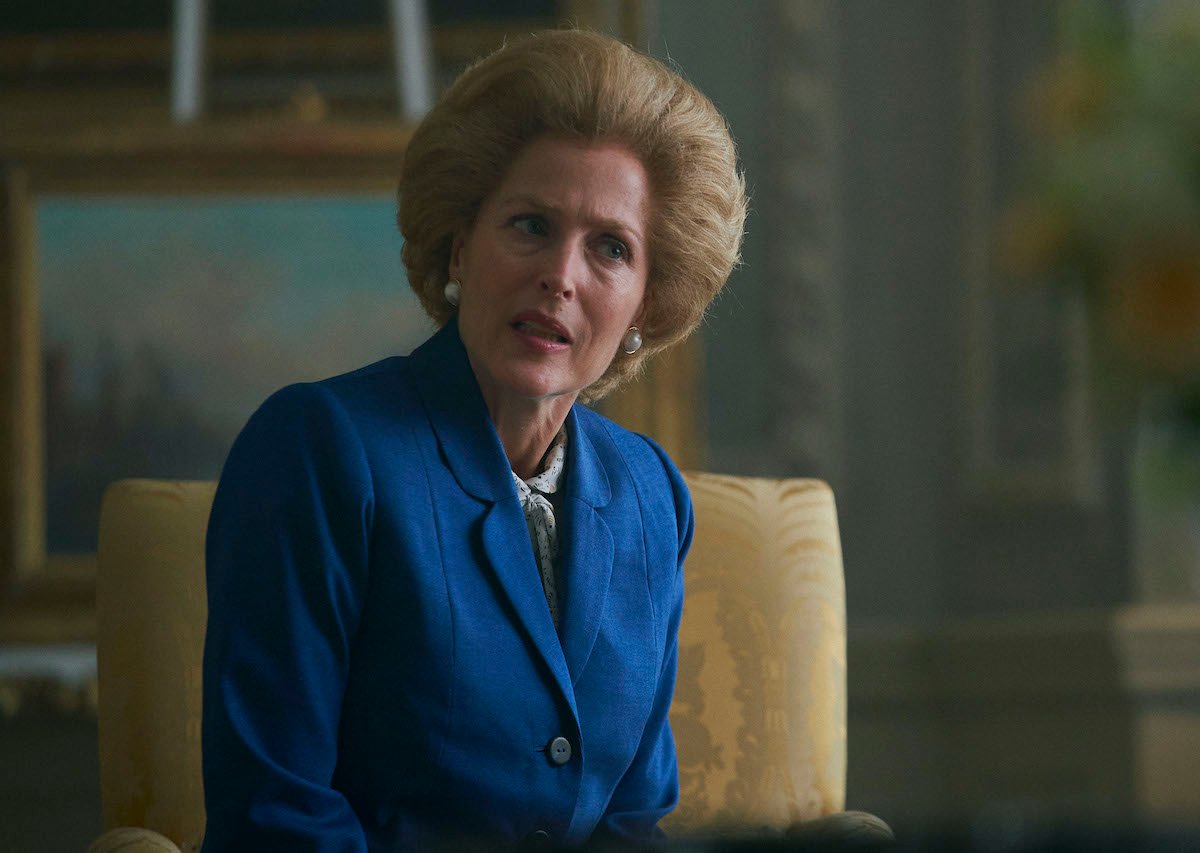 Margaret Thatcher is a harsh judge of women in 'The Crown'
The Iron Lady plays heavily into gender roles in the series. She also is a big critic of women, despite, you know, being one. The Crown really drives this part of Thatcher's personality home throughout the 10-episode arc.
Thatcher comes in hot with her judgment of women in her first meeting with the queen in Episode 1.
The queen asks her new Prime Minister if she expects to enlist any other women in her cabinet, to which Thatcher says, "No, certainly not. Well, not just because there are no suitable candidates, but I have found women in general tend not to be suited to high office. They become too emotional." This, of course, is said by a woman holding high office.
In Episode 2, "The Balmoral Test," Thatcher is shocked at the idea that someone else would unpack her husband's suitcase.
"Unpacking your bag," she says. "What was she thinking? That's a wife's job." This, of course, is said by a woman who is literally the head of the British government and probably has more pressing things to do.
In Episode 4, "Favourites," her daughter, Carol, calls out the Prime Minister for clearly favoring her twin brother, Mark, and for her general disdain toward women. Carol argues that Thatcher's resentment toward women is rooted in her complicated relationship with her mother, but Thatcher categorically denies it and simply says her mother was weak and limited. Ouch.
Margaret Thatcher spends a lot of time cooking for men in 'The Crown' Season 4
Mind you, this conversation with her daughter happens all while she's trying to prepare a meal for her all-male staff. Her cabinet members are expected at her residence at Downing Street, and the literal Prime Minster of Britain is stressing out making sure she properly caters to her subordinates. It's an antiquated gendered practice that people on Twitter were sure to call out.
"I know it's not the worst thing about her, but the way The Crown goes out of its way to constantly show her cooking for men is maybe the worst thing about her," one Twitter user wrote.
"Emma Corrin was outstanding as Diana Spencer," wrote another. "And yet all I can think about (still!) is Gillian Anderson's Margaret Thatcher cooking breakfast for her Cabinet."
It's not just that they find the head of the British government cooking for her subordinates odd—it's also that she's the one cooking at all! Being the Prime Minister, one would think she would have a kitchen staff, given the demanding hours of her job and her political stature. While it's not the most problematic thing about Thatcher in the slightest, it definitely adds to the interesting picture Netflix painted about the infamous politician.