The Day Carrie Fisher Learned Not To 'Mess With' Meryl Streep
When Carrie Fisher realized that it's not wise to "mess with Meryl Streep." Inside their relationship and 'Postcards from the Edge.'
Meryl Streep portrayed Suzanne Vale in 1990's Postcards from the Edge — a semi-autobiographical tale about Carrie Fisher and her relationship with her mother, Debbie Reynolds. Streep took on the Fisher character, while Shirley MacLaine played Doris Mann — a loose embodiment of Reynolds.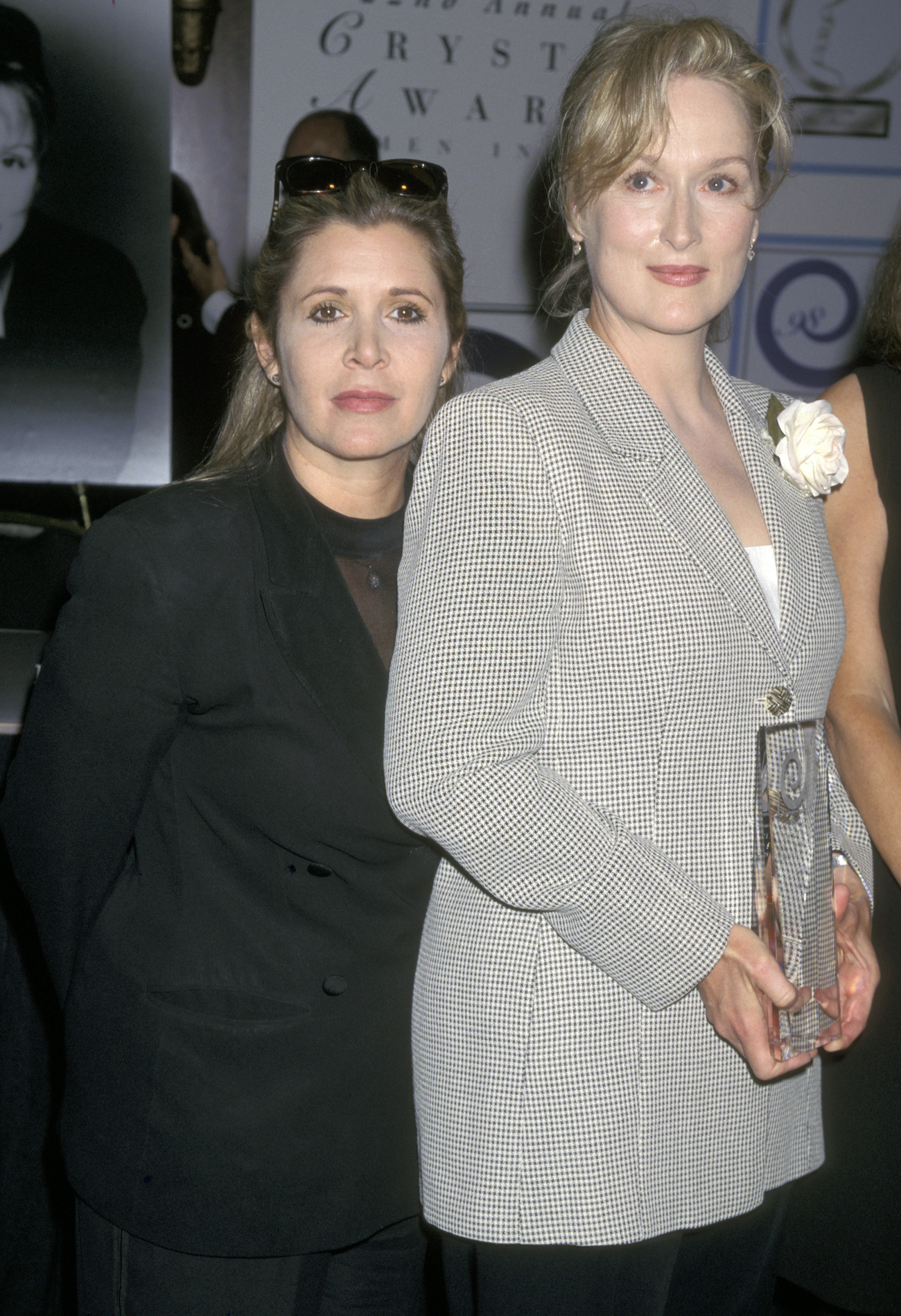 Reynolds once argued that Postcards was not about her and her daughter during an interview with Larry King. Yet, over the years, Streep and Fisher spoke about the realistic foundation that set up the dramatized story for Postcards. 
Postcards from the Edge was one phase in the strong friendship between Streep and Fisher. During the 32nd AFI's Lifetime Achievement Award Ceremony, which honored Streep, Fisher spoke about their friendship, noting the day she learned the Iron Lady star was not to be messed with. 
Carrie Fisher talks about Meryl Streep, the 'vicious bug crusher' 
When honoring Streep at the Lifetime Achievement Awards, Fisher told a little story about the time she visited her friend for a few days. She shared: 
"So, I was staying with Meryl last summer for a few days when she asked me to help her out in her garden. It seemed that a certain type of bug was shamelessly eating her raspberry plants, and something had to be done and quickly. It appeared Meryl and I were gonna have to kill some insects. She was this vicious bug crusher without conscience. I learned something that day: don't mess with Meryl."
Who would have thought that Streep would have something in common with her later character, The Witch from Into the Woods: "don't ever never ever mess around with [her] greens." Except, in real life, especially her raspberries. Following the bug-crusher joke, Fisher went on to compliment the actor on her inspiring performance chops.
Carrie Fisher talks about Meryl Streep and 'Postcards from the Edge'
Fisher explained that she found out the "hard way" that one does not try to best Streep. She shared:
"I had to find this out the hard way. Not that I crossed her, well, I was her, in the sense that she played, essentially me, in my semi-autobiographical screenplay Postcards from the Edge. 

After Postcards premiered, I began daily to see the pain and disappointment in the eyes of my family and friends every time I wasn't Meryl. There's a name for this condition as it turns out, Meryl-noma Streep-tococcus. Meryl, you're either the best friend a person could have or the best-damned actress in the world."  

Fisher | AFI Lifetime Achievement Awards
And, if awards and nominations amount to anything, she may just be the "best-damned actress in the world," as Streep has snagged 21 Oscar nominations and three wins.