The Destructive Rihanna Cheating Rumor That Almost Ended Beyoncé and Jay-Z's Romance
Beyoncé and Jay-Z are one of the music industry's wealthiest and most influential power couples. They seem to have it all — looks, money, fame, and a beautiful family.
Still, the couple has dealt with their fair share of issues, including an almost never-ending stream of cheating rumors that have been making the rounds for over fifteen years.
The most damaging of those rumors started swirling in 2005 when several sources claimed that Jay-Z was having an intense affair with his musical protégé, the up and coming singer Rihanna. 
When did Beyoncé and Jay-Z start dating?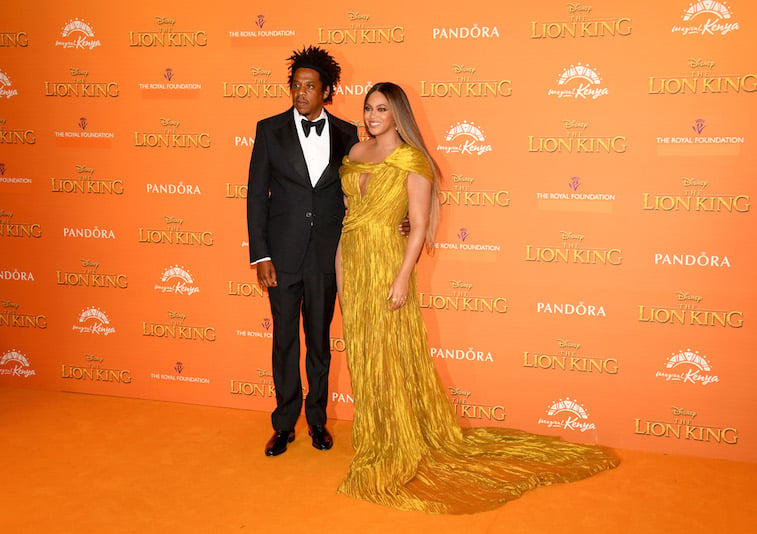 Jay-Z was an established producer and rapper when he first crossed paths with Beyoncé, who was fresh from the success of her girl group, Destiny's Child.
The two first met sometime in late 1999 and less than a full year later, the two were rumored to be dating. Still, the couple kept their romance private and rarely spoke about their relationship to members of the media. 
Jay-Z and Beyoncé worked together on several occasions early on in their relationship, including on Jay-Z's hit single "03 Bonnie & Clyde."
By the summer of 2004, the two had ventured out on red carpets together but still remained quiet about their romance, presumably to allow their relationship to flourish in private.
Although they were clearly well on their way to becoming music's next big power couple, a vicious rumor would soon start to circulate, one that could have potentially ended their romance for good. 
Jay-Z was rumored to be having a fling with Rihanna
In a recent podcast Even The Rich, the story of the infamous Jay-Z/Rihanna affair rumors were dissected. The podcast revealed how the rumor originally started in 2005, when Rihanna was first beginning to make her mark on the music industry and was not yet the business powerhouse that she would later become.
She was also under the wing of Jay-Z, and the music mogul was helping her find her footing in the business. Unfortunately, a rumor began that Jay-Z and Rihanna were secretly hooking up. The rumor was especially scandalous because Rihanna was only seventeen at the time, still a teenager.
According to Cosmopolitan, some reports claim that Jay-Z and Beyoncé actually split up due to the rumors. Still, it seems as though the reports of cheating were definitely false says Elle, with several sources revealing that the story was planted by a publicist in order to stir up interest in Rihanna's musical career.
Other reports state that members of the media were the ones responsible for circulating the affair rumors — but regardless, the story proved to be a dead end. 
Jay-Z and Beyoncé have weathered all the cheating rumors
Not only did Jay-Z and Beyoncé overcome any issues caused by the cheating rumors, but they were able to come back stronger than ever. In 2008, the two tied the knot, in a super-private ceremony held at Jay-Z's penthouse.
Just as when they were dating, the newlyweds decided to keep many of the details to themselves, and rarely opened up about their marriage. Almost three years later, in January 2012, Beyoncé gave birth to the couple's first child, a daughter named Blue Ivy. Several years later, they welcomed twins.
While cheating allegations have continued to dog Jay-Z throughout the years, the couple has always been able to overcome the odds and work through any issues privately.
The public, and their fans, might never know the true extent of any marital problems that they have faced — but like the power couple that they are, Jay-Z and Beyoncé have determined to keep it classy and to remain as private as possible.