'The Devil All the Time': How Bill Skarsgård Used Pennywise From 'IT' To Make the Movie Better
Bill Skarsgård is widely regarded for his role as Pennywise, the terrifying dancing clown dreamed up by Stephen King. But in the Netflix drama-thriller The Devil All the Time, Skarsgård plays a loving and devoted father. There was a moment behind the scenes where Skarsgård was able to tap into his menacing clown role. Oddly enough, Skarsgård's Pennywise helped one of the actors in the film's most emotional scene.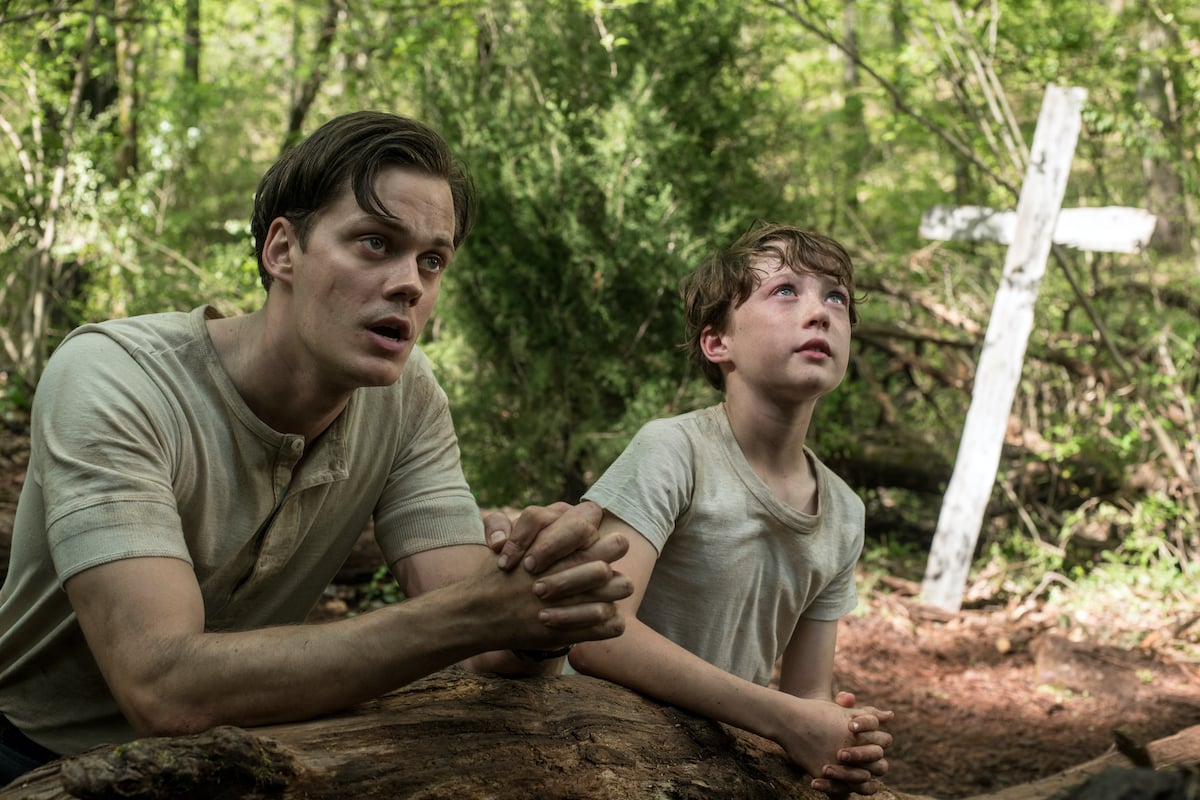 'The Devil All the Time' has a star-studded ensemble cast 
Netflix's The Devil All the Time was released on Sept. 16. Based on Donald Ray Pollock's debut novel, the Netflix adaptation was highly anticipated because of the talented cast. 
In addition to Skarsgård, The Devil All the Time stars Twilight actor Robert Pattinson, Spider-Man: Homecoming hero Tom Holland, Harry Potter actor Harry Melling, and Captain America: The First Avenger villain Sebastian Stan, amongst others. The story follows Arvin, a boy who is forced to move in with his grandparents and adopted step-sister, Lenora (Eliza Scanlen), after tragically losing his parents. 
As Arvin becomes a man, he realizes his father was right — "there's a lot of no-good sons of b*tches out there." Arvin's story intertwines with the film's seemingly unrelated characters in an extremely captivating narrative.
'The Devil All the Time' director took care of the young actors on set 
The Devil All the Time involves dark and complicated themes like murder, rape, and suicide. As such, director Antonio Campos felt compelled to speak with Michael Banks Repeta, who plays young Arvin in the film, and his mother to discuss these mature topics.
"I sat down with him and his mother, and you know how when you're dealing with a kid in sensitive scenes in a film that the kid would otherwise never see, you try to protect them," Campos explained to Movie Web. "His mom was like, 'Banks is very mature for his age. He's not scared of horror movies or anything. He's a pretty tough kid.'"
Ironically, Banks wasn't as tough a kid as his mother implied. Banks may not be afraid of monsters, but there's one thing that does scare him — Pennywise. 
Bill Skarsgård terrified Michael Banks Repeta on the set of 'The Devil All the Time,' but it made for a better take
Skarsgård plays Arvin's father, Willard Russell — a far cry from his menacing role of Pennywise the Dancing Clown. But when the camera wasn't rolling, Skarsgård used his previous acting experience to terrify Repeta. 
"He didn't realize that Bill Skarsgård was the thing that haunted his nightmares," Campos explained. "So I was like, 'Bill, do not tell this kid that you are the clown.' And Bill is like, "Oh my god. I'm totally going to tell him.'"
On the day they were shooting a pivotal scene in the woods, Skarsgård broke the news to his young co-star. "Bill was like, 'They don't think you can know this, but I know you're a smart kid. I'm the clown in IT.' And Banks was like, 'Whoa, that's crazy. I didn't know that. Alright.'" 
Campos said in the middle of the scene where the two pray for the health of Charlotte — Arvin's mother and Willard's wife — Banks started to cry. "I don't know if this is connected," he said, "but in the middle of that scene, Banks just burst into tears way before he was supposed to. I think that somehow [Bill's comment] really got to him."
Thanks to Skarsgård's honesty, Repeta conjured the emotion necessary for one of the film's most powerful scenes.