'The Devil Wears Prada': Anne Hathaway Was So Nervous About Working With Meryl Streep That 'She Was on the Verge of Vomiting' Most of Their Scenes
The cast and crew of The Devil Wears Prada celebrated the 15th anniversary of the movie's release on June 30. The iconic film, starring Meryl Streep, Anne Hathaway, and Emily Blunt, has maintained a cult following since its release and continues to resonate with fans old and new.
One of the most notable aspects of the movie is Streep's intimidating performance as Miranda Priestly, a character based on Vogue editor Anna Wintour. Streep's on-set persona was so intense that Hathaway was extremely nervous while shooting their scenes together, and she frequently found herself on the verge of vomiting.
Anne Hathaway was very nervous while working on 'The Devil Wears Prada' with Meryl Streep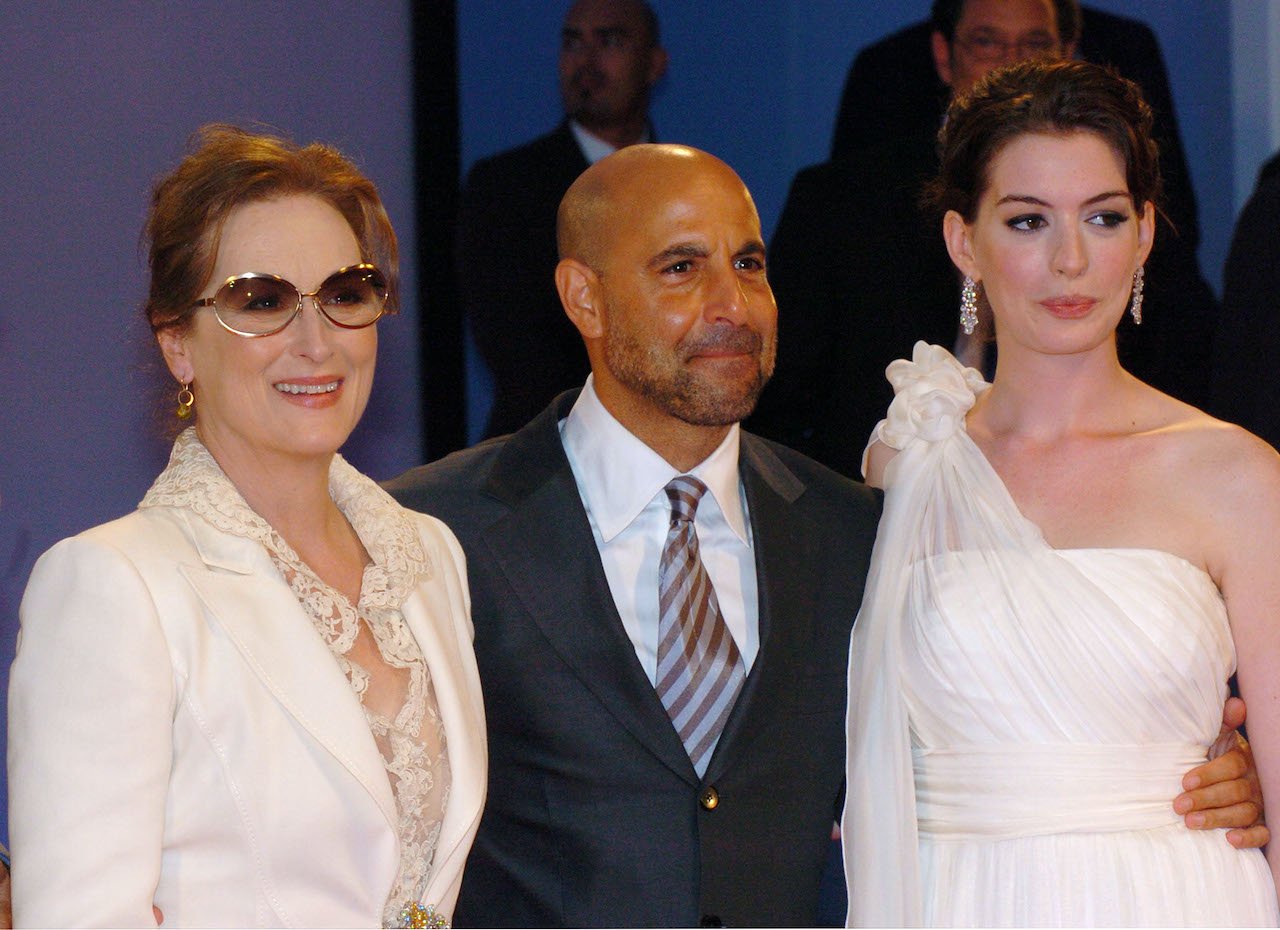 RELATED: 'The Devil Wears Prada': Meryl Streep Reveals That Her Miranda Priestly Performance Was Inspired By Clint Eastwood — 'He Never Raises His Voice, Ever'
Hathaway discussed the anxious anticipation she felt while preparing for her role in The Devil Wears Prada during a resurfaced 2006 interview with Access.
"It wouldn't matter if I'd done 50 films, she's still the best actress in the whole world," Hathaway said. "And I just really kind of had to calm myself down and say, 'Ok, you know what? Just accept it, she's gonna be better than you, just learn as much as possible and just be as open to it as possible.'"
Despite feeling nervous while filming her scenes with Streep, Hathaway admitted that Streep's greatness forces everyone around her to perform better as well.
"And the thing that's so wonderful about Meryl as an actress—and it's what you always kind of aspire to—is she's always at the very center of her character, of the scene, of whatever it is she's doing. She's always completely in touch with the truth of what it is. And so when you're doing a scene with her, you kind of then, by default, get to be in that same place. So your level improves so much."
Meryl Streep's excellence had Anne Hathaway on the verge of throwing up while they filmed their scenes together
Later in the interview, the host revealed that Hathaway admitted she was so nervous while filming scenes with Streep that she was perpetually on the verge of throwing up. When asked if she has a technique she uses when working with established actors who are still in awe of her, Streep cheekily said that she gives them crushed up Dramamine, an anti-nausea drug.
Later in the interview, however, Streep had a more serious response to Hathaway's remarks about her.
"She's very generous," Streep said. "She was not, I don't think, scared of me."
Anne Hathaway felt 'intimidated, yet cared for' by Meryl Streep
A big reason why Hathaway felt so nervous while working alongside Streep was because of the Academy Award-winning actor's intimidating aura. In a separate interview with Entertainment Weekly, Hathaway spoke on Streep's massive on-set presence. 
"I just have to say about the intimidation and Meryl's method on this, that I did feel intimidated, but I always felt very cared for," Hathaway said.
Getting more specific, Hathaway recalled witnessing Streep's uncanny ability to affect every other actor on the set through her dramatic choices.
"I remember having the experience of watching you watch me. And you altered your performance ever so slightly," Hathaway said. "And you just made it a little bit different. And you brought more out of me, and you got me to kind of break through whatever barrier I had. And it meant so much to me. It was a lesson for me about how you, when you're number one on the call sheet, you protect the film. You watch out for the other actors. Because when everybody's doing great work, the film benefits from that."