Celebrity / Net worth / TV
'The Dog Whisperer': Cesar Millan's Net Worth and How He Rebounded From a Major Setback
Find out how 'Dog Whisperer' Cesar Millan made it through a tremendous low in his life, plus his net worth.
For years, animal behaviorist Cesar Millan reigned cable television ratings with his reality show, The Dog Whisperer. Then he moved on to Cesar 911, Cesar Millan's Dog Nation, Leader of the Pack, and more.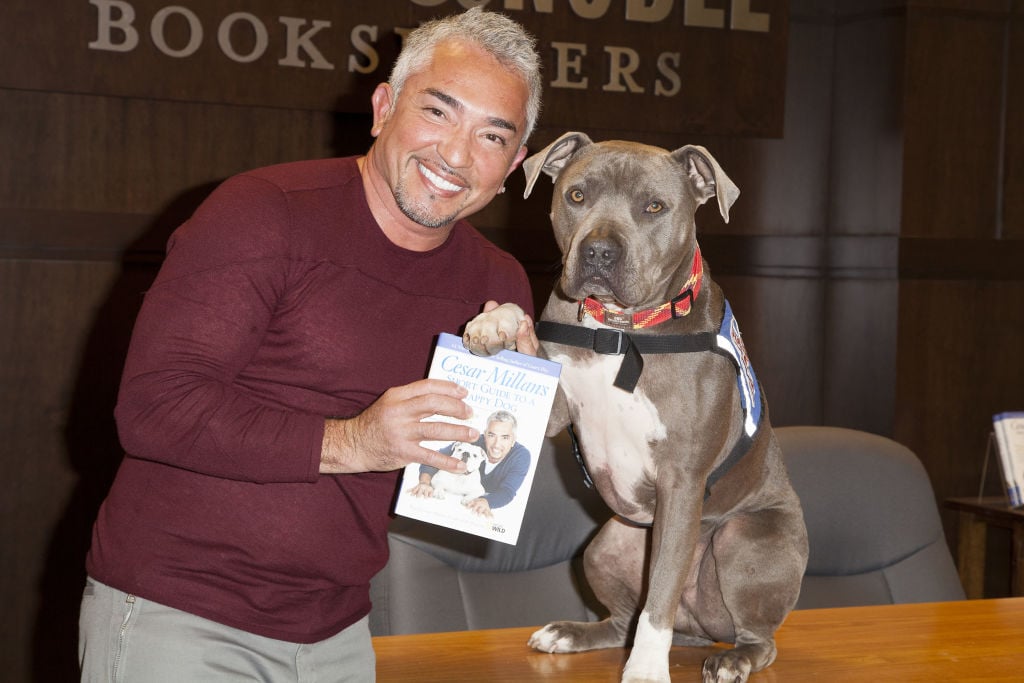 Find out how the celebrated trainer of even the most unruly dogs made it through a particularly dark time in his life, plus his net worth.
How Cesar Millan got his start
With over 25 years of experience as a dog trainer, the Mexican-born Millan worked with animals during his childhood on the farm where his grandfather was a tenant farmer. He had such a knack for working with dogs, that he earned the nickname, el perrero, "the dog herder."
"We were the family that had more dogs than anybody else," Millan told NPR in 2014 of his childhood. "I never saw a dog with a leash on."
Millan notes that his mother was a great source of inspiration and belief in himself.
"When I was 13 years old," he said, "I told my mom, 'Mom, you think I can be the best dog trainer in the world?' And she said, 'You can do whatever you want.' "
His first job in the United States was as a dog groomer. Eventually, the father of two founded the Dog Psychology Center, located now in Santa Clarita.
Millan says on his website, Cesar's Way, about the Center, "I never thought my dreams of owning a center where dogs can come together as a pack and be rehabilitated would ever turn out as it has. . . I want to recreate the farm experience from when I was a kid in Mexico and invite children to come learn the natural way of life, including actual farming and working with other species too."
'The Dog Whisperer' made him a household name
In 2002, after being profiled in the Los Angeles Times, Millan was approached to develop a television pilot for Dog Whisperer, which eventually became the reality television series that put Millan on the map.
The series followed Millan as he rehabilitated dogs of all sizes and dispositions.
Premiering on National Geographic Channel in 2004, the reality series became the network's No. 1 show in its first season and made Millan a household name.
'What makes you wise in life' according to Cesar Millan
In 2013, Millan opened up to journalist Kate Snow on Today about an extreme low he hit financially and emotionally. By 2010, he'd lost all his money on bad investments, his wife divorced him, and his beloved pit bull terrier, Daddy, died of cancer.
Millan, having lost so much, and feeling distant from his children, decided to end his life. "I made a decision. I took a whole bunch of pills and tried to kill myself. My kids found me. I remember the kids saying that I said, 'Take me to the ranch. I want to die with Daddy.' "
The lesson he took away from all that happened to him over the years?
"What makes you wise in life is not the successes," he said. "It's when you go down and come back."
The Be the Pack Leader author did indeed come back. Not only did he gain back his lost income, he produced a new show, Cesar 911, and presented a one-man show at the MGM Grand in 2019.
His net worth, according to Celebrity Net Worth, is $25 million.
"It's been an incredible journey thus far," he said in a statement last year, "and I'm honored to share my life story unlike I ever have before on stage at MGM Grand in Las Vegas." 
If you or someone you know is in suicidal crisis or emotional distress, call 1-800-273-8255 for the National Suicide Prevention Lifeline.