'The Dropout': Amanda Seyfried's Co-Star Called Her Elizabeth Holmes Voice 'Deeply Unsettling'
TV shows and movies based on fascinating true crime stories and captivating con artists are all the rage right now. Today, Hulu released the first three episodes of The Dropout, a miniseries starring Amanda Seyfried. Seyfried portrays Elizabeth Holmes, the ambitious founder of Theranos. Seyfried adopted Holmes' deep baritone voice for the role, and it definitely startled one of her co-stars out.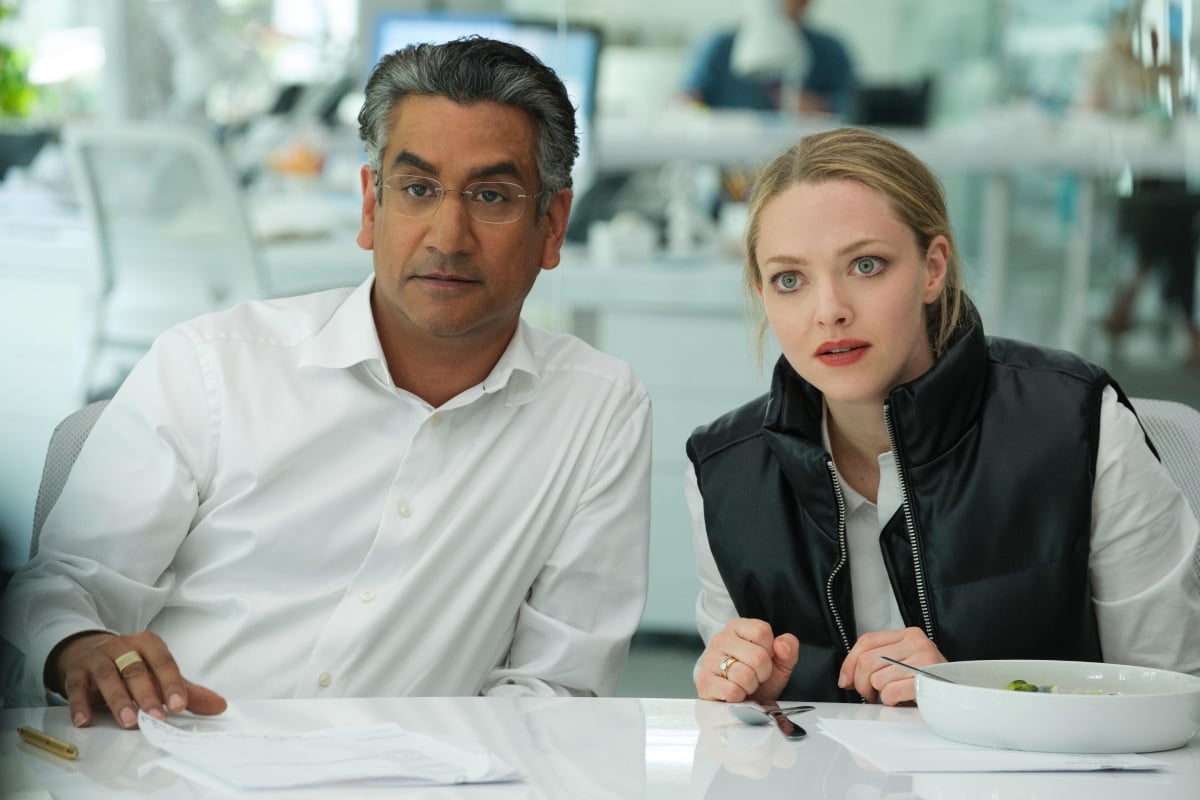 Amanda Seyfried stars as Elizabeth Holmes in 'The Dropout'
Hulu's newest miniseries follows the story of Holmes, a Stanford dropout looking to change the world. Holmes founded Theranos, a health technology company at a very young age. The company's Edison tested claimed to be able to perform rapid medical tests from only a few drops of blood, the BBC reports. However, the twist is that this technology never actually worked. Holmes was recently convicted on multiple counts of fraud.
In the Hulu series, The Dropout, Amanda Seyfried looks shockingly similar to Holmes. Her blond hair, piercing blue eyes, black turtlenecks, and red lipstick makes for the perfect portrayal of her character. Seyfried even did her best to mimic Holmes' deep baritone voice, and the results were a little disturbing.
'The Dropout' star Amanda Seyfried mimicked Elizabeth Holmes' voice
Amanda Seyfried's co-star in The Dropout, Naveen Andrews, had a pretty strong reaction to her new look and voice. Andrews portrays Sunny Balwani, the former president and COO of Theranos. Balwani and Holmes were also romantically involved during their time running the company.
One day on set, Seyfried approached Andrews while in character. "She came up behind me when we were actually doing camera tests, so we weren't shooting, but she came in the black turtleneck with the lipstick and went straight up to me with the voice," Andrews told Variety. The actor called the voice Seyfried used "deeply unsettling."
Additionally, to make matters even stranger, a former coworker of Holmes alleged that Holmes' true voice is actually much higher. On a podcast about Theranos called The Dropout, this coworker claimed to have heard Holmes slip up and expose her real voice. However, Holmes' family claim that the deep voice isn't fake, TMZ reports.
When will 'The Dropout' be available for streaming?
The first three episodes of The Dropout will be available on Thursday, March 3. After that, the streaming service will drop one new episode per week. New episodes will be available every Thursday at 12:01 a.m. EST. The series will consist of eight episodes in total, with the finale scheduled for April 7, 2022.
Seyfried and Andrew are only a few of the talented actors in The Dropout. The cast also includes big-name actors such as William H. Macy (Shameless), James Hiroyuki Liao (Prison Break), and Sam Waterston (Law & Order). Don't miss the season premiere of this jaw-dropping true story and listen close to Seyfried's voice.
RELATED: 'Inventing Anna': 5 Shows Like It to Watch for More True Crime and Con Artists