'The Dropout': Linda Tanner from Elizabeth Holmes' Legal Team is Based Mostly on 1 Lawyer
'The Dropout' on Hulu shows Linda Tanner as Elizabeth Holmes' leading advisor on her legal team, but who is she based on in real life.
While watching Hulu's The Dropout, viewers want to know more about Linda Tanner (Michaela Watkins) from Elizabeth Holmes' (Amanda Seyfried) legal team. As the allegations against Theranos mounted, Linda remained faithful to Holmes until the bitter end. Then she finally gave Elizabeth a piece of her mind in the final episode of the true crime drama. Although Linda is mostly an amalgamation of several lawyers on Holmes' legal team, many quotes in The Dropout came directly from Heather King.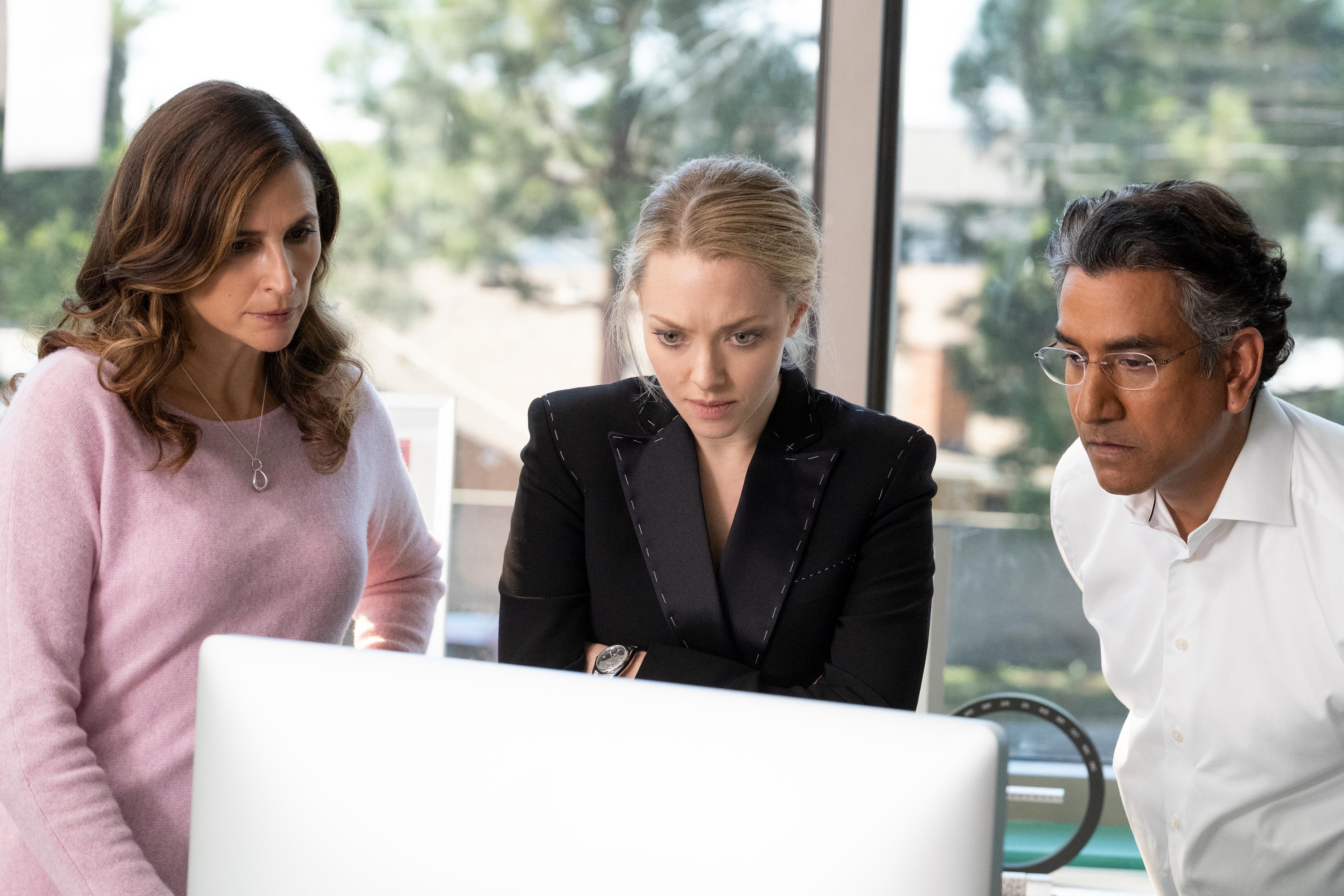 Linda Tanner in 'The Dropout' is mainly based on Heather King
When journalist John Carreyrou (portrayed by Ebon Moss-Bachrach) uncovered the lies happening at Theranos, Holmes sent her legal team to confront him at the Wall Street Journal. Like it happened in The Dropout, in real life, David Boies (Kurtwood Smith) led a team to Carreyrou in an attempt to kill the story the journalist was writing. In Carreyrou's podcast, Bad Blood, he shares snippets of his actual conversation with Boies and Theranos-in-house attorney Heather King. 
"We would just urge you to look very carefully at your sources," King says in one clip. "They're not reliable for many reasons."
The quotes that Carreyrou shares in the podcast from King are similar, if not verbatim, to what Linda Tanner says in The Dropout.
"It seems apparent to us that certainly one of your two sources is a young man named Tyler Shultz. I could go through a list, I don't have to, of reasons that Mr. Shultz was in no position at all to be raising the questions he did at the time."
The writers of The Dropout used many quotes from Heather King to recreate the meeting between Linda Tanner, David Boies, and John Carreyrou at the Wall Street Journal for episode 7.
"It just feels like you want us to give you the formula for coke in order to convince you that it doesn't contain arsenic," King said in the podcast.
'The Dropout': Linda Tanner represented different lawyers when she ambushed Tyler Shultz
Linda Tanner portrayed Heather King in the meeting with the WSJ. However, she took the form of two lawyers in The Dropout Episode 6. The Hulu series chose to have Linda represent the various lawyers to have one cohesive character throughout the episodes. 
"What I didn't know was that the other two lawyers present [at the WSJ meeting], Michael Brille and Meredith Dearborn, had already ambushed Tyler [Shultz] at his grandfather's house and were putting intense pressure on him to recant and name my other sources," Carreyrou said in his podcast. 
In Carreyrou's book, Bad Blood: Secrets & Lies in a Silicon Valley Startup, he gives more details about the ambush. The two lawyers had three documents in hand when they came into the room at George Shultz's home. They held a temporary restraining order, a notice to appear in court two days later, and a statement that Theranos was prepared to file a lawsuit against Tyler. Brille persistently attacked Tyler to make him admit he was lying. However, Tyler stood firm, as seen in The Dropout with Linda as the attorney.
All 3 lawyers left Theranos before the Elizabeth Holmes trial
Linda Tanner left Elizabeth Holmes to fend for herself in The Dropout Episode 8. Likewise, Heather King left her partnership at Boies Schiller Flexner in San Francisco shortly before Holmes' criminal trial began in 2021. Michael Brille retired from the same firm in March 2021, according to Bloomberg Law.
According to the Global Legal Post, Meredith Dearborn was the first to leave the firm that represented Theranos. She described her move as "a new adventure." 
There's no record of any lawyer giving the speech to Holmes in those last few minutes of The Dropout. However, some of John Carreyrou's thoughts could have inspired the writing.
"A sociopath is often described as someone with little or no conscience," Carreyrou wrote in the ending of his book. "I'll leave it to the psychologists to decide whether Holmes fits the clinical profile, but there's no question that her moral compass was badly askew." 
All eight episodes of The Dropout are currently streaming on Hulu.