'The Ellen DeGeneres Show': Ellen DeGeneres Called Justin Bieber Out for Forgetting Where His New Neck Tattoo Is
Justin Bieber is no stranger to The Ellen DeGeneres Show. The young star has visited the talk show many times over the years, and he seems to have developed quite a close relationship with Ellen DeGeneres. Recently, he visited the show to talk about his wife, Hailey Bieber, their holiday plans, and, of course, his latest tattoo.
DeGeneres couldn't help but make fun of Justin when he failed to correctly locate his newest neck tattoo, though. Here's what happened.
Justin Bieber visited 'The Ellen DeGeneres Show' in December 2020
Justin's been roasted multiple times by DeGeneres, but he still appreciates the comedian and visits her show from time to time. In December 2020, he visited the set of the show to talk about everything going on in his life, and DeGeneres quickly took the opportunity to get personal.
DeGeneres first asked Justin how his Thanksgiving went, and he noted he had a great time with friends and Hailey. "Hailey's a really good cook," Justin noted. And he elaborated on the meal he had that Hailey primarily made for everyone.
At first, DeGeneres didn't believe that Hailey went out of her way to make the turkey, as Justin noted they have their own chef. But Justin verified that Hailey was the one who cooked the turkey, and it was fantastic.
Ellen DeGeneres made fun of Bieber for not knowing where his new tattoos is located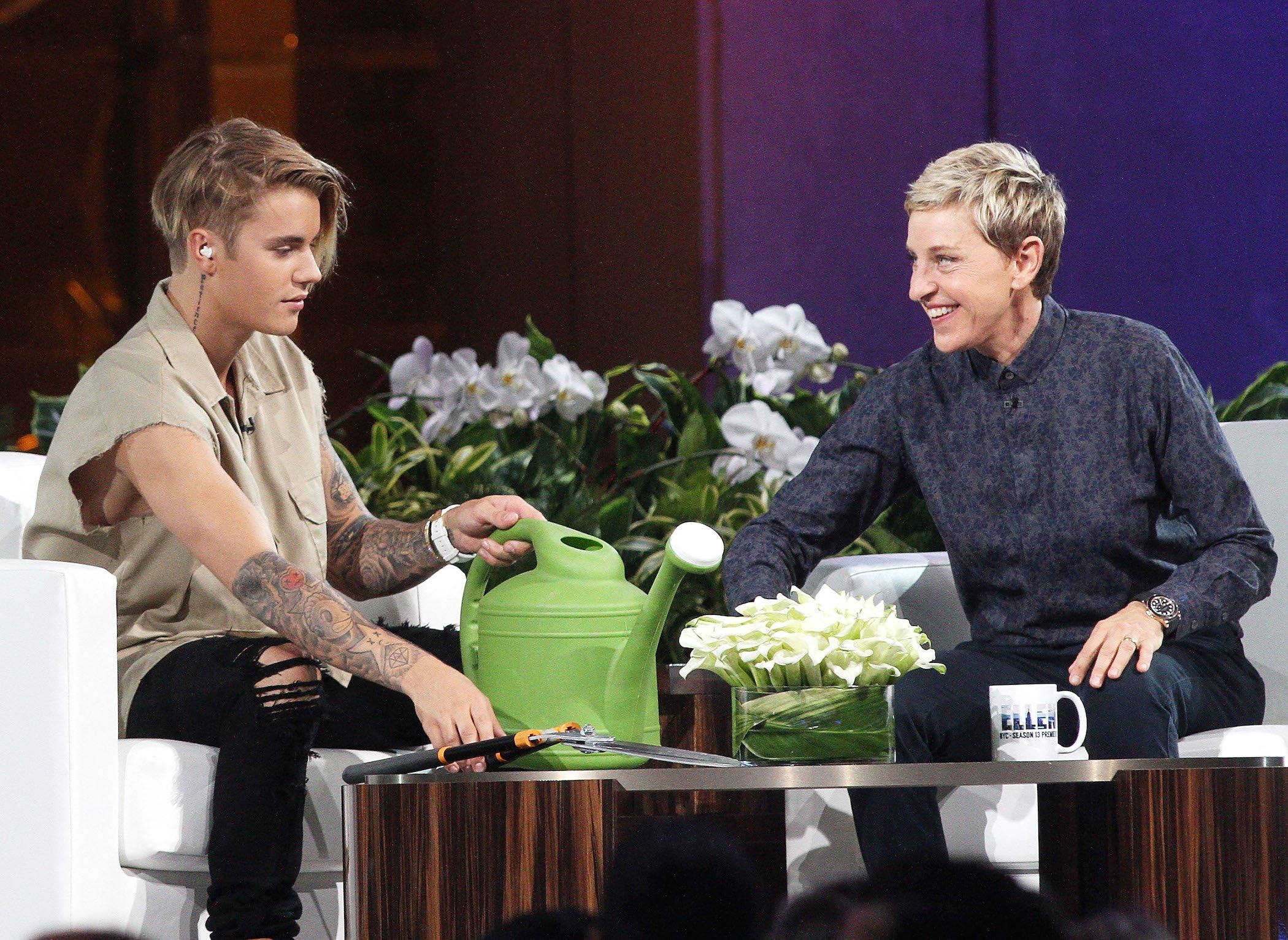 RELATED: Justin Bieber Got Upset When Ellen DeGeneres Asked About His 'Friend' He Brought on Vacation: 'Stop, You're Making Me Blush'
The conversation then moved to Justin's new tattoo on his neck. "I'm looking at your beautiful new tattoo," DeGeneres noted while pointing at Justin's new neck tattoo of a rose. "And I saw the documentary, which I loved. But, I know what this means, but explain what the rose means to you."
Justin then admitted that the rose doesn't actually have much meaning, as he mostly liked the tattoo for its design. "To be honest, I made up a meaning, because really I just liked the way it looks," he told DeGeneres. "It's kind of like, finding the beauty within."
While explaining the meaning behind the tattoo, Justin then tilted his neck to the side to show off the rose — but he tilted to the wrong side and showed off a different tattoo.
"It's on the other side," DeGeneres commented. "You don't even know where your tattoo is!"
"Yeah, I know," Justin said. "It's a problem."
Bieber noted his wife, Hailey Bieber, doesn't love all of his ink
After correctly identifying the tattoo on his neck, Justin added that Hailey doesn't want him to have anymore ink on his neck.
"Honestly, Hailey doesn't want me to get anymore neck tattoos," he told DeGeneres.
"No — you have plenty," DeGeneres confirmed.
"No more neck tattoos," Justin added. "That's what Hailey says."
DeGeneres then asked if Justin got the rose tattoo without her "permission," and he noted Hailey told him to wait a month before getting it. If he still wanted the ink after a month, she said it'd be OK for him to continue with his plan. Justin also added that Hailey has a number of delicate hand tattoos, so she's not against ink generally. But she probably won't be getting any neck ink in the future.
Justin told DeGeneres he loves "expressing" himself "through art," so we're sure there are plenty more tattoos to come whether they're on his neck or not.
Check out Showbiz Cheat Sheet on Facebook!