'The Ellen DeGeneres Show': Ellen DeGeneres Embarrassed Nicole Kidman for Insinuating She Had a Crush on Her Co-Star
Actor Nicole Kidman has visited The Ellen DeGeneres Show a number of times — and Ellen DeGeneres loves to poke fun. After the success of HBO's Big Little Lies, Kidman visited the talk show to what it was like working with Alexander Skarsgård as her on-screen abusive husband. And DeGeneres totally embarrassed Kidman by insinuating that Kidman assuredly had a crush on him.
Nicole Kidman wanted Alexander Skarsgård to star in 'Big Little Lies'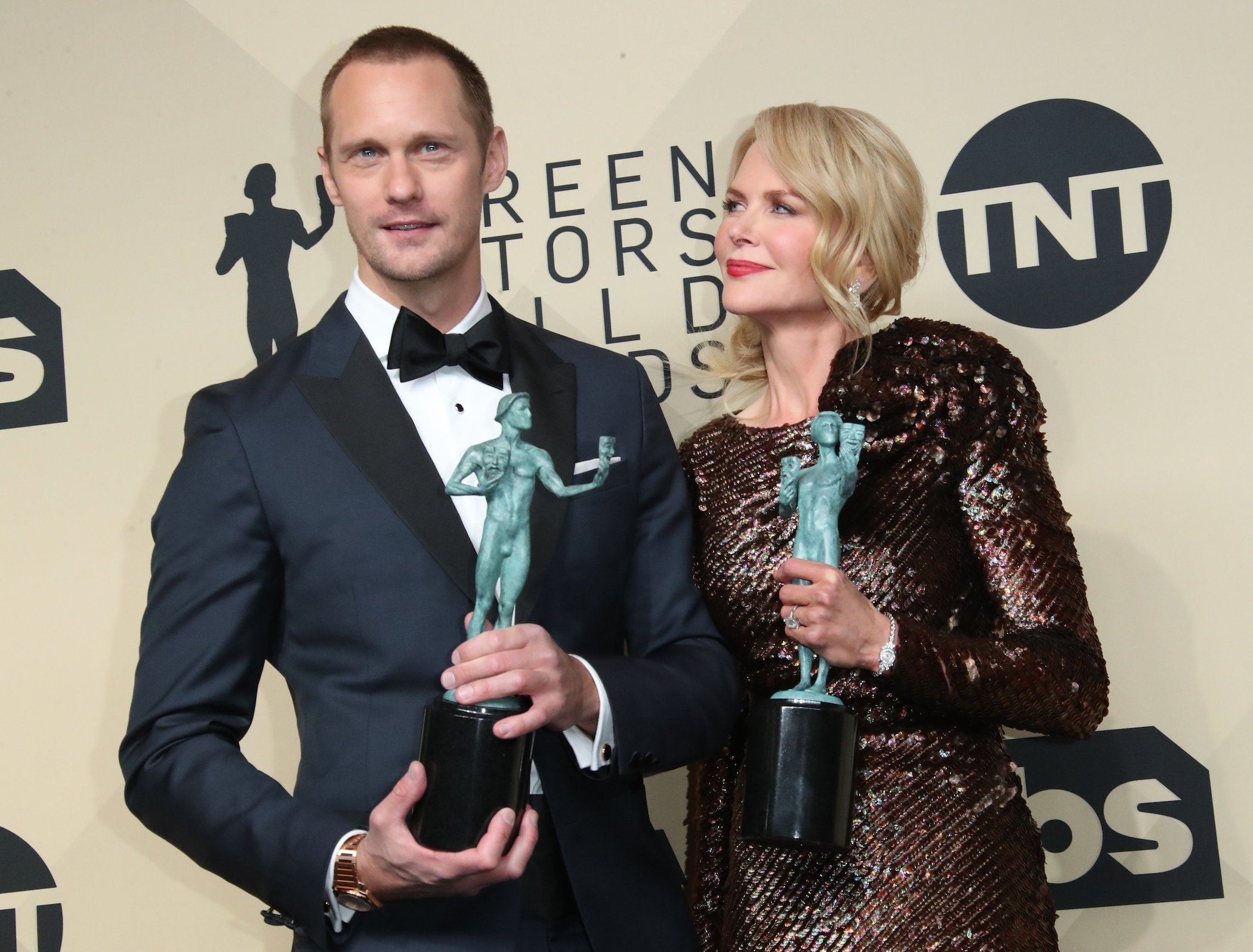 Kidman never could've imagined Big Little Lies would attain the success that it did. But it certainly thrust her and all of her famous co-stars into the spotlight. She and Skarsgård made the perfect husband-wife duo on the show, as their troubling marriage played out until the final gut-punch of an ending.
It seems Kidman desperately wanted Skarsgård as her on-screen husband, too. "Yeah, he was so good," she told Vulture. "I wanted him! I wanted him badly. I was like, 'Come on, please. Come on, HBO, we've gotta get him.'"
Kidman continued on and explained why having the Swedish actor by her side was perfect for the show. "He's obviously got that ability to pull you in and hold you, and he breaks down, you know?" she added. "He has that whole fragility to him as well — so this sort of dominance and then this fragility; it's a weird mix. And, obviously, he's very tall as well, which is really, really helpful for me. It's not often that I look small."
Ellen DeGeneres insinuated Kidman had a crush on Skarsgård
It's clear Kidman is quite fond of Skarsgård — and it certainly didn't slip past DeGeneres. Kidman visited The Ellen DeGeneres Show in 2017 to discuss the show and her role. And, of course, the topic of her co-star came up.
"The tone of it's really interesting," Kidman says of the show. "Because it's funny, yet it's scary. … And it makes you, hopefully, emotionally, you're attached to these women."
"And Alexander Skarsgård is your husband," DeGeneres clarifies. "And he's fantastic."
"Yes," Kidman laughs. And she then notes that DeGeneres is giving her a very specific look. "Why are you looking that way?"
"Why are you looking that way?" DeGeneres countered at Kidman's embarrassment. "I'm saying that he's fantastic. What's wrong with you?"
"'Cause everyone always asks me about him," Kidman added.
DeGeneres verified she wasn't going to ask Kidman any questions — but she then projected a large photo of Skarsgård shirtless in the background. The comedian then noted that Skarsgård no longer looks like the shirtless photo, and Kidman agreed.
Kidman had to defend herself after kissing Skarsgård at the Emmy Awards
This is far from the only time Kidman was asked about Skarsgård. Kidman also visited The Graham Norton Show, and she was questioned about a photo that shows her kissing Skarsgård on the lips at the Emmy Awards. Kidman's husband, Keith Urban, can be seen behind Kidman in the photo as well.
"You are so provocative, Graham," Kidman said. "Why are you showing that?"
"It's a lovely moment of celebration, though," Graham Norton defended.
"I kissed my husband, too!" she exclaimed. She then verified that she did kiss Skarsgård, but it wasn't in a romantic way. "You got to understand, I did everything with Alex …."
"We saw it!" Norton joked.
"I've got an amazing, supportive, gorgeous husband whom I love more than anything in the world," Kidman noted. "And I gave Alex a congratulatory kiss and he's like … a mannequin." Kidman then regretted calling her co-star a mannequin with the eruption of audience laughter.
No matter how many times Kidman gets teased about Skarsgård, it's clear they're really nothing more than co-stars and friends.
Check out Showbiz Cheat Sheet on Facebook!