'The Ellen DeGeneres Show': Ellen DeGeneres Was Very Confused When Ashton Kutcher Came on Her Show
Ellen DeGeneres has had a number of guests over the years on The Ellen DeGeneres Show, though she typically knows exactly who will be joining her on stage. It seems Ashton Kutcher, her longtime friend, surprised her with a visit back in 2018, though. While sitting opposite her, he finally explained why he showed up unannounced. Here's what happened.
Ashton Kutcher surprised Ellen DeGeneres on 'The Ellen DeGeneres Show'
It's not every day that DeGeneres gets a surprise guest on her show. But back in 2018, Kutcher decided he would arrive unannounced to The Ellen DeGeneres Show.
"A friend of mine is backstage and is here to talk to me," DeGeneres told the audience in confusion. "So, whoever you are, please come out and talk to me."
Kutcher then snuck around the corner and surprised DeGeneres. And they didn't have too much to say to each other while on the show, as DeGeneres didn't have any questions or talking points to prepare.
"What's going on with you?" Kutcher asked the host.
"Well, nothing," she answered. And after describing the vacation she would be going on, she told the cameras she wanted to go to a break early, as she didn't know what else to say. "Let's go to break. We have 40 seconds left … because I don't know what else to ask him."
DeGeneres then noted that she anticipated Kutcher would tell her why he arrived on her show after the break. "I don't know what we're drawing out," she added. "This better be good."
DeGeneres was shocked when Kutcher revealed the reason why he visited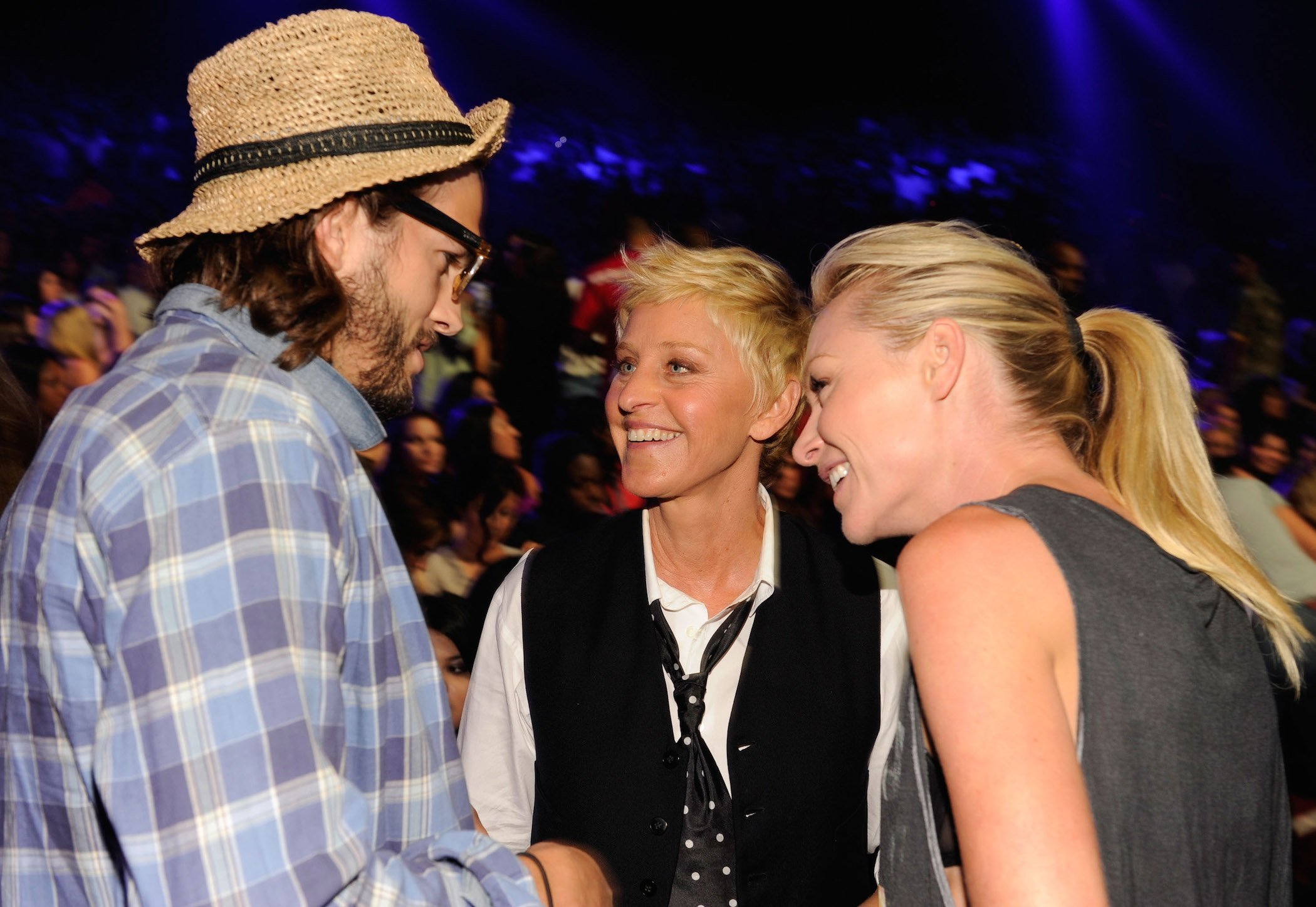 Finally, Kutcher revealed why he was visiting DeGeneres. He started off by explaining how he invests in high-tech companies, and he had his business partner come out on stage next. Kutcher then explained that he and his partner found a tech company, Ripple, that he's investing in.
"Ripple is basically a platform to allow people to transfer money from bank account to bank account, person to person, really securely, really simply, really quickly," Kutcher told DeGeneres. He then explained that Ripple really cares about being an ethical company, and they want to give part of their platform away to "people that are doing good in the world."
Kutcher then brought up The Ellen DeGeneres Wildlife Fund, which is an organization that helps endangered species. And he had a large donation on behalf of Ripple to give to DeGeneres to help her cause. "So, on behalf of Ripple, we'd like to give you $4 million," he told her.
"That was the most amazing thing," DeGeneres responded. "I love you both so much."
DeGeneres and Kutcher are neighbors and friends in real life
Kutcher surprising DeGeneres with such a wonderful gift shouldn't be too shocking. The two are longtime friends and neighbors, and it's clear they see each other outside of their homes all the time. When DeGeneres was in hot water for how her production team treated staff, he also came to her defense.
"I haven't spoken with @TheEllenShow and can only speak from my own experience. She & her team have only treated me & my team w/ respect & kindness," Kutcher defended on Twitter. "She never pandered to celebrity which I always saw as a refreshing honesty. When things aren't right she handles it and fixes."
No matter what happens with The Ellen DeGeneres Show, we know Kutcher is certainly on her side. And it seems his surprise on her show was well-worth the confusion!
Check out Showbiz Cheat Sheet on Facebook!