'The Ellen DeGeneres Show': Khloé Kardashian Proved She Couldn't Keep Kylie Jenner's Pregnancy a Secret
The Kardashians and Jenners have spent plenty of time on The Ellen DeGeneres Show, and it's clear Ellen DeGeneres loves talking to them about their lives.
While Keeping Up With the Kardashians is coming to a close, we're now looking back at all the secrets the family spilled while talking to the comedian. And we can't forget that Khloé Kardashian was the worst at keeping Kylie Jenner's pregnancy with Stormi Webster a secret. Here's how DeGeneres roasted Kardashian.
Kylie Jenner kept her pregnancy with Stormi Webster a secret
Back in 2018, fans noticed Jenner was staying out of the public eye more than usual, and when she did appear in photos, she was shown covering her stomach to conceal her baby bump.
Despite the speculation, Jenner kept her pregnancy out of the public eye completely prior to giving birth to her and Travis Scott's baby, Stormi. On Feb. 1, 2018, she gave birth — and finally, the truth was revealed.
So, why did Jenner choose to keep her pregnancy under wraps? "She's very happy about the pregnancy but she doesn't want to share this with the world," a source told Us Weekly, according to W Magazine. "Her not being out is strictly personal preference. She wants to keep this one aspect of her life private."
The source then added that Jenner can be "very stubborn," and once she made this choice for herself, she planned to stick with it. "This is a decision she made early on in her pregnancy and she's sticking by it," they said.
Khloé Kardashian was grilled on 'The Ellen DeGeneres Show' about the possible pregnancy
DeGeneres was on to Jenner just like the rest of Jenner's fan base. And Kardashian was grilled by the talk show host when she visited The Ellen DeGeneres Show. We can't forget that Kardashian was pregnant at the time, too — and the conversation first focused on her own pregnancy. But it quickly shifted over to speculation regarding Jenner.
"Have you changed the way you're eating?" DeGeneres first asks Kardashian regarding her pregnancy.
"Well, I mean, I definitely will indulge in cravings," Kardashian starts. "But you're eating for one, me, and then something that's this big." She then showed a small size using her fingers. From there, DeGeneres went into conversation about Jenner.
"Is Kylie craving things yet?" DeGeneres asked, which seemed to catch Kardashian off guard.
"What do you mean?" Kardashian questions.
"She's pregnant," DeGeneres states.
"Oh, I don't know what you're talking about," Kardashian reiterates.
Ellen DeGeneres remained unconvinced by Kardashian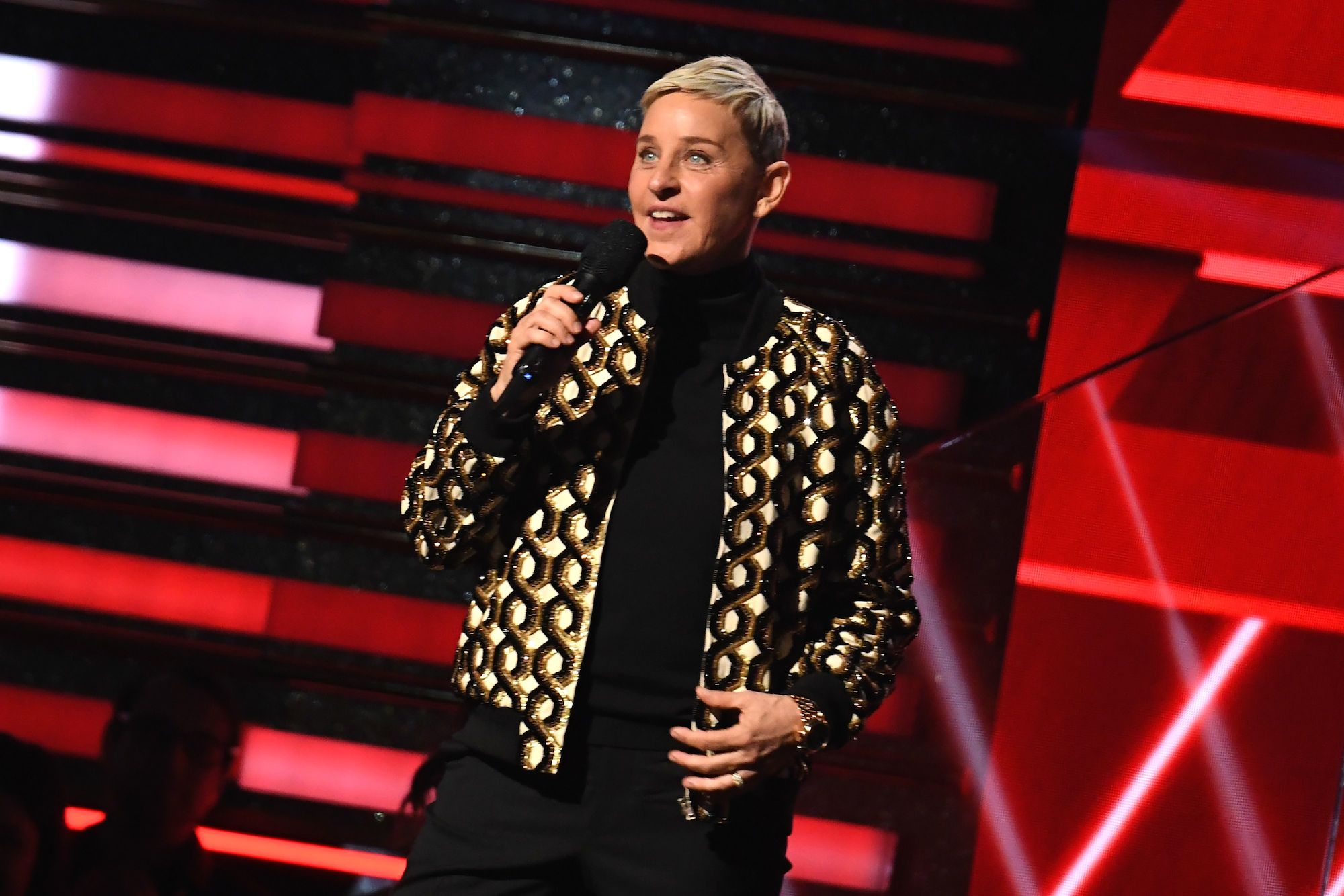 While Kardashian did her best to conceal Jenner's pregnancy while in the hot seat, DeGeneres didn't back down.
"I mean, why wasn't she on the Christmas card?" DeGeneres doubled down while speaking to Kardashian.
"I don't know — you have to ask Kylie," Kardashian added. "Why don't you get Kylie on the show?'
DeGeneres then suggested that she and Kardashian call Jenner to get the truth — but Kardashian noted she doesn't know Jenner's number.
"But she must — she must be pregnant," DeGeneres added again. "I mean, there's too much secrecy around it." And the comedian then adds that she can see in Kardashian's eyes that Kardashian is lying. "Ya'll, she's pregnant! I can tell by her eyes."
"I can tell Kylie's pregnant!" DeGeneres exclaims. "I will make a bet right now that she's pregnant."
Fans noticed how spot-on DeGeneres was too now that the truth has been out for years.
"I bet while Kylie was delivering, Ellen was sitting there like 'I told u,'" one fan commented.
"Update from the future: Kylie was pregnant and has had her baby on February 1st," another added.
We'll have to wait and see what else DeGeneres can correctly predict in the future!
Check out Showbiz Cheat Sheet on Facebook!