'The Ellen DeGeneres Show': Matthew McConaughey Called Out Anne Hathaway for Coming to His Birthday Party a Day Late
Matthew McConaughey and Anne Hathaway have developed quite a close friendship since working together on Interstellar in 2014. And their closeness has extended beyond the big screen. McConaughey told Ellen DeGeneres on The Ellen DeGeneres Show he invited Hathaway over for his birthday party.
Hathaway showed up ready to party — but she attended on the wrong day. Here's what happened.
Matthew McConaughey and Anne Hathaway have become great friends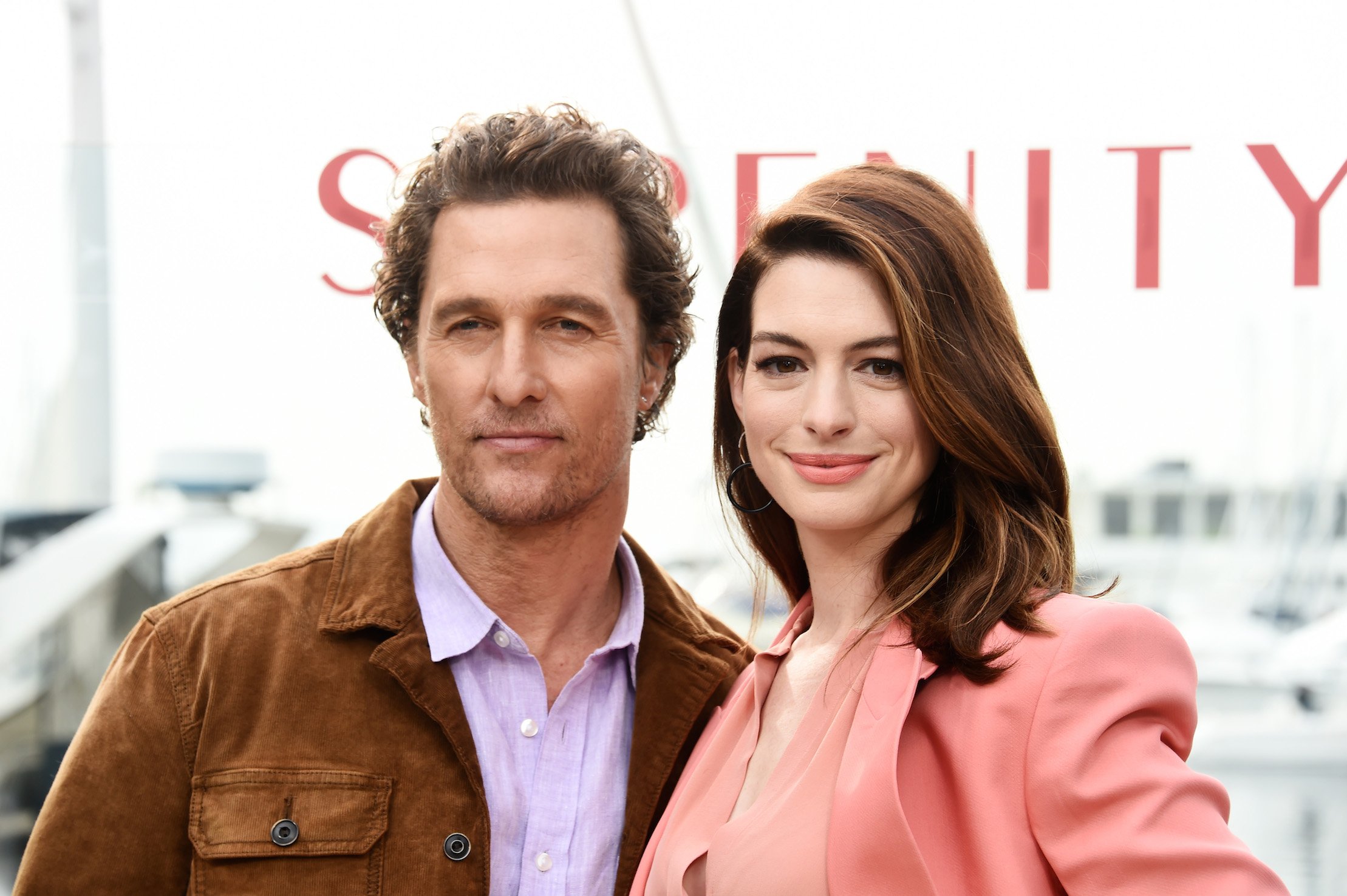 McConaughey and Hathaway have established quite a lovely friendship. McConaughey even told Variety that Hathaway has "pushed him" to become the great actor he's known as today.
"I love working with Anne," the actor told Variety. "She's as good as it gets between action and cut, for my money. She asks great questions, she does her homework, she shows up prepared. We don't always agree – we enjoy disagreeing!" He then added that he experiences "good resistance" from Hathaway when on set, and that's made him better at his job.
Hathaway has the same fondness for McConaughey. She told Variety that after working together on Interstellar, their families started hanging out with each other as friends. "We knew we liked each other during Interstellar, and we established a trust, and then we just kind of started hanging out outside of work – our families really got along," she explained.
McConaughey told Ellen DeGeneres Hathaway arrived at his party a day late
While visiting The Ellen DeGeneres Show, McConaughey told a funny story about Hathaway's birthday blunder. McConaughey was throwing a party for his birthday and he invited the actor and her family to celebrate. But she missed the memo on the correct date.
"There's one party, my birthday party," McConaughey started. "She was invited. 'Yes, we'll be there.' And my birthday's on the 4th of November, so we had the party that night. And I didn't notice, but the Hathaways didn't show up. The next day, wake up, I think I was still in my robe about 5:00 p.m. … and the doorbell rings." Lo and behold, it was Hathaway and her husband.
"And I look, and I'm like, great, c'mon in," McConaughey continued. It was only after Hathaway came in and poured some wine did she realize she missed the party completely. Nevertheless, McConaughey and Hathaway partied until well into the morning. "My birthday party needed to be two days," he added.
Hathaway gave her side of the story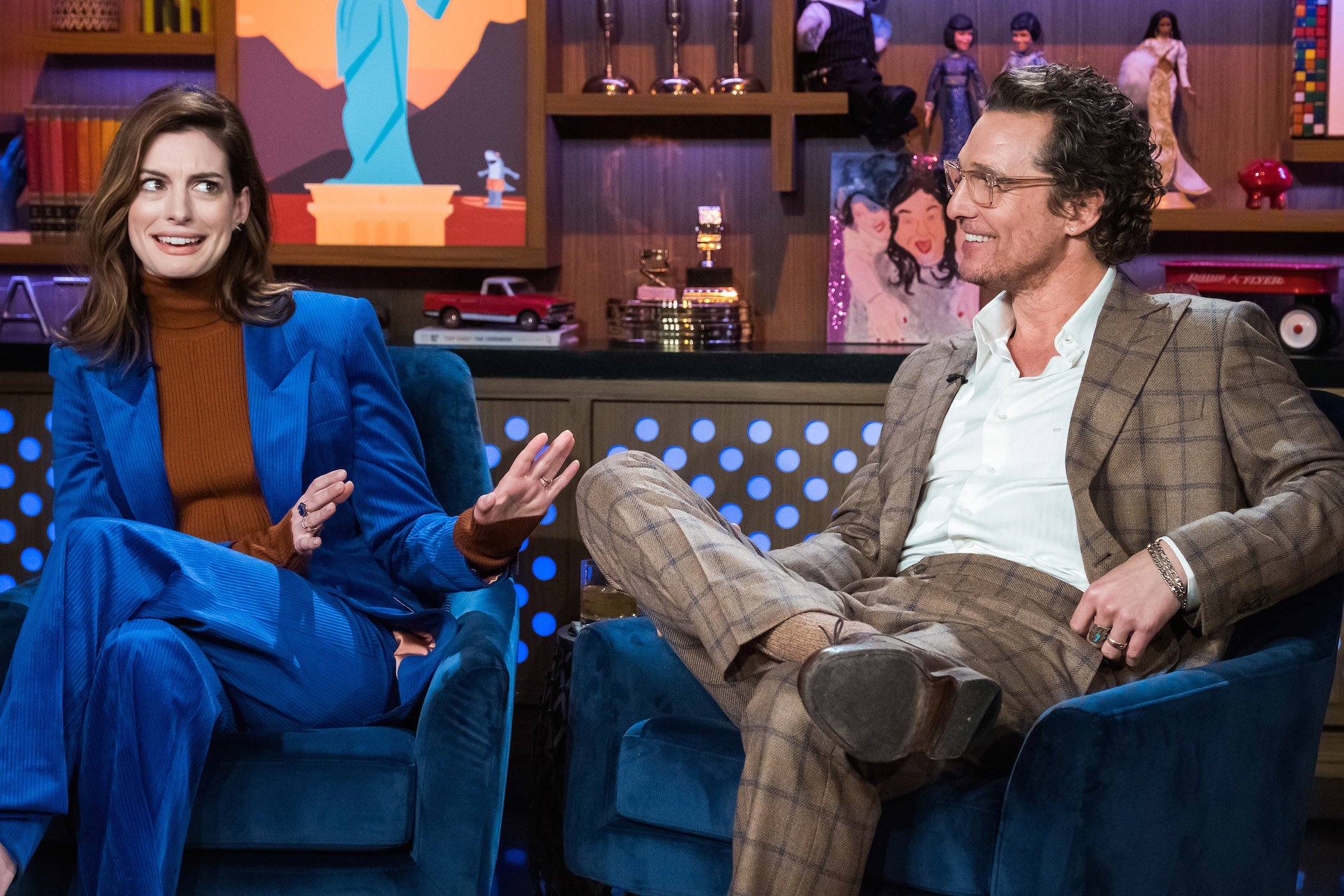 So, what happened from Hathaway's perspective? Bustle notes Hathaway explained the blunder during an American Cinematheque tribute dedicated to him.
"My husband and I drive up. It's a Sunday. It's a beautiful day," Hathaway explained "There are no cars around and we thought, 'OK, we're on time. We're on time for once.' Matthew goes, 'Yeah, you gotta come in.' Matthew turns around, again [with] a smile and goes, 'that party was last night.'"
Hathaway then explained that she and her husband stayed at McConaughey's house for bottle after bottle of wine. "I stopped counting after four and then I went with [him] to someone's surprise birthday party that night," she added. "[He was] so good to me and Adam."
While Hathaway's birthday mistake could've been disastrous, it seems the two actors now have a wonderful story to tell. We love their friendship and can't wait to see what they collaborate on in the future.
Check out Showbiz Cheat Sheet on Facebook!