'The Ellen DeGeneres Show': There's Major Tension Between Giada De Laurentiis and Nicole Kidman on Their Cooking Segment
A segment on 'The Ellen DeGeneres Show' featuring Nicole Kidman and Food Network's Giada De Laurentiis is super awkward. Here's why.
Ellen DeGeneres is under serious scrutiny after staffers from The Ellen DeGeneres Show slammed production. Now, more fans than ever are finding old interviews with celebrities from the show that don't feel quite right. And DeGeneres' cooking segment featuring Nicole Kidman and Food Network star Giada De Laurentiis has some serious chaotic energy that's hard to dismiss. Here's what fans noticed.
Ellen DeGeneres is under fire by staffers of 'The Ellen DeGeneres Show'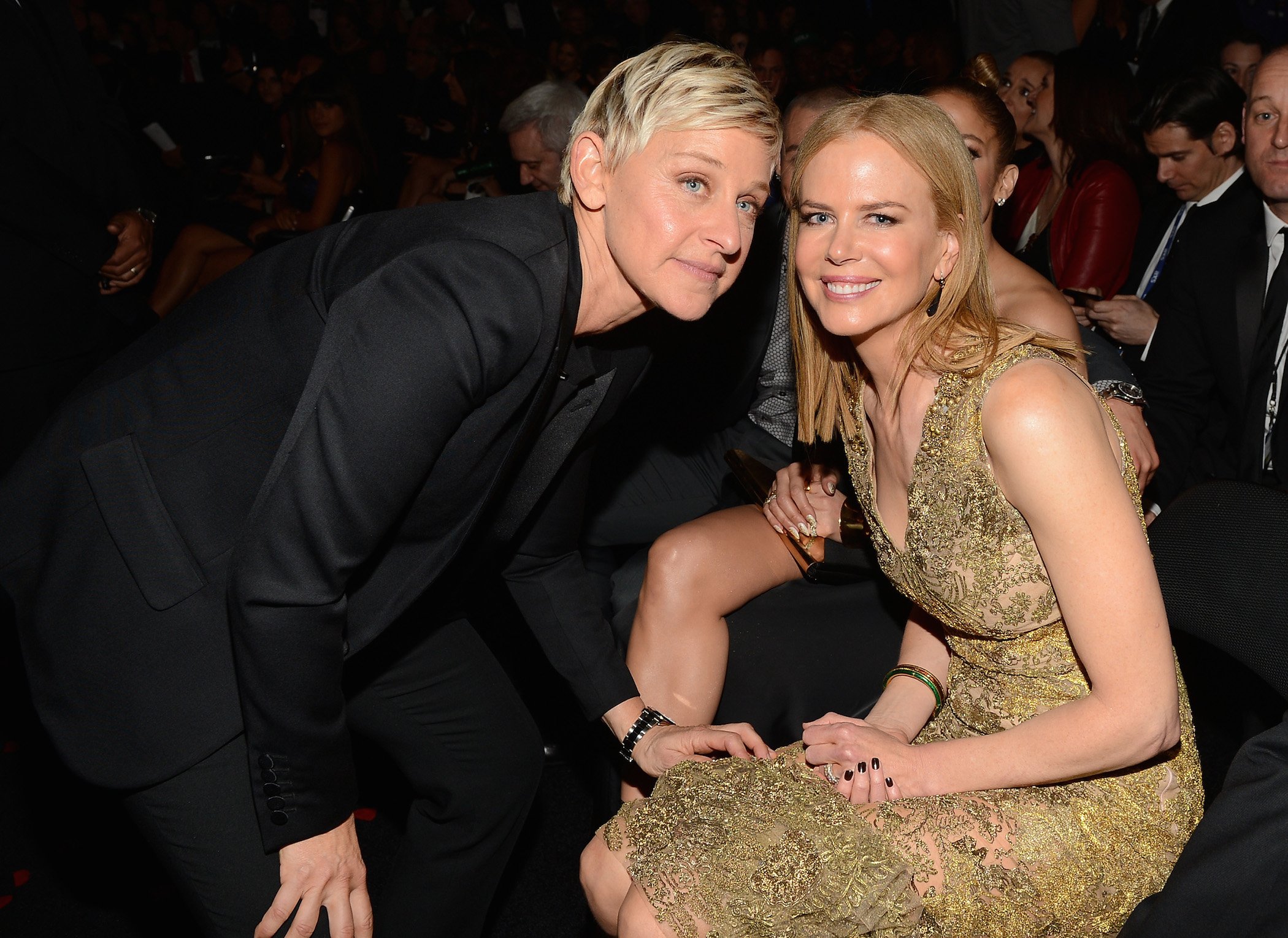 While DeGeneres was always known as a funny and welcoming comedian, fans are having second thoughts about her talk show after Buzzfeed News released a report from her staff that slammed the show. According to the report, employees past and present from the show said production treated staffers poorly. And some thought DeGeneres should've been aware of what was going on behind the scenes.
"If she wants to have her own show and have her name on the show title, she needs to be more involved to see what's going on," a former employee from the show told Buzzfeed. "I think the executive producers surround her and tell her, 'Things are going great, everybody's happy,' and she just believes that, but it's her responsibility to go beyond that."
DeGeneres has since formally apologized to her staff for the misconduct. And the top three producers of the show were fired, per BBC.
DeGeneres once featured cook Giada De Laurentiis and Nicole Kidman on a chaotic cooking segment
Back in 2017, DeGeneres featured both Kidman and De Laurentiis on her talk show. De Laurentiis had a number of food items she planned to teach Kidman and DeGeneres how to make — but it didn't exactly go according to plan.
Within the first 30 seconds of the cooking bit, De Laurentiis critiques DeGeneres for her ability to roll some of the ingredients into a ball. And Kidman also struggles. Finally, Kidman makes the perfect ball-shape with the ingredients. "The woman who can't cook made the perfect ball!" De Laurentiis announces. Then, after more miscommunication errors (and Kidman asking De Laurentiis repeatedly for precise timing on the cooking of the food), De Laurentiis moves on.
The second recipe proves just as difficult for the group to get through as the first. And Kidman appears rushed to finish cooking as De Laurentiis continues. "Isn't it meant to be relaxing?" Kidman asks. When DeGeneres then asks if Kidman isn't relaxed while cooking during the segment, Kidman fires back, "No! I get anxious and anxiety."
Finally, De Laurentiis allows DeGeneres and Kidman to taste the second recipe — a focaccia with clementines and fennel. After Kidman tastes it, she says it's "a little tough."
"Nicole, it's been sitting there for five hours," De Laurentiis said back.
"I know you're not meant to criticize … but, it's a little tough," Kidman said again. And she then spit out the focaccia.
Fans think the segment is totally awkward
There's clearly some tension between De Laurentiis and Kidman on the show. And while DeGeneres' comedic presence helps, she can't save the whole segment. Fans noticed the tension, too.
"That cocky chef started it all, the 'dog food' and 'woman who can't cook' comments were unnecessary," one fan commented on the video.
"It reminded me of when you have two friends that are friends separately and you invite them both over at the same time and they kind of have a little power struggle for your attention," another wrote.
"I did not like how Giada was acting or treating Nicole Kidman," another wrote. "You could feel the tension."
We're sure DeGeneres will never invite Kidman and De Laurentiis back on for the same segment ever again after this debacle. But it was certainly fun to watch how it all unfolded.
Check out Showbiz Cheat Sheet on Facebook!