Jameela Jamil Wore a Suit and Tie for Playboy for an Empowering Reason
Jameela Jamil is a popular actress who has earned acclaim for her work in the TV series The Good Place. A beautiful model and star, Jamil has overcome a lot of hardship in her life to reach the level of success that she has achieved. She is also beloved by many fans for her relentless advocacy on behalf of women's rights causes. From time to time, Jamil's outspoken behavior has caused her to make the headlines – but recently, she was in the news for an entirely different reason.
Jameela Jamil's health struggles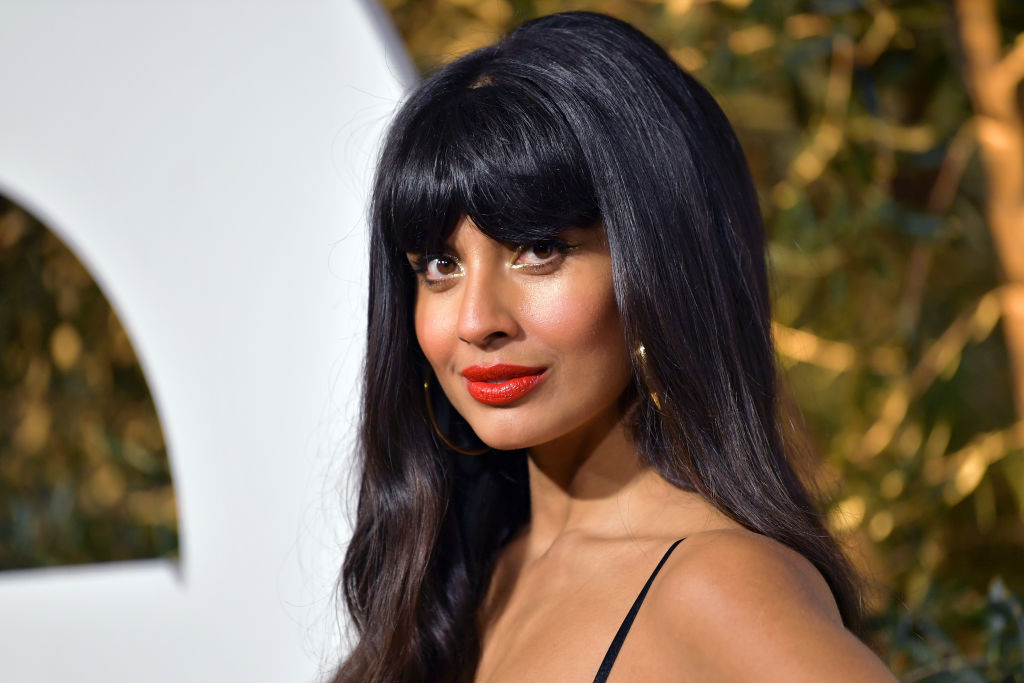 Jamil was born in England in 1986. She dealt with a wide variety of health issues when she was young, including  Ehlers-Danlos syndrome, a genetic disorder that can cause symptoms such as joint pain, heart problems, digestive problems, and fatigue. The syndrome can also cause people to have extremely stretchy skin and unwanted scarring. Jamil also suffered from anorexia nervosa, an eating disorder that affected her life for several years. 
As a young woman, Jamil received a lot of attention for her undeniable beauty and got into modeling. As she later revealed, she was encouraged to eat only small amounts of food in order to maintain her ultra-thin figure.
However, when she was only 17 years old, she was hit by a car, which caused major trauma to her back and placed her in a wheelchair for a period of many months. During this bleak time, Jamil said that there was a bright spot – she realized her "sense of purpose" and stopped starving herself. Ultimately, Jamil credits the traumatic car accident for "saving her life."
Jameela Jamil is a well-known social activist
Jamil got her first big break in the entertainment industry when she worked as a presenter for the show T4. She worked on the show until 2012, while simultaneously writing columns for various women's magazines and even working in some reality shows.
Around 2016, Jamil moved to Los Angeles with the intention of working behind the scenes in the entertainment industry. She quickly landed an acting role, however, as Tahani Al-Jamil in The Good Place.
Along with her acting work, Jamil has continued to model, appearing on magazine covers and in feature spreads. Still, Jamil is possibly best known for her social activism, promoting body positivity and slamming other celebrities who promote weight-loss products.
She has spoken out against the Kardashians several times, after instances when members of the famous family advertise "detox teas" and other similar items, all intended to encourage unhealthy weight loss. 
Why did Jameela Jamil wear a suit and tie for 'Playboy'?
In early March, Jamil returned to her modeling roots and appeared in an issue of Playboy magazine. While many Playboy models appear naked or dressed extremely provocatively, Jamil chose an entirely different look for her photos.
In fact, Jamil appeared in the magazine dressed in menswear-inspired looks, suits, ties, and sturdy boots. Jamil stated that she "wanted to be shot like a man" for the shoot, with "no retouching, hi res, loose, comfortable clothes and completely unsexualized. I felt extremely free."
She also gave kudos to the reporter who interviewed her for the feature, saying that he made her feel "free."
There's no doubt that Jameela Jamil has risen to fame on her own terms. Her fans love her for her tenacity, hard work, and commitment to causes that matter to her. As the years go on, and Jamil's career continues to thrive, she will likely continue to make even more fans.