'The Gilded Age' Casting News Hints at What's in Store for Season 2
Casting news from HBO offers some hints about what fans can expect from season 2 of 'The Gilded Age,' the period drama from 'Downton Abbey' creator Julian Fellowes.
TL;DR:
The Gilded Age Season 2 will feature expanded roles for several below-stairs characters.
New cast members for the HBO series include Michael Braugher as Booker T. Washington and Ben Lamb as the Duke of Buckingham.
Thomas Cocquerel will not return as Tom Raikes.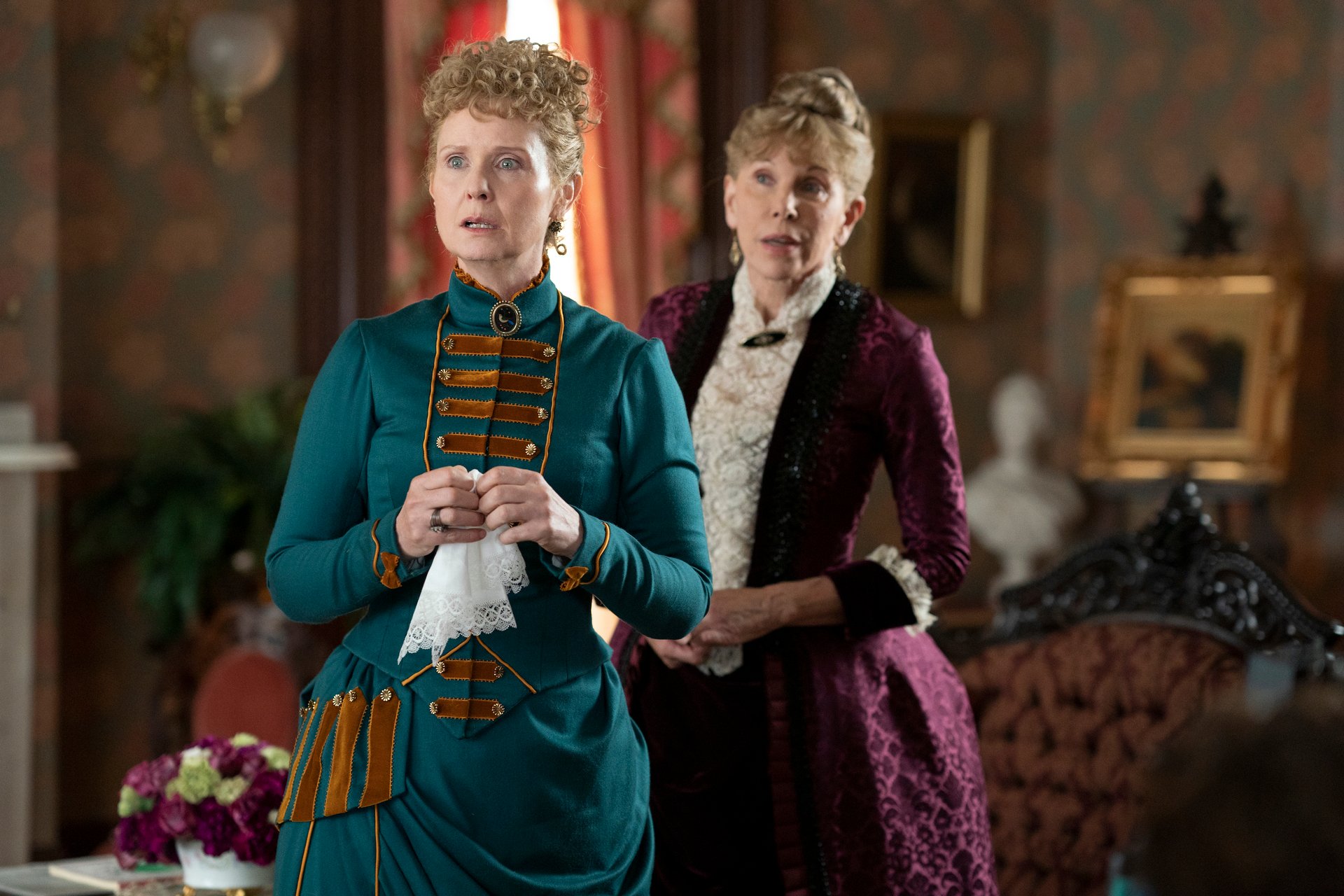 HBO's The Gilded Age is returning for season 2 – and expanding its cast in the process. The period drama from creator Julian Fellowes will add new characters in its sophomore outing while also upping a number of season 1 cast members to series regulars. The changes offer a hint about what fans can expect to see when we next check in with Agnes Van Rhijn, Marian Brook, Bertha Russell, and Peggy Scott. 
'The Gilded Age' Season 2 will likely see more downstairs-focused storylines
More than a dozen actors who appeared in the first season of The Gilded Age have been elevated to series regulars for season 2, Deadline reports. 
Fans will be seeing more of several below-stairs characters, including Debra Monk as Agnes Van Rhijn's (Christine Baranski) maid Armstrong and Ben Ahlers as the Van Rhijn family's footman Jack Trotter. Across the street in the Russell household, Douglas Sills, who plays the chef Baudin; Celia Keenan-Bolger, who plays housekeeper Mrs. Bruce; and Erin Wilhelmi, who plays housemaid Adelheid Weber will all be series regulars next season. Kelley Curran will also be back as Turner, Bertha Russell's (Carrie Coon) scheming former lady's maid. 
Season 2 also looks like it will shed some light on Watson's (Michael Cerveris) mysterious past, In season 1, the Mr. Russell's valet spent his off hours following a woman named Flora McNeil (Rebecca Haden, who will be a recurring guest star in season 2). Watson's connection to Flora isn't clear, but chances are we'll be learning more about what ties the two together. Christopher Denham will also join the cast as Robert McNeil, an uptight banker trying to navigate New York's high society. 
Gladys meets a duke and Peggy gets to know a famous historical figure 
A number of new characters will also be introduced in The Gilded Age Season 2, Deadline reported. 
Mrs. Russell – who wants her daughter Gladys (Taissa Farmiga) to make an impressive match – may have found the perfect potential son-in-law in the Duke of Buckingham (Ben Lamb), a posh British nobleman who's just arrived in New York. 
Michael Braughher will play real-life historical figure Booker T. Washington. Peggy (Denée Benton) and her editor Thomas Fortune (Sullivan Jones) get a chance to meet the famed educator, who invites them to take a tour of his school in Tuskegee, Ala. 
In season 1, Oscar Van Rhijn (Blake Ritson) had his eye on Gladys. But it sounds like he might have found a new potential wife in season 2. Nicole Brydon Bloom will play socialite Caroline Stuyvesant. Oscar sees the heiress as the perfect wife, while she finds him to be a valued confidant. However, Oscar's lover John Adams may not be completely out of the picture, as Claybourne Elder is set to return for the upcoming epsidoes.
Other additions to The Gilded Age cast include Robert Sean Leonard as Reverend Matthew Forte and Laura Benanti as a rich widow who hires Larry Russell (Harry Richardson) as the architect for her new home in Newport. David Furr plays Dashiell Montgomery, Agnes' nephew by marriage. He's a widower who has recently moved to New York with his daughter Frances (Matilda Lawler). 
Thomas Cocquerel won't return as Tom Raikes on 'The Gilded Age' 
One person who won't be back for the next season of The Gilded Age is Thomas Cocquerel as Tom Raikes. The social-climbing lawyer jilted Marian (Louisa Jacobson) in the season 1 finale. The two had plans to elope, but then Marian discovered that Tom had no intention of going through with the marriage and instead hoped to marry a wealthy heiress. 
Marian's romantic disappointment seemed to set the stage for a possible relationship between her and Larry Russell. The two developed a friendship in season 1, but Fellowes isn't saying whether it turns into something more. 
"We're never going to tell you what we're going to do next year, but yes, I do feel sorry for Marian," he told Deadline. "Agnes knew he had a different agenda and that in the end, he would be seduced by New York. That was exactly what Marian refused to see. So I hope there's a lesson in there for someone that it isn't always the sympathetic people who give the right advice."
Check out Showbiz Cheat Sheet on Facebook!