'The Golden Girls': Debbie Reynolds Almost Replaced Bea Arthur as the 4th Roommate
'The Golden Girls' remains just as popular today as it did in the 80s. The show had a successful seven-year run, which almost came to an end earlier with Arthur's desire to leave. Unsure if Arthur would stay, the producers had a backup plan. Debbie Reynolds was brought in as a replacement for Arthur.
The Golden Girls is one of America's beloved classic TV sitcoms. From 1985 to 1992, the show had a successful run on the NBC Network. The onscreen chemistry between the four roommates is what made the show famous. However, in the sixth season, Debbie Reynolds almost became the replacement roommate for Bea Arthur.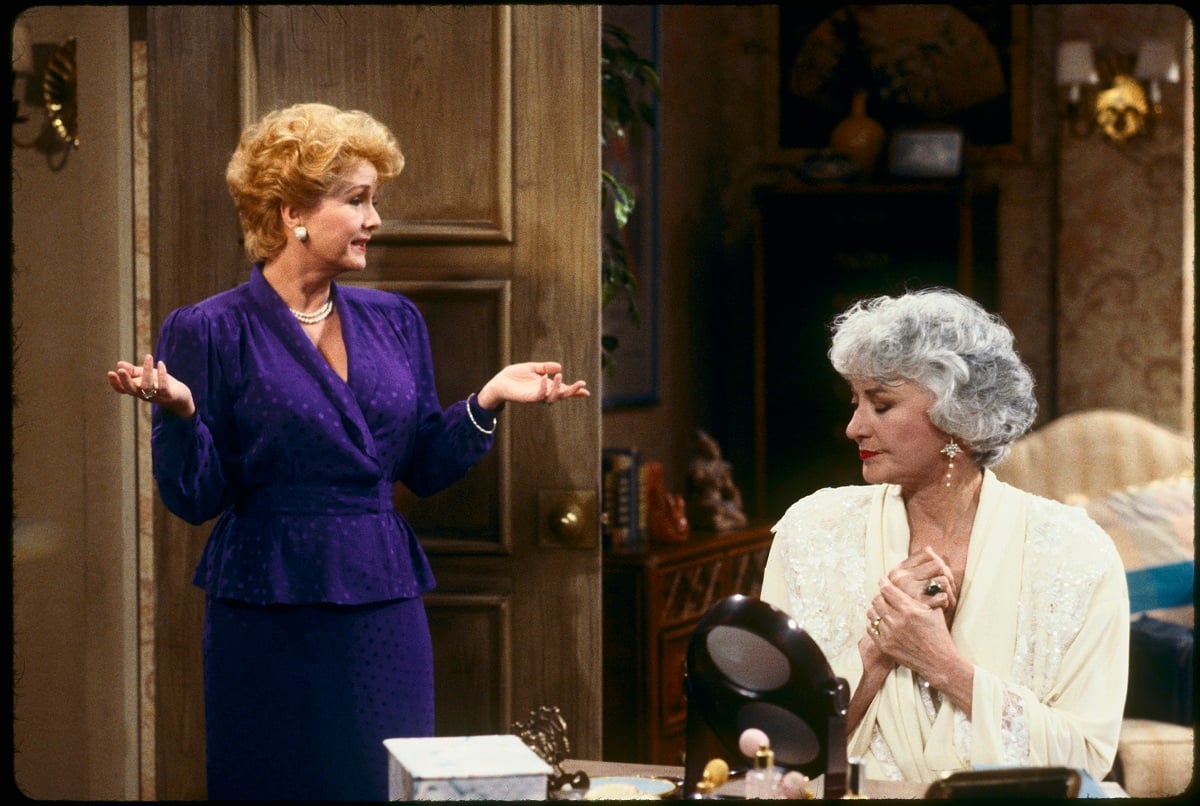 'The Golden Girls' Debbie Reynolds was going to be Bea Arthur's replacement
There was plenty of backstage drama during The Golden Girls' original run. Arthur had grown dissatisfied during the later years of the series. As season 6 preparations were underway, there was uncertainty on whether Arthur would stay.
At one point, the producers contemplated bringing in Debbie Reynolds to replace Arthur. In Golden Girls Forever, An Unauthorized Look Behind The Lanai, writer Marc Sotkin discussed the idea of Reynolds being the fourth roommate. "So we debated: do we start bringing aboard a "guest star of the week" to see if anybody else might be a good first to replace her? Debbie Reynolds was the first test of that idea – and really the last test of it too."
Debbie Reynolds made a guest appearance on the show
The Golden Girls fans saw how Reynolds meshed with the other ladies during a guest appearance. Reynolds played Truby, a potential roommate to replace Dorothy Zbornak (Arthur). However, after Dorothy calls off her wedding to Stan Zbornak (Herb Edelman), she moves back in.
Although fans were receptive toward Reynolds, the show never had to use her. Arthur ended up renewing her contract for another year. When Reynolds recalled her guest stunt, she had positive memories. "Doing the show with those brilliant ladies was a great joy. I was happy to get to work with them for the time I did. I would have worked with them anytime, anywhere."
The show ended after seven seasons
Although Arthur was dissatisfied with the show agreed to stay on. However, according to IMDB.com, by season 7, she was ready to leave. Arthur felt the show had run its course and decided to go out while still at its peak. Instead of replacing Arthur, producers decided to end the show.
The series finale ended on a happy note for Dorothy, marrying Lucas Hollingsworth (Leslie Nielsen). However, the ending with the girls saying goodbye had everyone emotional. Fans broke down in tears with Rue McClanahan, Betty White, and Estelle Getty as they realized this was the end.