'The Golden Girls': Estelle Getty Asked Producers to Change a Crucial Detail About Sophia Petrillo
Estelle Getty was a comedic genius on The Golden Girls. Her character, Sophia Petrillo, became a fan favorite early in the show's run. In fact, Getty's performance was so impressive she earned a promotion to the main cast. Initially, the role was a guest spot. Still, Getty didn't feel comfortable on television and even asked the producers to change one of Sophia's defining characteristics to make the part easier for her.
Estelle Getty wasn't a TV actor before 'The Golden Girls'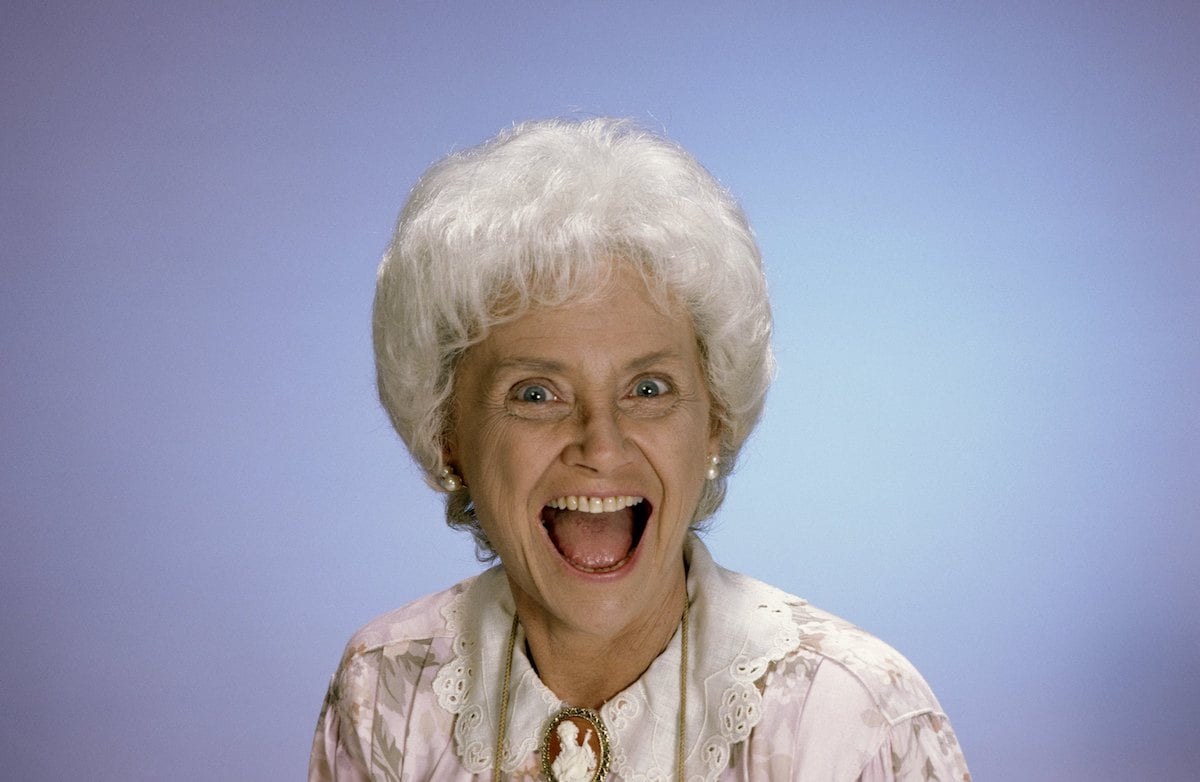 By watching episodes of The Golden Girls, viewers would never know one of the iconic TV show's stars was immensely uncomfortable with the process. 
In her memoir, My First Five Husbands … And the Ones Who Got Away, Rue McClanahan noted that Getty grew increasingly nervous as the show progressed. McClanahan, who portrayed Blanche Devereaux on The Golden Girls, hypothesized that Getty was experiencing signs of dementia even back then. That theory remains unproven, but she indeed was uncomfortable on television from the beginning of her career. Getty died in 2008 at age 84 of Lewy body dementia.
She had spent decades acting in stage productions in New York. Though she had picked up a few brief guest spots on television here and there, The Golden Girls was her first major role in a TV series. Getty was comfortable on the stage but didn't find the set a relaxing environment. The process didn't sit well with her, and she grew more anxious as her memory appeared to falter.
Estelle Getty wanted Sophia to be Jewish instead of Sicilian
Sophia's most iconic moments include her tales of her time in Sicily. Her heritage was an essential part of the character, but Estelle Getty wasn't comfortable with it at first. According to IMDb, she requested to change Sophia's heritage to Jewish.
She and co-star Bea Arthur — who played Sophia's daughter, Dorothy — were both Jewish, and Getty believed that changing the characters' Sicilian heritage to Jewish would make portraying the sharp-tongued senior citizen easier.
Producers reportedly refused to make the switch, and eventually, Getty grew more comfortable in the role. Sophia's memories of Sicily quickly became some of the best moments in the show's seven seasons.
Getty drew from her life to portray Sophia on 'The Golden Girls'
Although Estelle Getty wasn't Sicilian, she shared similarities with Sophia's character. Getty was a New Yorker like Sophia, albeit from a different neighborhood. Sophia and her husband, Sal Petrillo, spent years living in New York before she and her daughter moved to Florida. Sophia and Sal called Brooklyn home, while Getty was partial to other boroughs.
Getty herself had grown up in New York, although she lived on Manhattan's Lower East Side instead of Brooklyn. After tying the knot with Arthur Gettleman in 1946, Getty settled into married life in the Bronx. Eventually, they moved to Queens to raise a family. By the time Getty landed her role in The Golden Girls, she had a deep understanding of life in New York and a longtime marriage, two things she drew on regularly for her character.