'The Golden Girls': Estelle Getty Said Parts of Sophia's Look Were Actually Real
'The Golden Girls' star Estelle Getty once revealed what it took to transform into Sophia Petrillo.
Forget the fact that The Golden Girls was a TV show about four women in their golden years — the comedy appealed to viewers of all ages. Kids even watched it!
Estelle Getty played the oldest member of the bunch as Sophia Petrillo, Dorothy's (Bea Arthur) sharp-witted mother. As many fans know, she was nowhere near her character's age and she had to be aged up with makeup. But she once explained why the process didn't take hours.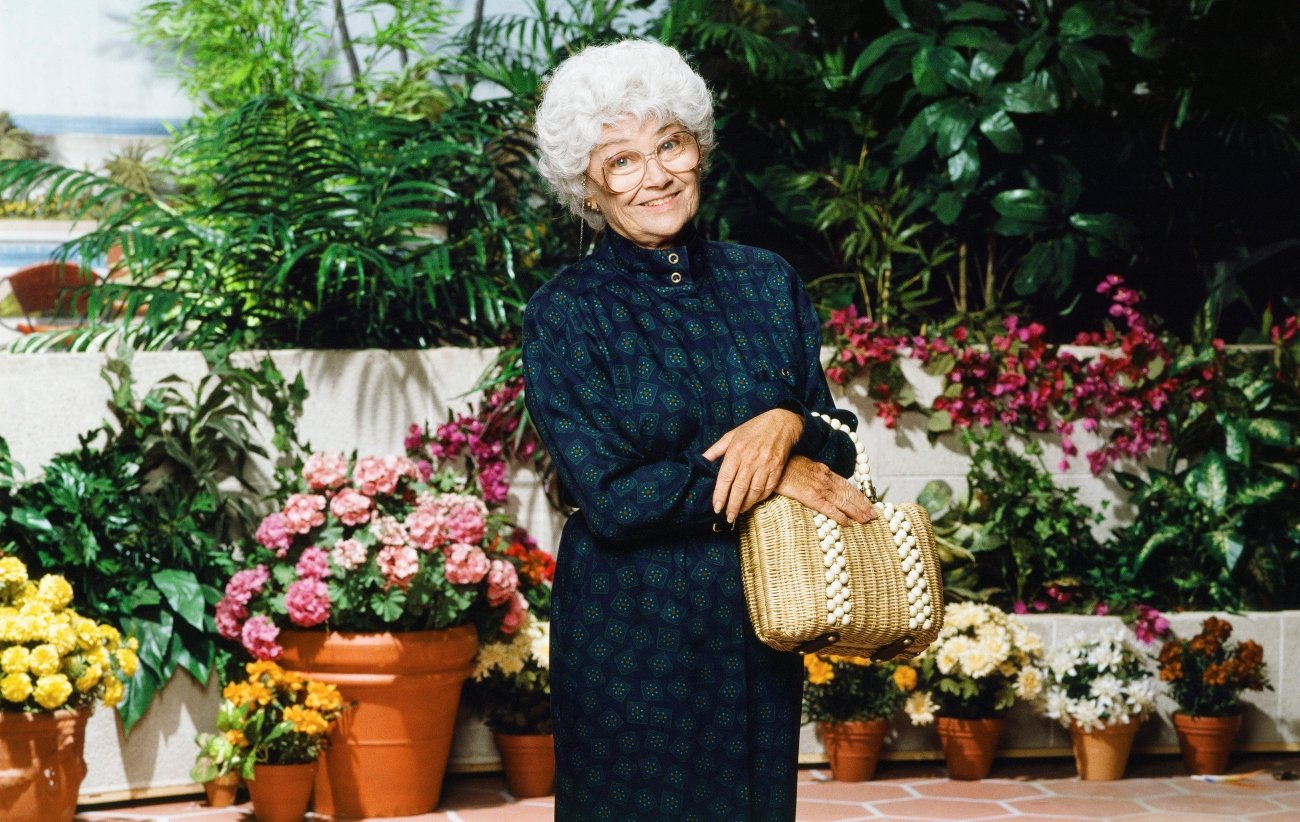 Estelle Getty was only 63 when cast on 'The Golden Girls'
Plucked from the New York theater circuit, Estelle Getty joined the cast of The Golden Girls after a successful run of auditions at NBC. While Rue McClanahan and Betty White swapped out the roles they originally auditioned for, Getty was always pegged for Sophia.
In her memoir, If I Knew Then What I Know Now… So What?, she explained how her agent told her she'd be reading for Sophia. "But that's an old lady!" Getty told him. At the time, the character was described as an 80-year-old rotund Italian woman who wore a bun. Getty had her reservations, but she tried out.
It took over a month for her to complete the process, and on her last callback, she switched things up. Getty hit up a thrift shop to buy a large dress, orthopedic shoes, and white gloves.
She colored her hair and hired a makeup artist to age her. There were concerns that she was too young for the part, but with her New York spin on Sophia, she landed the role.
Sophia's 'Golden Girls' makeup didn't take long for a reason
Some fans of The Golden Girls recently pointed out that Madonna is the same age Estelle Getty was when she played Sophia Petrillo: 62. When people ran into the actor on the street, some had a hard time discerning it was "Sophia from Golden Girls." Without her makeup, it was challenging, and many assumed Getty spent hours to transform.
Not so. She revealed it only took about 45 minutes and explained why. "There are two reasons for this: Maurice Stein, our makeup man, is marvelous, one of the best in the business," she wrote.
"He also has the easiest job in the world. All those lines in Sophia's neck are really mine — Maurice doesn't have to create anything. He just fills in the lines that are already there." Getty added that the team initially wanted to use latex for Sophia, but they decided on layered makeup. Shadows and lines did the trick.
Once she looked into the mirror, she snapped into character to morph into Sophia. Lights, camera, action.
Getty couldn't get into Sophia's character off camera
Outside of the studio, Getty would often receive requests from fans to speak like Sophia. It's understandable as the character had a few signature quotes. But Getty left her in the chair as soon as the makeup came off.
"Sophia doesn't breathe until I get on the makeup and the wig," she wrote. Getty explained when her work day ended, she became herself, and her character stayed at the job.