'The Golden Girls': Estelle Getty's Facelift Made It Harder for Creative Team to Make Her Look Old Enough to Play Sophia
We all know that when we view someone on the screen, we're seeing their character's portrayal through the magic of Hollywood. Between the lighting, makeup, and special effects, what we end up viewing can be altered quite a bit from its original form. This is true not only of the set or extreme CGI effects but also of the actors themselves. Between the often impressively good looks of leading actors and the talented touch of the makeup crew, actors have been able to portray characters much younger than themselves. 
While filming The Golden Girls, however, the crew ran into a different kind of problem. Estelle Getty had to be made to look older in order to play Sophia, but the actor's own efforts to keep herself looking youthful were getting in the way. 
'The Golden Girls' played with aging and audience expectations
The Golden Girls is a beloved sitcom that ran from 1985 to 1992. It starred four women who had all either been divorced or widowed and decided to spend their "Golden Years" living together as roommates in Miami. The show pushed the envelope by showcasing characters much older than the typical leading lady, and they did it while focusing on their independence, friendship, and the ups and downs through their senior years.
At the heart of the series was the connections between the four protagonists. Each had her own personality quirks that helped position her in a complex web of relationships.
Dorothy (Bea Arthur) was the quick-witted and serious of the quartet. Rose (Betty White) was airheaded and clueless. Blanche (Rue McClanahan) was constantly courting a new man. Dorothy's mother Sophia (Estelle) was tough as nails and had a penchant for reliving the past. The series was so popular that it helped spark spin-offs that made the fictional universe span nearly two decades. 
Estelle Getty played Sophia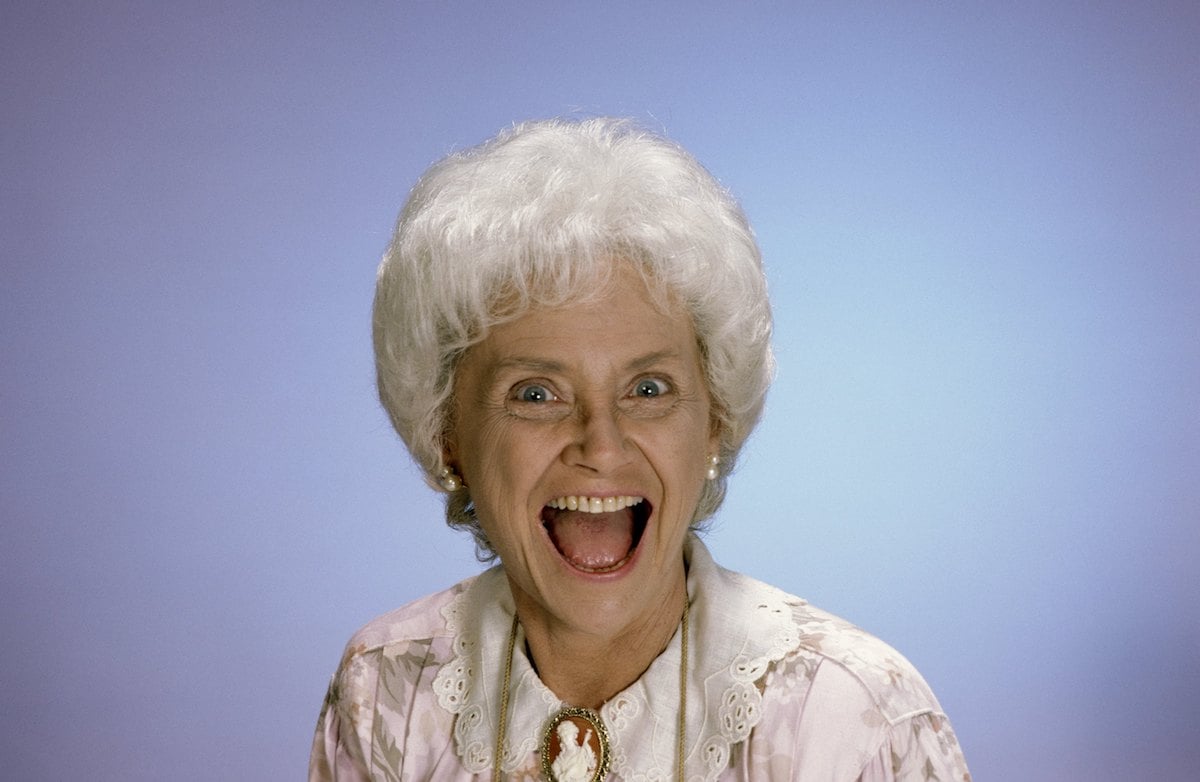 Getty's portrayal of Sophia was an integral part of the show. Sophia was a blunt and sometimes cantankerous character, but Getty's real-life sensitivity and care helped soften her edges.
For instance, Getty refused to make any gay-bashing jokes — which, unfortunately, were fairly common during television series of the era. She portrayed Sophia as a character who would definitely call it as she saw it, but she still made sure that Sophia had compassion at the core of her interactions. 
One thing that set Sophia apart from the other three characters was her age. As Dorothy's mother, Sophia was obviously older than the other women. In real life, however, Getty was actually a year younger than Bea Arthur.
As ScreenRant reports, Getty was born in July 1923 while Arthur was born in May 1922. Arthur was 63 years old when the series began, an age that tracks with her character's portrayal. Sixty-two-year-old Getty, however, had to portray a character who was approximately 80. 
Estelle Getty's facelift offered challenges for the makeup crew
Getty wasn't originally supposed to stick around as a regular for the duration of the series. The original intention was to have Sophia take on a guest role with Getty popping in every once in a while. Obviously, that's not how things worked out. The test audience rated Sophia so highly that writers knew she had to become a major part of the series. 
That meant, however, that the makeup crew would have to do a lot more work. It took an hour to get Getty's makeup right to portray the much-older Sophia — and that was before Getty took matters into her own hands to make herself look even younger. As Good Housekeeping reports, Getty took the summer hiatus after the show's first season to get a facelift. When she returned to the set for filming Season 2, the makeup crew had an even harder time making the woman look twenty years older than she really was.