'The Golden Girls': Rue McClanahan's On-Set Habit Once Sent Her Co-Stars on a Frantic Search
As the fab four on The Golden Girls, Betty White, Bea Arthur, Rue McClanahan, and Estelle Getty often had viewers wondering if they stuck together when the cameras weren't rolling.
Sometimes, they did. Though their real-life personalities were distinctly different from their TV show characters, they supported each other on set. In one incident, McClanahan had her co-stars worried when they couldn't find her.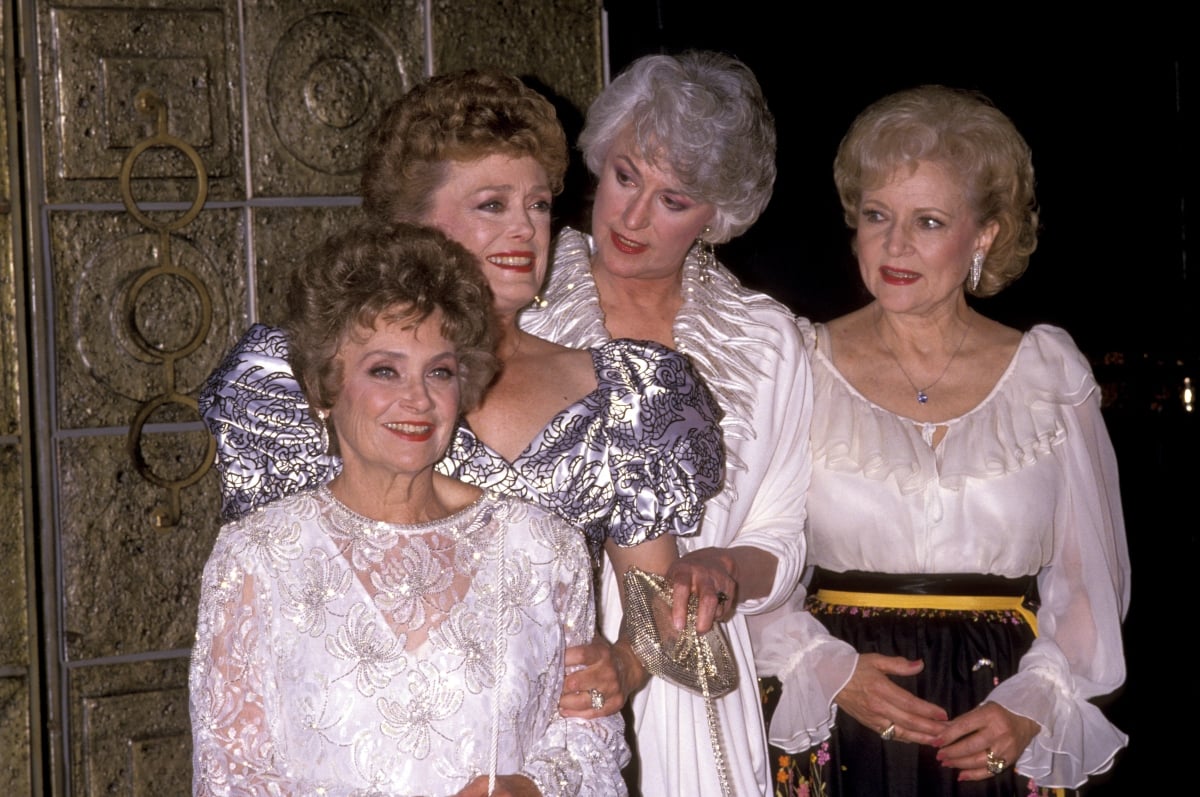 'The Golden Girls' filmed episodes weekly
Coming into the show, Rue McClanahan and Bea Arthur were seasoned television actors, as was Betty White. After the cast taped their pilot and the series received a green light, they were set up on a weekly filming schedule.
According to White's memoir, Here We Go Again: My Life in Television, they would shoot episodes on Fridays but showed up daily for rehearsals. "We would read through the script on Monday, rehearse all week, then tape the show twice on Friday, before two different audiences," she wrote.
White preferred that schedule, which gave them weekends to breathe. "Friday taping gave you the weekend to clear your head before starting a new show again on Monday."
Backstage, they'd hang out, crack jokes, or play games. Between their two Friday takes, they'd chill or have dinner. And McClanahan would often rest up.
RELATED: Betty White Liked to Flirt With 'The Golden Girls' Live Audience, According to Rue McClanahan
Estelle Getty said Rue McClanahan 'got lost' on set
Getty published her own book in 1988 when The Golden Girls was still in full swing. She had nothing but glowing things to say about her castmates. Each woman had her own quirks and habits, and according to Getty, McClanahan regularly took naps.
"We kid Rue a lot about her catnaps. She can sleep anyplace, anytime, for 15 minutes or 15 hours," she wrote in If I Knew Then What I Know Now… So What?. "Give Rue five minutes and she'll take Rip Van Winkle. One time we lost her. We took a five-minute break and when the five minutes were up, no Rue."
Getty recalled how everyone frantically searched for her in the dressing room, studio lot, her car, and the bathroom. They paced and called out for her, but she didn't turn up.
"We were getting concerned when finally, somebody walked behind the couch on the set and there was Rue — fast asleep — lying on the floor," Getty shared. "She didn't want to be disturbed by the glare of the light on the couch, so she'd gone behind it. We roared."
It's a practice that McClanahan did on the set of Maude too. Napping behind sofas was kind of her thing.
McClanahan had a penchant for animals too
Getty also joked about her co-star's love for animals. She couldn't keep McClanahan's pets' names straight, but she remembered one instance when she rescued a nearly-dead mouse. Picture this: Blanche Devereaux saves a limp mouse from a cat.
According to Getty, McClanahan told her a story about a cat who brought her some rodent and left it at her feet. Unbothered by the sight, she scooped it up, "nursed it back to health and took it to the vet." It's unclear whether she kept the resurrected creature as her own pet.