'The Good Doctor': Who Plays Dr. Morgan Reznick on the Show?
The Good Doctor cast is comprised of some interesting characters. One of those characters is Dr. Morgan Reznick. Here's everything Showbiz Cheat Sheet knows about Fiona Gubelmann, the actress who plays Dr. Reznick.
Dr. Morgan Reznick on 'The Good Doctor'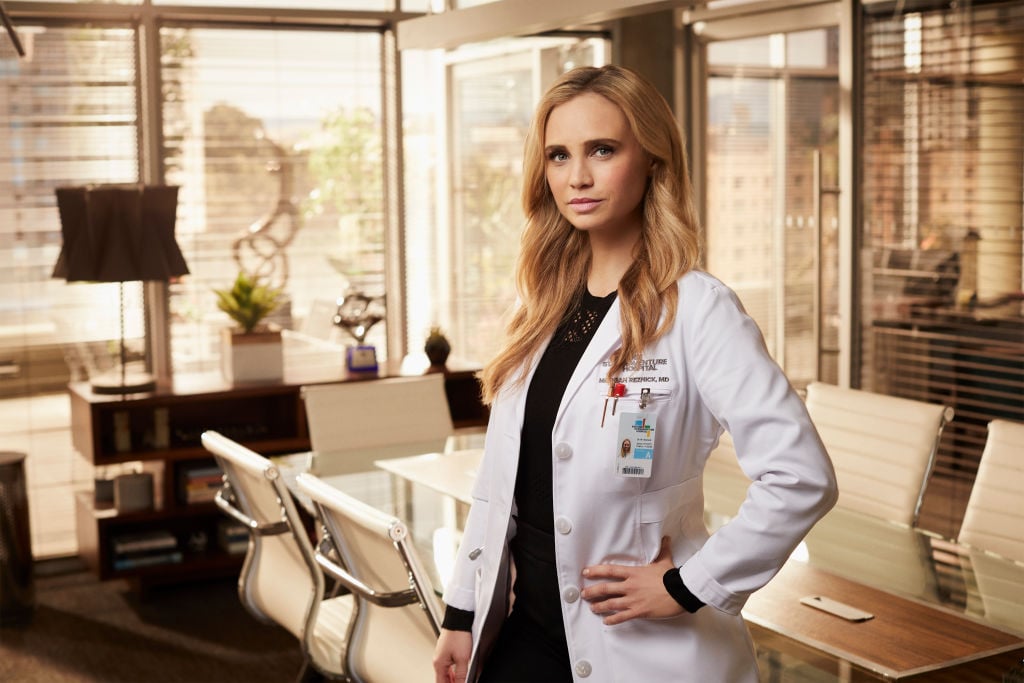 Morgan is very passionate about her job. She's quite competitive, and that causes her to clash with her colleagues. Morgan also tends to meddle in other people's affairs. One example is when she filed a complaint about Claire and Dr. Melendez. She saw them going for a jog together, so she reported them to Dr. Lim, saying Dr. Melendez was showing favoritism toward Claire.
Morgan's passion sometimes goes too far. She was diagnosed with rheumatoid arthritis during season 3, but she continues to perform surgery. She was able to continue with her work by sneaking off for treatments with Dr. Glassman. He warns her to consider stepping away from surgery, but Morgan refuses to listen. Unfortunately, her passion for her job may end her career. During season 3, episode 20, we learn an emergency surgery she performed could have injured her hands and she might not be able to operate again.
Fiona Gubelmann's movies and TV shows
Fiona Gubelmann made her television acting debut in a 2003 episode of The Mullets titled "Airway to Heaven." Gubelmann made her film debut in the 2004 movie Employee of the Month, in which she played the character Amber. In 2008, the actress landed a recurring role in the series Comedy Gumbo. She played ShmappleBapp's Hostess / The Future Mrs. Chambers for four episodes. By 2011, Gubelmann secured a role as a series regular in the show Wilfred. She played Jenna Mueller until the series ended in 2014.
Gubelmann has also appeared in Lucifer, Christmas Next Door, Daytime Divas, and Blades of Glory. She began playing Dr. Morgan Reznick on The Good Doctor in 2018.
Fiona Gubelmann's thoughts about Morgan Reznick
Gubelmann tells ABC News reporter George Pennacchio she cried when the producers first told her she got the part of Morgan Reznick. She was so happy she just couldn't contain herself. Gubelmann says she enjoys playing the character.
"Morgan is a brilliant, driven, unapologetic, confident woman," says Gubelmann. "These are aspects that I don't always leave with, so playing her has changed me as a person, and it has kind of brought these qualities out in myself in a way that I really like." Gubelmann says she can see herself working on the show long-term. "This, for me, is like a dream job. Getting to be in one place for hopefully many years with this one character, and watching her grow and evolve."
What's next for Morgan
Morgan's diagnosis leaves her career hanging in the balance. Will she have a miraculous recovery or is she done for good? Since it's TV, anything is possible. Our guess is Morgan will do whatever it takes to remain a surgeon. It will require a lot of work, but she's not one to shy away from a challenge. It will be interesting to see where the writers take Morgan's story.
Read more: 'The Good Doctor' Fans Desperately Want These 2 Characters to Date–And It's Not Shaun and Lea